Today, on April 15th, the world celebrates International Art Day. Being true fans of creative art design, the team at Atwix believes that a great design does more than meets the eye – it communicates the spirit of a company — your company — and likely provides more insight about a business than you might think. Like touch, hearing and smelling. In this way, art is seeing. Creative, personalized art translates you and your organization into a visual language.
Having a unique design representing your product is a complicated process, but we have found that it is well worth the investment of resources. When having a company-tailored and recognizable design, the chances for success are much higher. Take a look at the list of 2020 most valuable brands by Forbes and you no more proof is needed.
That is why we pay special attention to the creative design process, and have a dedicated professional in-house team. This team is responsible for visual materials both for Atwix's brand and is always ready to jump into any client project to lend an artist's hands. This has proven to be a great approach with our eCommerce clients, as our team is no stranger to the science behind actively listening to our clients and rendering powerful and personalized designs.
Design is such a complex science. It proves to be something of a lifelong learner's journey. As it continues to evolve, so too must you as the art team. We are dedicated to this ongoing educations and take this process seriously, from wire framing to the finishing touches. Close collaboration with our clients is paramount. Here's what we do:
Branding.
UI/UX design.
Illustration.
Let's take a look what a role these service pay in the brand adoption model. According to Hierarchy-Of-Effects model, brand adoption includes the stages, listed below.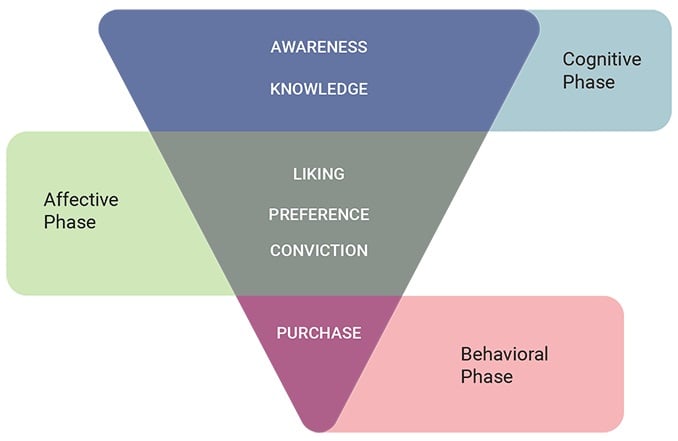 Branding
Brand's visual identity is the first to speak to your consumer. If well-designed, it speaks about your essence and values. Very often it is being underestimated or perceived constant, which is quite a wrong approach. When digging into the essence of the product or project, we find a way to translate it in a simple and easy to understand format as well create a complex brand book and guidelines that will help to stay consistent in your visual representation. Good branding remains relevant for a long time, but also evolves with the brand. Still, a good branding shall be recognizable and reasonable in order to cover the awareness, knowledge and liking stages of the brand adoption model.
UI/UX Design
Measure twice, cut once. For Atwix, preparation is key. Our design and business teams analyze our clients' requirements, create a project charter and site map, and determine the required resources, including stock photos, fonts, and third-party themes.
Atwix designers start by creating wireframes–the blueprints for a successful site, produce mock-ups that will soon be turned into HTML and CSS code. Then the development team steps in. Having an organic communication process, established internally, we are able to deliver a high quality development in a fast and seamless (especially for the client) way. Having a well-prepared UI & UX is a must today – it helps to minimize card abandonment, affects your SEO and help improve the sales rates, through covering the liking and preference stages.
Illustration
Having a good branding and UX is a must. Adding some interactive elements is always a great way to keep your audience engaged and fascinated. Digital Marketing experts estimate that most Americans (and not only) are exposed to around 4,000 to 10,000 advertisements each day. Make sure you stand out! When your solid messages compile with an exclusive illustration to resonate with the consumer, this affects the conviction stage of brand adoption model.
Design Is an Art
To sum up all the above it seems like a unique style and consistent approach will help your brand benefit in terms of awareness, knowledge and liking, at the same time quality UI & UX will strengthen liking and preference stages, and good illustration will contribute at the conviction stage. Indeed, it seems like a good design is a true art.
In case you need a design support both in branding and Magento UI & UX, illustration, our professional team would be happy to help you. Check out our portfolio at Behance and Dribble. Just contact us to learn more!
Bonus
We love Magento Community, so our Design team lead Ihor Polishchuk creates terrific community wallpapers, dedicated to different occasions. We have compiled them all in one place, so if you are a Magento & comics fans just like us, enjoy!