With more and more ERP providers releasing their Cloud versions, we wanted to make a list of both cloud, and self-hosted popular ERP's to Integrate with Magento, briefly describing features for each one.
Disclaimer: We don't endorse any particular integrations.
Typically, it's pretty straightforward why ERPs are important for enterprises, but in the case of Magento or Adobe Commerce, the benefits are even more fruitful. Your employees will spend less time on repetitive tasks, and your consumers will receive more precise information about the product.
Table of Contents:
When you connect the ERP to Magento/Adobe Commerce, your inventory, orders, customer data, and shipping details are synced between these two platforms. You can say goodbye to complex processes and manual order management and let both systems exchange near-real-time data.
Some of the popular ERP's to Integrate with Magento in 2022:
SAP Business One
The Magento SAP Business One Solution includes predefined activities for automating critical business operations such as downloading and uploading orders, customer data, stock, and pricing between your Magento shop and SAP Business One.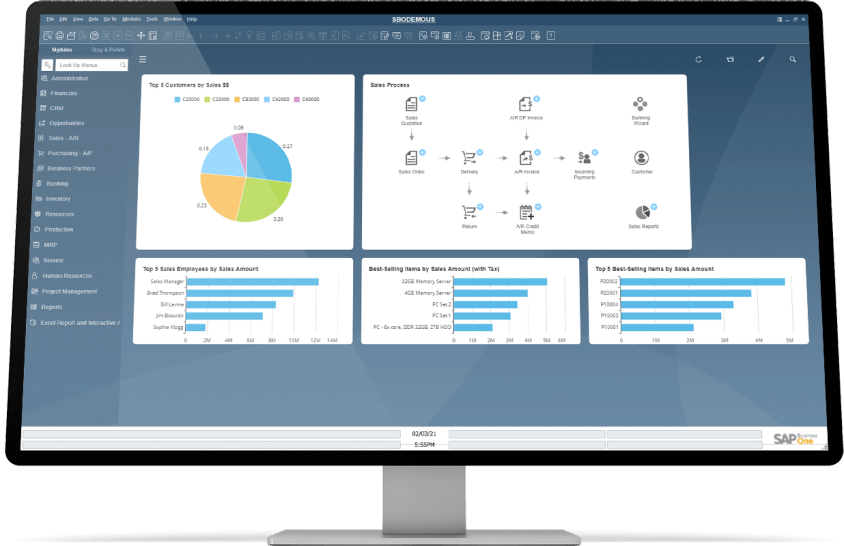 By eliminating repetitive staff data input and related administrative mistakes, Magento integration with SAP eliminates the hidden expenses involved with routine order management procedures. This Magento 2 ERP allows you to easily sync critical order and stock information between the two systems.
Oracle ERP Cloud
Oracle is a reputable name in providing a comprehensive set of products and services to various industries. Its established brand guarantees exceptional customer service and consistent performance for organizations of all sizes.
Oracle ERP Cloud has an easy-to-use user interface (UI) that facilitates data navigation and reading.
Oracle ERP has several financial, risk management, and procurement tools. Because it supports many country ledgers, accounting standards, and currencies, a company may expand its scope and operate in multiple countries without financial issues.
Discover Atwix
ERP Integration Services
Propel your business to the top with Atwix ARP Magento/Adobe Commerce integration.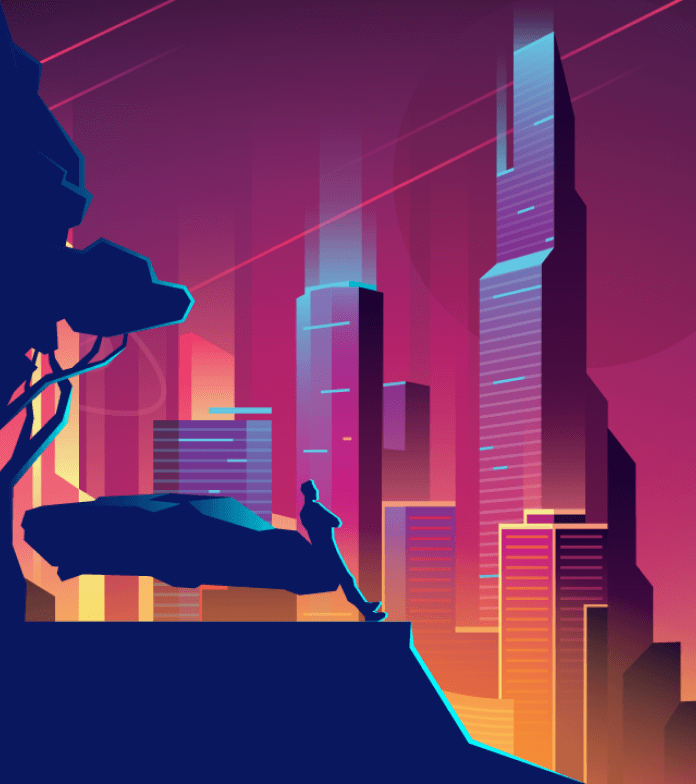 Microsoft Dynamics
Microsoft is a Magento-certified partner. There are 14+ Microsoft extensions available, so you will have more choices in which one can work best for you. With an intelligent application that is easy to customize, expand and link to other applications and services you already use, it is simple to foster innovation.
The system provides comprehensive supply chain modernization tools, including enhanced warehousing, inventory, fulfillment, material procurement, and logistics management.
On the downside, some of the extensions are rather pricey. The cost might exceed $15,000 or more. And because of the steep learning curve, this solution is best suited for major corporations and international organizations.
Some of the most popular Microsoft Dynamics ERP includes:
Dynamics AX
Dynamics AX is a comprehensive enterprise resource planning (ERP) software suite for finance and operations. It assists worldwide organizations in organizing, automating, and optimizing their operations, whether on-premises, in the cloud, or via hybrid deployment.
Microsoft Dynamics CRM
Microsoft Dynamics CRM is offered as a cloud service or as an on-premises installation. This version, like CRM 4, can be modified using sophisticated extensions. Among its new features are visualizations, dashboards, document management, grid filters, dialogs, repeating appointments, custom activities, goal management, fetch-based reports, MAPI-based Outlook clients, FLS VISITOUR, and more.
Dynamics GP
Dynamics GP is a mid-market accounting ERP that stores data on Microsoft SQL Server. It is written in Dexterity and is part of the Microsoft Dynamics range of intelligent business applications.
Dynamics NAV
Get the resources you need to manage your Dynamics NAV on-premises solutions for finance, manufacturing, customer relationship management (CRM), supply chains, analytics, and electronic commerce.
QuickBooks ERP
QuickBooks Enterprise is the ERP version of the brand's accounting and company management software. The Enterprise goes beyond ordinary accounting software to provide end-to-end solutions for mid-sized businesses. Enterprise assists businesses in making more educated financial decisions by providing insights, procedures, and customized reports.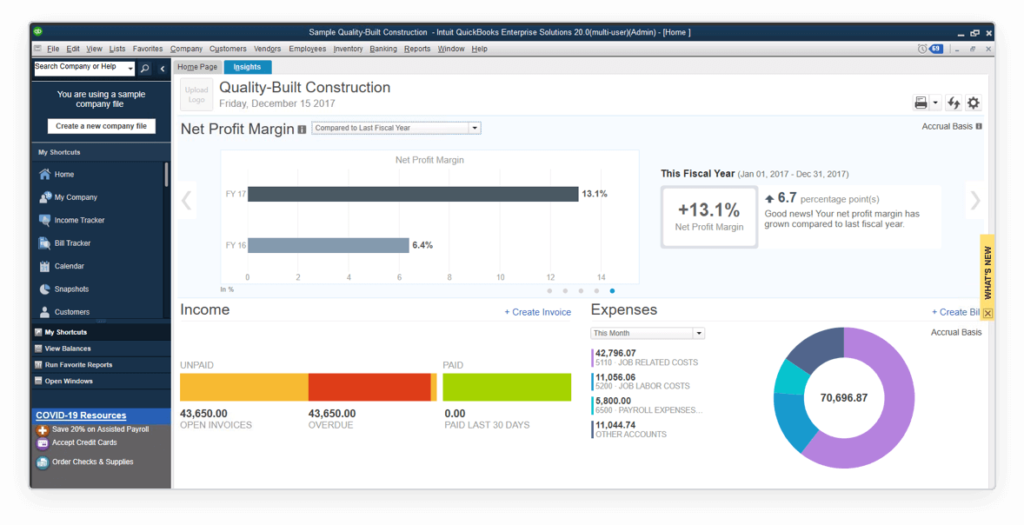 Through comprehensive inventory monitoring and administration, aided payroll, advanced pricing tools, and advanced reporting, the enterprise solution help businesses in managing critical activities in an accessible and connected environment.
Infor CSD (CloudSuite Distribution)
Infor OS is the convergence of industry-leading cloud technologies, resulting in a comprehensive program designed for agility, stability, innovation, and expansion in a real multi-tier cloud environment. The platform challenges the need for point-to-point technology to enable scalable business management and serves as the foundation for all of Infor's industry-specific CloudSuite solutions.
The cloud-based application platform, big data insights, and an open architecture for simple integration and deployment transform today's most innovative technologies into a toolkit.
Odoo
Odoo ERP is desktop or cloud-hosted and accessible from any device and location. Apple iOS and Google Android are two mobile device operating systems. Odoo Enterprise includes a plethora of additional features.
Odoo delivers a large selection of business apps for a wide range of company needs. Businesses just pay for the applications that they require. You may use the Odoo CRM app or Salesforce for CRM. Combining Odoo with third-party apps to optimize company operations, management, and financial procedures is simple.
Sage ERP
Sage Business Cloud X3 is an ERP software system with integrated financial management, sales, customer support, distribution, inventory, manufacturing, and business intelligence. Sage Business Cloud X3 is web-based, browser-independent, and mobile-responsive. At the same time, it may be implemented on-premises and as a service on Sage's AWS cloud or a partner-provisioned cloud.
Even if the built-in financial reporting is restricted, many reporting tools are available. Since X3 maintains the data in great detail, these reporting tools may show your data in whatever way you need. It is a highly versatile software that can be set to handle extremely complicated transactions with a high level of automation.
JD Edwards ERP
JD Edwards EnterpriseOne delivers a robust, fully integrated ERP software package with numerous databases and deployment choices, including on-premise, private, public, and hybrid clouds, for maximum flexibility and minimal TCO.
JD Edwards EnterpriseOne blends business value, standards-based technology, and deep industry capability into a system that will revolutionize your business, with over 80 application modules, end-user reporting, and customization features. This software uses Oracle's Mobile Platform to enhance business execution and deliver a comprehensive enterprise mobile solution that includes everything from deployment to designing and expanding mobile applications.
Epicor Kinetic
Epicor Kinetic differs from other ERPs by its growing emphasis on resource planning and management inside and beyond geographies and business borders.
Epicor Kinetic is a solution designed with manufacturers in mind. With real-time business information and built-in collaboration capabilities, an easy, flexible, and guided user experience with integrated learning helps optimize your profitability. Kinetic provides the capability required to manage a contemporary, future-driven organization ready to capitalize on data and adapt digitally.
Be sure to check the most popular Magento SEO extensions too.