How Atwix helped Byrne Down Barriers in eCommerce
With Magento Commerce Cloud we were able to completely transform the front end of our business model. This is not simply about creating a web store, it is about the comprehensive digital transformation touching Sales, IT, Finance, Marketing and Operations, both with people and processes which eventually affect the final consumer experience and satisfaction. We are now finally able to focus on business growth and specialized customer requests rather than an antiquated approach to order management for configurable products. This transformation has reshaped our 2021 goals, roadmaps, and strategies.
Director of IT at Byrne
Creating the right team, across client and agency, is no simple task. There must be trust, collaboration, communication and a willingness to learn from each other. So when Byrne Electrical Specialists (Byrne) chose Atwix as their partner to help launch their critical B2B Magento website, the pressure was on. Not only was this launch key to their success within their marketplace, during a global pandemic, but there was a tight timeline of 8 weeks. A digital transformation was on the horizon.
Bringing Power to Make Life Easier
Byrne is made up of electrical experts with a curiosity and innovative spirit that spans five decades. Their products are all about creating powerful connections, wherever work – and life – happens. It's a power that builds communities and brings us all a little closer together. They are problem solvers with a history of making the impossible possible. If you can dream it, Byrne can build it – that's just the way they are wired.
Byrne was founded in the basement of Norman and Rosemary Byrne's Michigan home. For the last 50 years the company has continued to evolve as a primary supplier of charging technology, holding over 600 patents. Today, Byrne products live in all environments across work and home, with a global footprint in the USA, China and Mexico.
Growing and supporting thousands of business partners and clients all over the world, it became critical that a seamless, smooth eCommerce storefront system existed that reflected Byrne's industry best product offerings and buying experience. Byrne aspired to realize a high performing, high-end search, order and fulfillment tracking platform. This required a centrally managed approach, processes and underlying base of technologies.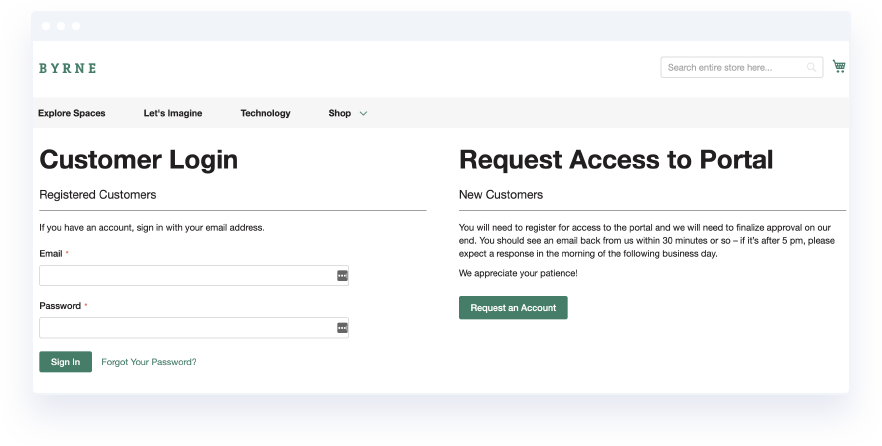 Growing Pains
Byrne was frustrated with their aged and limited technology, and they had a vision for a dedicated and exclusive portal for B2B clients. This partner portal needed to operate separately from Byrne's main website but mirror the user experience. It was important to ensure the smooth interconnection with the third party ERP system and seamless order management flow, as well as stay within the company's brand guidelines. It would need to be able to support their product complexity and customization as well as part number lookup. They wanted it to feel tailored to their B2B customers who have unique needs like wanting to ship from their own accounts and being able to have a credit line.
They found all of this in Magento Commerce, now it was just finding out who was the right partner to make it all happen.
Finding the Right Fit with Atwix
So how was Byrne going to achieve this goal of digital transformation? They came to Atwix with this vision and the tight timeline of 8 weeks.
Ultimately, Byrne chose Atwix to be on their team for this project because they were impressed by Atwix's qualifications of being the number one contributor to Magento the last 3 years in a row, the extended team 3×3 relationships, working with clients across engineering, client success and business, and the willingness to work as one team on such a tight timeline.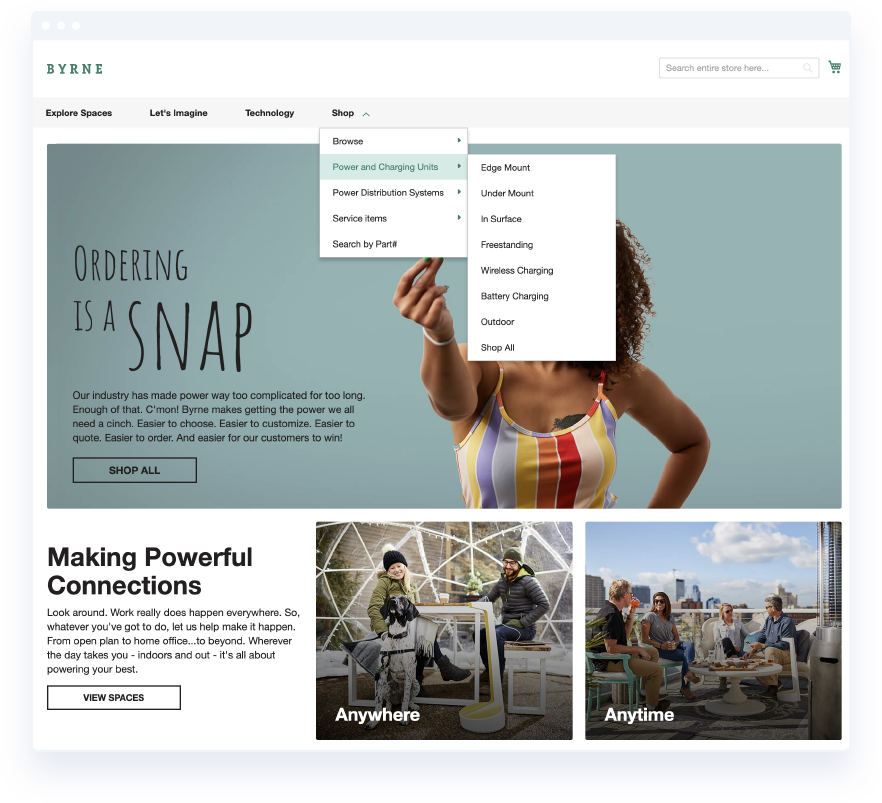 The team focused on a "lowercase mvp" approach, a term that was coined by George Fabis, the Director of IT at Byrne. The project had an MVP that would take 12-16 weeks to complete, however, they were able to identify the most important items that were critical to launch and could be implemented in 8 weeks. These were the "lowercase mvp" priorities that would allow for seamless launch.
Atwix hit the ground running. Infor SyteLine's end-to-end ERP solution was implemented in advance of the eCommerce project. At the same time, Atwix worked on Magento theme development (based on Luma theme), keeping its reliability without sacrificing the client's style guide, displaying our strong in-house design team.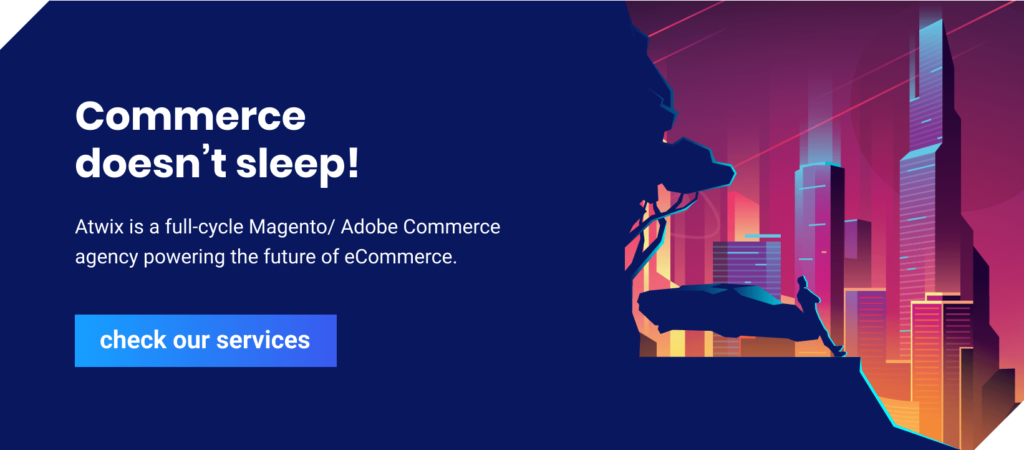 It's Go Time
Before the launch of the platform, Byrne brought in their B2B customers to test. The customers were impressed with the improved user experience, accessibility, performance and speed. They noticed an improved customer flow including catalog structure, navigation and guided way to products. They also commented on "what used to take 1 week now takes 2 hours." Which the team took as a big win.
The key features implemented on the B2B portal included:
Selling non-catalog products functionality. Products were configured in an external system and imported to the eCommerce platform using Magento API. Both catalog products (Magento side) and externally configured products were presented on the website. A customer could choose a product on Magento, configure it in an external system and proceed with the order on the Magento site seamlessly.
ERP Integration. Magento serves as a marketplace, while orders information is collected and transferred to the internal system and distributed to departments. Non-catalog products information received from the Configurator is processed on Magento side, then structured and forwarded to the ERP.
Customer Shipping Account. Customers could use their own shipping providers' accounts (e.g. UPS) as a delivery option in the scope of Magento shipping.
360 Product View images. Customers could rotate a product image on PDP and see the product from all sides. The product on 360 View changes while configured (color, attributes).
Save cart as PDF. Customers could print or save PDF with the final list of products added to the cart with quantity, price, total sum etc.
Order Notes. Customers could add comments to each ordered product.
Magepack integration brings great positive impact for Magento 2 performance and alongside native Magento 2 Fastly integration allows for best-in-class site speed.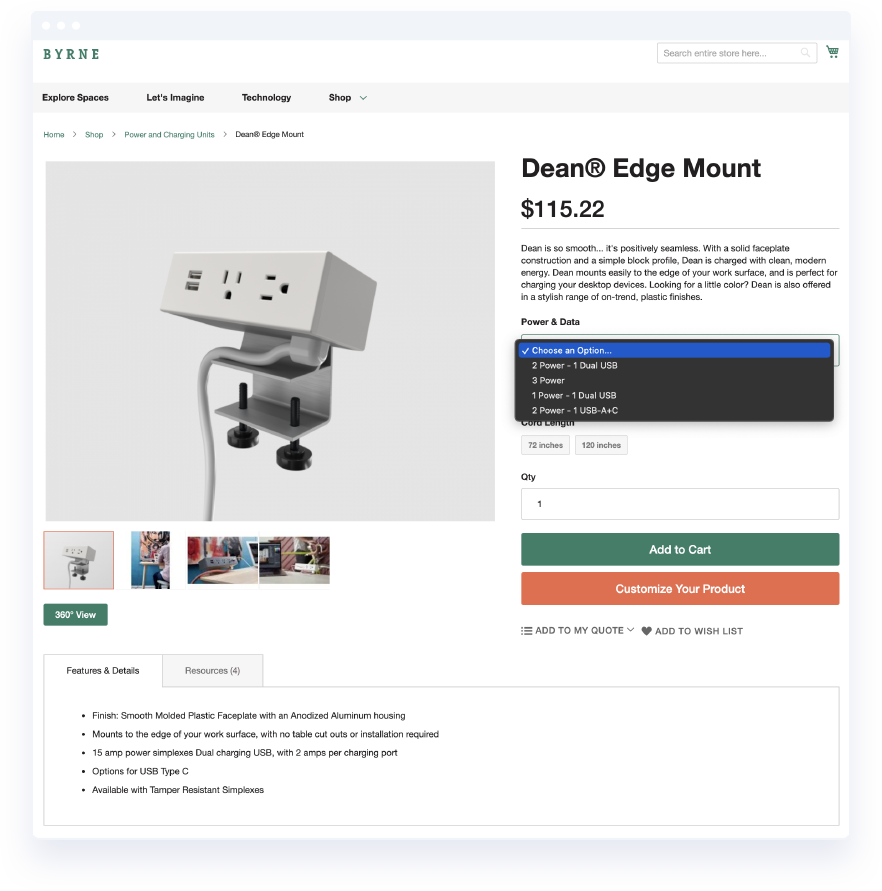 It's Only Up from Here
IT transformation is ongoing. For Byrne, once the B2B platform launched, beyond customer satisfaction, employee production and satisfaction continued to improve. Order taking and confirmations, for example, once dependent on manual workflow is now highly automated. This allows the same resources to refocus efforts on outbound sales and marketing campaigns. Results are seen up and down the supply chain.
All in all, Byrne's long-term return on investment assumptions are proving accurate. The launch of the platform has allowed the company to make better use of its people, and to invest and redirect resources into product growth innovation. At the same time the key stakeholders, clients, now experience a faster, easier and much more consumer-friendly shopping experience with Byrne than ever before. There is much more transformation to come, but Byrne is now able to expand using its digital assets.
Atwix is proud to have had a small part in Byrne's success. When we work as a team we prove that anything is possible!
Want to hear from Byrne directly? Watch the recording of the live talk from George Fabis, Byrne's Director of IT, or read the recap of it at our blog.