How to make the perfect sofa—and the perfect webstore.
Atwix allowed our internal engineering team to continue to deliver for our business while also completing a critical replatforming. We valued their commitment to the project, even when it became much more complex than expected.
Chief Experience Officer @ Interior Define
How to replatform a successful and well-established business
Not long ago, custom furniture was only available to the super-rich or famous. Then Interior Define opened up the world of bespoke sofas to a whole new market, and revolutionized the way people shop for home furnishings. Now anyone can create their perfect sofa on interiordefine.com. Select the right size. Choose the dreamiest cushions. Then pick a color that matches your living room and buy it—without spending a fortune. It's all thanks to an ingenious digital experience that puts the consumer in the designer's seat—not the other way around.
As a digital-first company, Interior Define's webstore handles 100% of their business. Thirty physical stores across America connect into one successful omni-channel operation that has delivered exponential growth for years. "We are a direct-to-consumer furniture retailer," explains Catherine Colwell, Interior Define's Chief Experience Officer. "Our products are unique because they are highly customizable, each one is made to order…so Ecommerce is core to our business model." But there were problems with their platform. "We were on a very outdated version of Magento that was slowing down our business," Colwell admits. "The key challenge for us was how to replatform while our business was still growing."
Magento Commerce 1 had served the business well, allowing Interior Define to build a customized store. But the platform had started to feel severely outdated, especially after Adobe no longer offered support for it. This created security risks, hampered the implementation of new solutions, and slowed down the customer experience. Interior Define needed to create an all-new version of their store, with Augmented Reality product visualization and PWA to make the store lightning fast on mobile. "Our goal was to maintain core site KPIs—conversion and speed," says Colwell. In other words, they wanted their customers to do what would have been unthinkable a few years ago: Design and purchase a bespoke sofa…using a cell phone.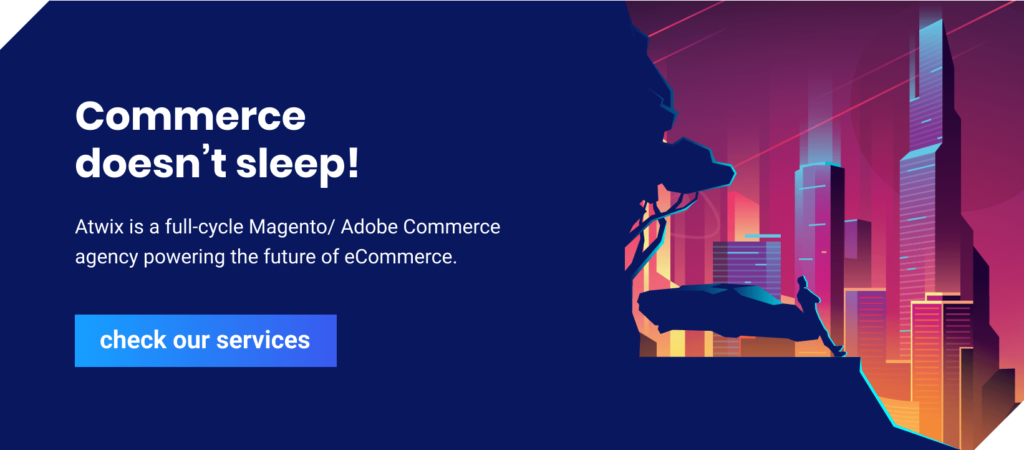 5,600 products. 42 third-party modules. One solution partner.
In their search for the perfect Ecommerce partner, Interior Define chose Atwix. Atwix is the most-certified Magento/Adobe Commerce Gold solution partner in the world, and the number one contributor to Magento Commerce 2 since 2018. "Working with Atwix allowed our team to continue supporting the current website while also delivering a new website in twelve months," says Colwell. "It was critical that our team was able to continue to work on our current platform while also beginning the new platform." This was the engineering equivalent of fixing a jet plane mid-flight, and Atwix was up for the challenge. Atwix engineers got straight to work, replatforming Interior Define onto Magento Commerce 2, while building the custom functionality that would allow users to create their dream sofa online. Upgrading to Magento Commerce 2 with the store's highly customized content and media load was no small order. The company needed to showcase more than 20 collections, 125 different fabrics, and 20 types of sofa legs. Atwix built an infinite scroll boasting 5600+ products in over 100 categories that could expand as Interior Define broadened their product catalog to include floor lamps and rugs.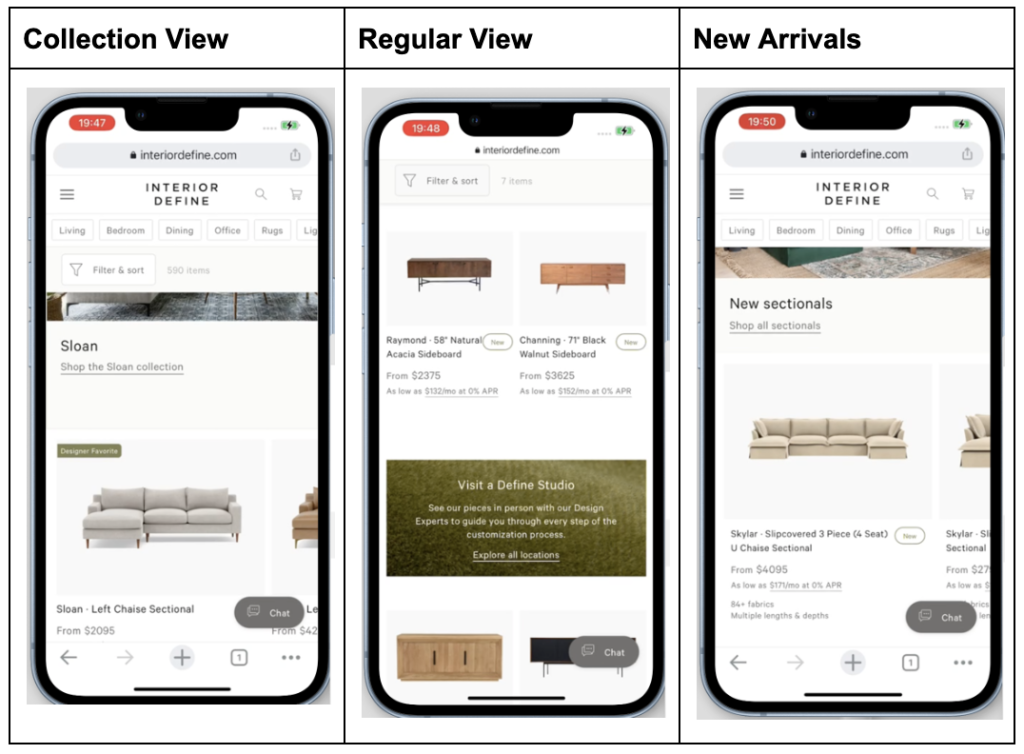 Atwix also added product visualization with Cylindo, a 3D visualization and Augmented Reality solution that allows users to see their dream sofa in their living room, before buying. Users can try out different fabrics and colors, move the piece around their room and see how it looks in their space—all on a mobile device.Interior Define installed 22 custom modules and 42 third-party modules to make the site tick, including a custom "swatches" feature that allows users to pick the perfect material for their sofa.
"We had a custom module built to manage our swatches/fabrics," says Colwell. "This is critical because we need to be able to manage them centrally, versus on each individual product."
A 60% increase in performance
By partnering with Atwix, Interior Define solved their most pressing infrastructure challenges, and also laid the groundwork for future scaling by implementing a PWA/headless solution. "We had a very strong website experience prior to this project and we were successfully able to maintain it post launch," says Colwell. Atwix also implemented other customer-focused UX implementations, including a user-friendly interface, GeoIP targeting, and a "find the closest store" locator, plus customer group-based marketing to send the right offer to the right customer, at the right time.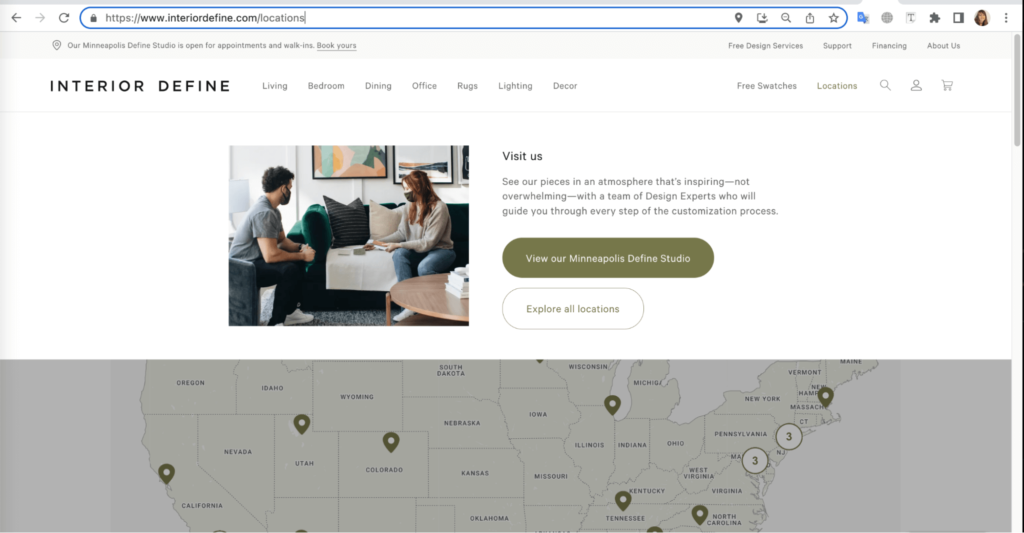 The results speak for themselves. The site enjoyed an average boost to speed index of more than 30%, and a 60% increase in its desktop performance score. The new store is helping customers find and customize their perfect sofa, and whiz through to checkout quickly and easily. The store now offers three payment options with unlimited expandability.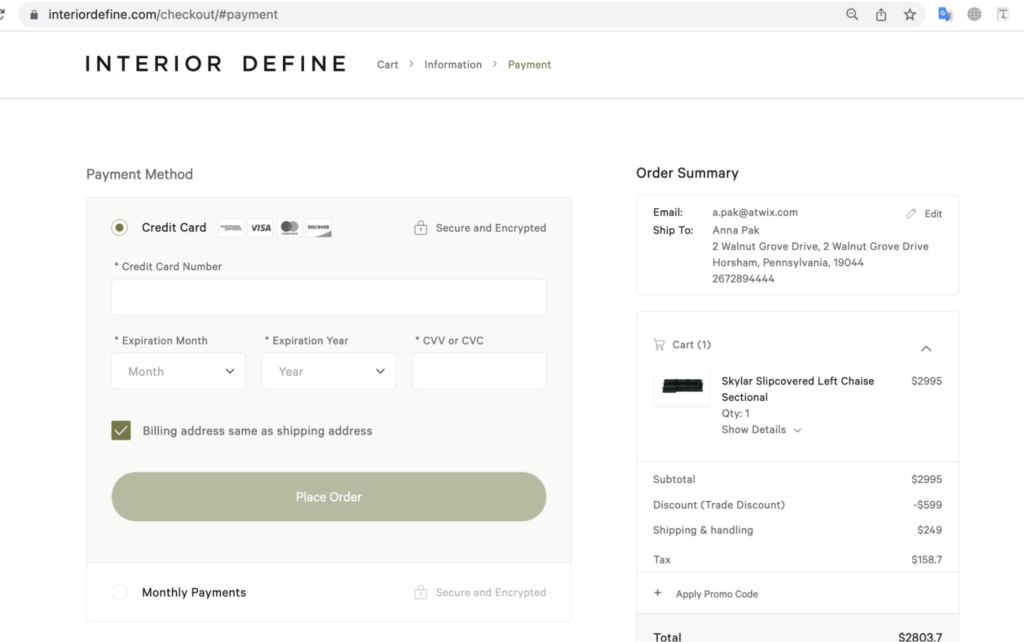 Implementation of PWA and various caching solutions has not only boosted performance, but opened the door to future innovation. "We're in the process of implementing native gift cards. We're excited to be able to use native functionality that is PWA compatible," says Colwell. Finally, the Interior Define site is as customizable as their sofas. Now sofa shopping is so easy, all you'll have to worry about is what show to binge.