Implementing B2B eCommerce for distributors is a way to transform business operations once and for all. With the constant growth of B2B sales expected to reach over 3 billion dollars by 2027, distributors have to face the new reality and take their operations online to stay competitive.
B2B eCommerce solutions can streamline and automate complex purchase cycles and order management processes, thereby maximizing efficiency and minimizing human errors. They will also enhance customer experience (CX), personalize pricing and product selection, and use data to draw strategic insights.
Atwix has been helping businesses build a powerful online presence since 2006. As an award-winning eCommerce agency, we create custom Magento / Adobe Commerce solutions and offer wide-ranging consulting services about your website, security, and performance, among others.
And here we are sharing our expertise and helping you close the knowledge gap on the platforms that will meet your B2B needs. Read on this guide to find the list of tried-and-tested ecommerce platforms for B2B, their benefits and features, and ways to implement them to streamline your sales. Let's dive right in!
B2B eCommerce solutions for Distributors
Managing inventory, processing orders, and keeping the supply chain visible and smooth can be a real challenge for distributors. And they can lose a pretty penny unless they handle these issues well.
So, when distributors choose an eCommerce platform, it's not just about making transactions easy. They need a solution that will help them balance supply and demand, keep inventory levels accurate, and ensure on-time deliveries, while contributing to a more connected, transparent, and responsive supply chain.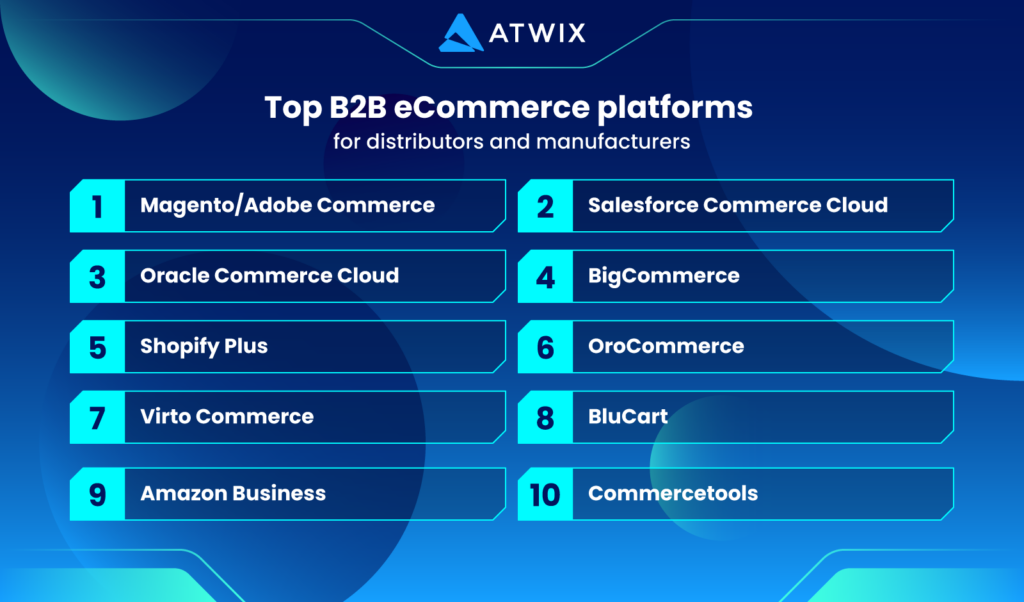 Let's explore top B2B eCommerce platforms that will help distributors address these issues.
Magento/Adobe Commerce
Magento Commerce has built a stellar reputation in eCommerce by blending strong, secure functionality with a wealth of handy features. Named a leader in Gartner Magic Quadrant for Digital Commerce, the platform offers a user-friendly interface, flexible product catalog management, and secure payment processing. It supports multiple languages and currencies, making it a smooth to operate in the global market and cater to clients from all over regardless of language or location.
As Magento became part of Adobe in 2021, it was rebranded into Adobe Commerce, so do not get confused if you see different terms. Adobe Commerce has additional capabilities, including a more seamless integration with Adobe's marketing and analytics tools. The platform offers tight integration with Adobe Analytics, Experience Manager, and Marketing Cloud. This integration is valuable for businesses seeking a comprehensive digital marketing and analytics ecosystem.
Salesforce Commerce Cloud
Originating from a powerful CRM, Salesforce Commerce Cloud is one of the biggest sharks in the ecommerce B2B industry. It provides a streamlined approach for businesses who rely heavily on sales to B2B clients, who often place large, frequent, and recurring orders.
The platform allows creating shopping experiences that handle hefty orders easily, offer two-click reorders, showcase custom themes, and provide specific product catalogs while supporting various delivery and payment options. Distributors also choose it for its ability to personalize sites per customer using real-time data, enhance buying experiences with targeted recommendations.
Oracle Commerce Cloud
This B2B eCommerce platform for distributors runs in the Oracle Cloud, providing distributors with a formidable infrastructure to establish a custom, feature-laden storefront. Oracle Commerce Cloud integrates with various Oracle ERP and CRM solutions, combining operational management and customer engagement into a cohesive B2B eCommerce environment.
Oracle Commerce Cloud consolidates all administrative tools into a unified interface, streamlining management and pooling various activities into one accessible location. The platform boasts a non-blocking architecture inherent to Oracle Cloud Infrastructure, which curtails latency and mitigates the risk of impact from other network users on customer environments.
BigCommerce Enterprise
BigCommerce seamlessly blends efficient transactions with enhanced product visibility, particularly through its exclusive B2B module in the Enterprise package. This platform offers mobile-friendly themes that cater to on-the-go B2B buyers. Plus, with its extensive, fast-performing filtering options, buyers can easily navigate through even the largest catalogs to find what they need swiftly.
The platform is also customizable for sellers, enabling distributors to mold their online store to mirror their brand and meet specific needs.
Shopify Plus
Extensive expansion and customization options make Shopify Plus an attractive choice for large distributors. Shopify Plus stands out by blending advanced functionality with an extraordinarily user-friendly interface, simplifying the customer journey.
Beyond the basics, Shopify Plus offers savvy pricing and discounting tools that allow businesses to strategically mold their pricing strategies, applying discounts where they're most impactful and crafting pricing models that genuinely resonate with their clientele.
OroCommerce
OroCommerce particularly resonates with midsize to large enterprises. It's not just an eCommerce platform; it's a specialized B2B solution, recognizing that the nuances between B2C and B2B transactions need a distinct approach. Its multichannel store setup, integral features like account management, user authorization, and rule-based workflows provide a comprehensive platform while ensuring user-friendly content management.
Distributors often lean towards OroCommerce because it not only ensures a lower total ownership cost and quicker time to market but also provides a comprehensive suite that simplifies the complexity of B2B transactions.
Virto Commerce
Virto Commerce, an open-source enterprise-level e-commerce platform, is a robust ally for businesses, particularly in managing highly customizable and scalable online stores. This B2B eCommerce solution helps distributors enhance their transactional and order management capabilities.
Distributors choose Virto Commerce because it bolsters operational efficiency, data-driven decision-making, and search engine visibility, thereby emerging as a substantial asset for any distributor striving to carve out a significant presence in the online marketplace.
BluCart
BlueCart stands out as a comprehensive eCommerce platform, especially tailored for the hospitality, food, and wholesale industries. This tool simplifies intricate workflows, such as inventory replenishment, order fulfillment, and payment processing, all while ensuring businesses can stay agile in fast-evolving markets like hospitality.
Beyond transactions, BlueCart amplifies its utility with features like mobile ordering, manageable payment processing, and SEO-optimized storefronts.
Amazon Business
Amazon Business is a stepping stone for novice distributors in the digital marketplace, particularly due to its low entry requirements. There's no immediate need to build a website, engage developers, or invest heavily in the initial setup. However, while it's an accessible starting point, it potentially lacks the expansive capabilities of platforms like Adobe Commerce or Salesforce, which could be a limiting factor for larger, more ambitious businesses.
One of the key features that sets Amazon Business apart is its punchout catalogs. These catalogs act as virtual storefronts, allowing businesses to integrate their procurement systems directly with the platform. Amazon Business also provides access to wholesale pricing, which specifically meets the needs of B2B customers.
commercetools
commercetools aligns perfectly with the innovative MACH principles, which include Microservices, API-first, Cloud-native, and Headless technologies. This alignment allows distributors to create unique, adaptable CX, integrating them effortlessly across different channels thanks to the platform's emphasis on an API-first approach.
What sets commercetools apart is its use of a microservices architecture. Every component operates independently in this setup, drastically reducing the risks of comprehensive system changes or updates. This feature is great for distributors minimizing any disruptions or delays in service.
Additionally, the cloud-based nature of commercetools eliminates the need for significant initial investment in IT infrastructure. The platform handles regular updates, sometimes daily, which lets distributors pay more attention and resources to expanding their market presence and improving core business processes.
Atwix helps you to equip your distribution business with a robust B2B eCommerce solution. We will guide you, ensuring operational efficiency and improved customer experience.
Benefits of Using a B2B eCommerce Solution for Distributors
Employing a holistic B2B eCommerce solution paves the way for many advantages: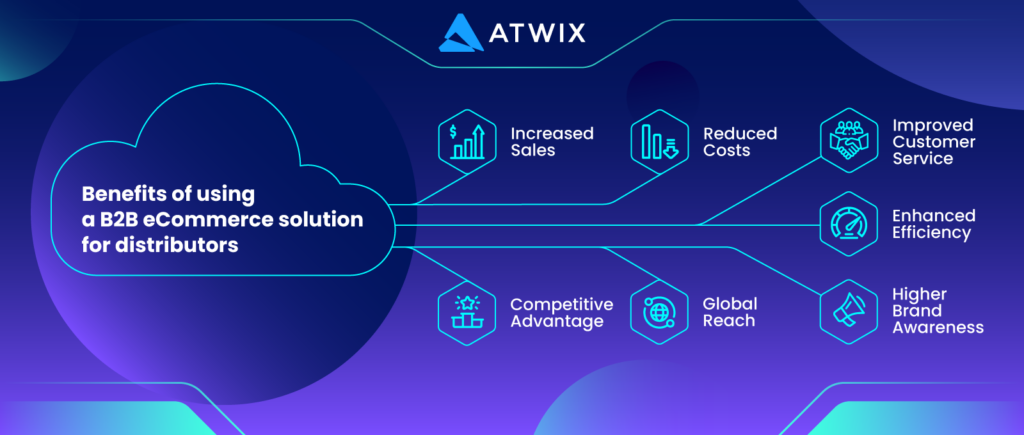 Increased Sales. Using a B2B eCommerce platform can increase sales by making the purchase cycle easier for customers.
Reduced Costs. Automating order processing, inventory management, and customer service cuts costs. A B2B eCommerce platform reduces manual work and eliminates mistakes in filling orders and managing inventory.
Improved Customer Service. Since the B2B eCommerce platform offers 24/7 access, customers can browse, order, and manage accounts anytime.
Enhanced Efficiency. Automated workflows allow for faster order processing, instant inventory tracking, and robust data management.
Competitive Advantage. Besides streamlining purchasing and providing robust customer support, data from eCommerce platforms shows important customer and market trends. Distributors can use it to plan their business strategies, replenish inventory, and carry out marketing experiments to remain competitive.
Global Reach. B2B eCommerce solutions remove location and shipping barriers, which allows distributors to find new markets and serve more people around the world.
Enhanced Brand Perception. A B2B eCommerce platform shows a distributor's dedication to new ideas and satisfied customers. Offering a top-notch, safe, and fast eCommerce platform can lift their brand image.
In short, adopting a B2B e-commerce platform goes beyond boosting sales and streamlining operations. It's also a strategic maneuver that develops the distributor's brand, ensuring a stable position in the market.
How to Implement a B2B eCommerce Solution for Distributors
Entering the digital trade with a B2B eCommerce solution needs meticulous planning, smart tech use, and skilled execution. Here's a step-by-step guide for distributors to put a B2B eCommerce solution into action.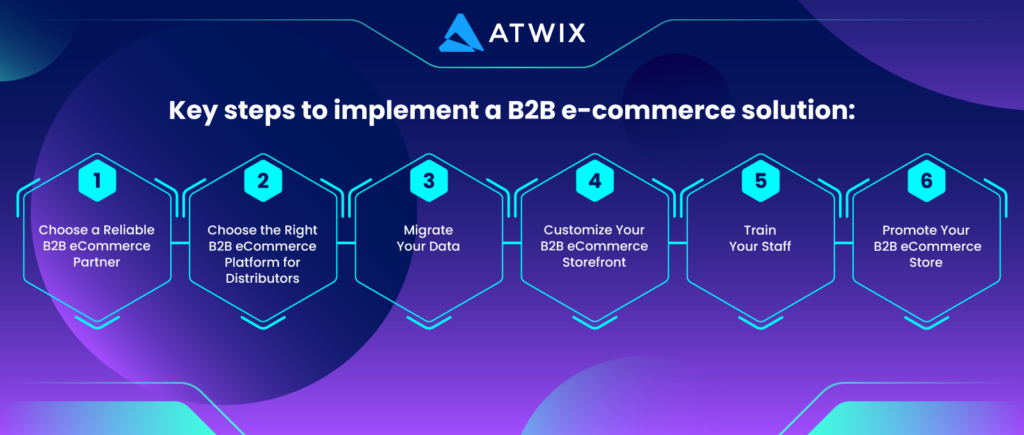 1. Choose a Reliable B2B eCommerce Partner
Start with thorough research. Check potential partners' skills, client feedback, and case studies. Ensure your potential tech partner understands your business goals and knows your industry. Look at their support and ensure they can provide a solution that will grow alongside your business.
2. Choose the Right B2B eCommerce Platform for Distributors
Navigating through a wide range of B2B eCommerce platforms, you might wonder if any one of them can fit your unique business model and adapt to evolving customer demands.
Your thoughts might also steer towards nuanced features, such as the robustness of its data analytics and insight into user behavior, or the flexibility it offers in crafting customer loyalty programs smoothly. Ensure the platform can seamlessly integrate with your current ERP, CRM, and other key systems, and confirm it follows security rules for your industry. You can use some of the best ERPs to integrate with Magento, too.
3. Migrate Your Data to the Platform
Identify and organize essential data for migration: customer details (names, contact information, purchase history, etc.), product information (SKUs, descriptions, pricing, images), order history, and perhaps various forms of transaction and communication logs.
Check the data for consistency and accuracy in the new eCommerce platform. Map it meticulously, ensuring each data point from your old platform is accurately represented and placed in your new system, mitigating the risks of misplacement or distortion during the transfer.
4. Customize Your B2B eCommerce Storefront
Make the UX design intuitive, responsive, and easy to navigate. Ensure the storefront matches your brand using consistent logos, colors, and messages. Adjust and improve platform features to specifically serve your customers and ways in which you operate.
5. Train Your Staff
It's imperative to equip your team with the requisite knowledge and skills, ensuring the smooth sailing of operations and the seamless experience for your customers.
Start with thorough training sessions that delve into managing the platform, enabling your team to handle the nuts and bolts of day-to-day transactions and stock maintenance with finesse. Dive deeper by weaving in robust CRM training. This might be a one-time thing; however, proper onboarding will make the team more confident with tech and ready to assist your customers.
Empower your team with basic troubleshooting skills. These skills minimize downtime and operational hiccups and establish a first line of defense in maintaining the seamless functionality of your platform. And if it's too much tech to handle, reach out to Atwix for Magento support services!
6. Promote Your B2B eCommerce Store
Ensure you run a strong advertising campaign across multiple channels to market your digital storefront. Offer clear guides and support to help customers start using the platform. Use email, social media, and other online channels to keep talking to customers. Keep them informed about offerings, updates, and insights.
Why Atwix offers the best B2B eCommerce solution for distributors? We'll navigate your through the implementation process, ensuring digital transformation aligns with your business goals and provides experiences your customers deserve.
Common Challenges Faced by Distributors
In the complex world of distribution, businesses face many challenges. These issues touch on operations, technology, and management:
Customer Relationship Management (CRM). Maintaining strong customer relationships is crucial for distributors. Satisfied customers stay with the product, order more, and even become brand ambassadors, marketing the business by word-of-mouth. An integrated CRM within the eCommerce platform can track your customer interactions, purchasing history, and preferences, enabling personalized communication and marketing strategies.
Technological Adaptation for Employees. As technology evolves, distributors must adapt and ensure their employees have the necessary skills to use new tools. User-friendly eCommerce platforms with intuitive interfaces will streamline your employee workflow and eliminate any risk of human errors.
Inventory Management. Efficient inventory management helps distributors balance supply and demand while reducing carrying costs. Advanced eCommerce systems can integrate AI-driven inventory management solutions and optimize stock levels by analyzing sales data and predicting future demands.
Complex Supply Chain. Distributors often deal with intricate supply chains, so managing logistics and dealing with disruptions often get in the way of smooth purchasing. The eCommerce platform with integrated supply chain management tools helps to optimize route planning, ensuring that delivery deadlines are met at all times.
Data Management and Analytics. Managing large data sets spanning sales, inventory, and customer information, and harnessing it effectively for strategic decision-making can be a challenge. Robust data analytics and management tools in an eCommerce platform will categorize, analyze, and present data in easy-to-understand formats.
Case Studies in B2B eCommerce Implementations
Diving into the digital world, several companies have hit a home run by using B2B eCommerce solutions. From efficient backend operations to more personalized customer journeys, these companies stand as paragons of success, intertwining technological prowess with strategic acumen.
Here are some examples of how companies have achieved success with effective B2B eCommerce solutions.
Interior Define
Interior Define brings custom sofa shopping online with a digital-first approach. Atwix helped them migrate from the outdated Magento 1 to Magento Commerce 2, addressing security and UX issues.
The distributor was among the first to introduce augmented reality among the competitors, and faster mobile experiences keps online orders pouring in from all around the world. The change improved customer interaction, increased their service by 30%, and boosted desktop performance by 60%.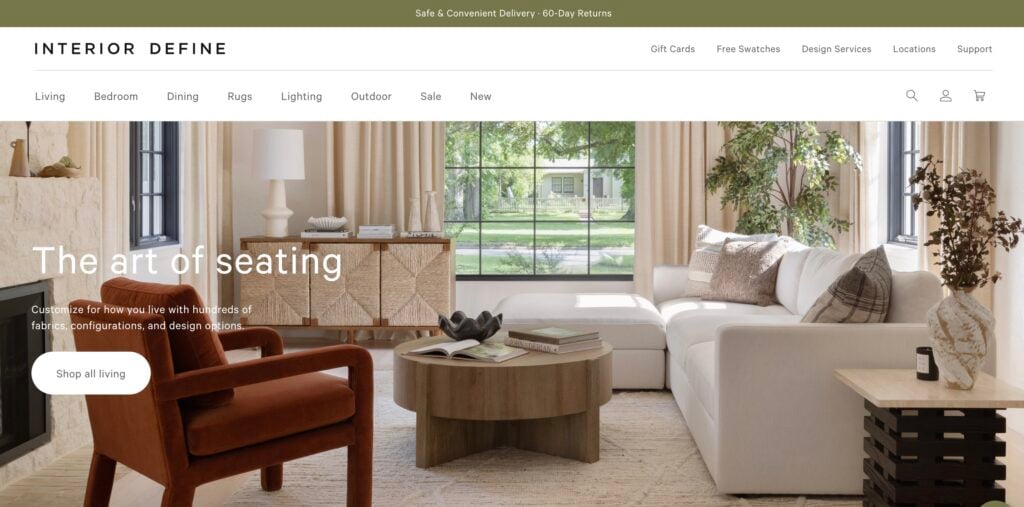 W.W. Grainger
W.W. Grainger, a key distributor of industrial supplies in North America, saw customer preferences shift online. Recognizing the need for a strong online ordering system, they launched a B2B eCommerce platform which allowed customers to easily explore products, place orders, and manage their accounts. With mobile orders and barcode scanning, Grainger improved customer experience and boosted online sales.
MSC Industrial Supply Co.
MSC Industrial Supply Co. is strong in distributing metalworking and MRO products. Determined to enhance online buying experience for customers, including engineers, MSC built a B2B platform with smart search, product tips, and live inventory.
MSC implemented the Salesforce Marketing Cloud, engineered to seize digital signals across various customer interaction points with the MSC brand, including online advertisements, product videos, and webinars. This empowers MSC to comprehend customer interests and tailor experiences according to their preferences.
Byrne Electrical
Byrne Electrical, a maker of electrical appliances, had a distinct need: a separate B2B website that wouldn't be connected to their primary platform. As their tech had fallen behind the times and wouldn't allow for such a twist, the brand turned to Atwix in search of ecommerce expertise and robust solutions.
In a swift turnaround of just two months, Atwix not only brought a fully-functional B2B website into the light but also set the wheels in motion for a new Direct-to-Consumer (D2C) platform, dedicated to a select range of Byrne products. It wasn't merely about creating new digital spaces; it was about redefining the entire purchasing journey.
With the unveiling of the B2B portal, myriad features and automated workflows came into play, each meticulously crafted to enhance the experience for both customers and Byrne's team. Non-catalog products now had a selling avenue, while seamless ERP integration ensured operations were tightly knit.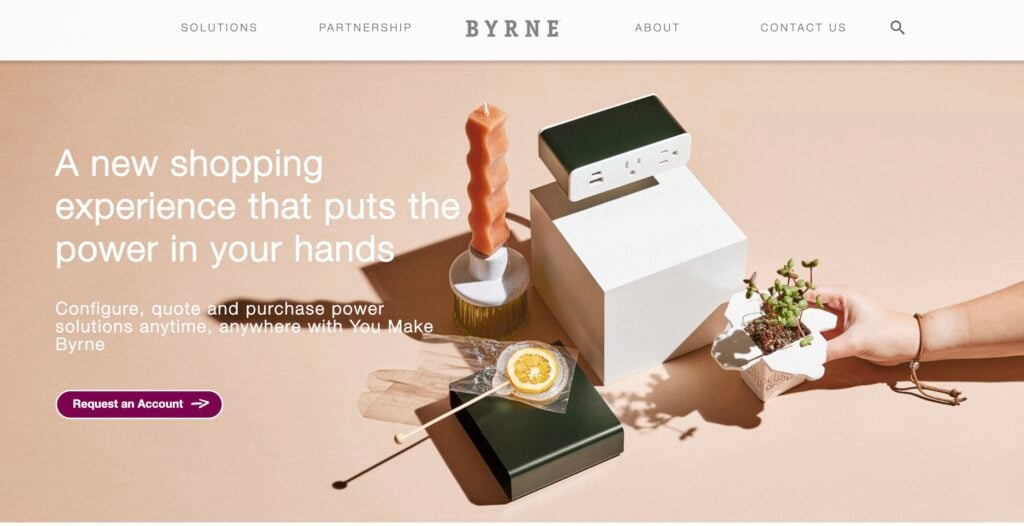 Magnanni
Magnanni represents the epitome of Spanish shoemaking craftsmanship. With a legacy steeped in tradition and quality, this brand delivers luxury footwear. Magnanni sought to provide its clients with a user-friendly shopping experience in the digital realm.
Atwix created a simple, stylish solution using Adobe Commerce Cloud with multi-site features and connects with enterprise systems. We started with a technical check of Magnanni's multiple Magento stores to optimize the old code, improve system request management and boost efficiency to 40% in some parts.
Atwix solutions give Magnanni users real-time stock data and backorder options to increase their satisfaction and loyalty. The platform ensures that every interaction echoes the brand's commitment to excellence and quality.
These success stories might seem inspiring, but check out more in Atwix portfolio! Ecommerce for B2B distributors is no longer the dream, it's the present and future which you should be ready for.
Are you looking for the best e-commerce solution for your business?
Reach out to Atwix and have your website up and running just in time for high season.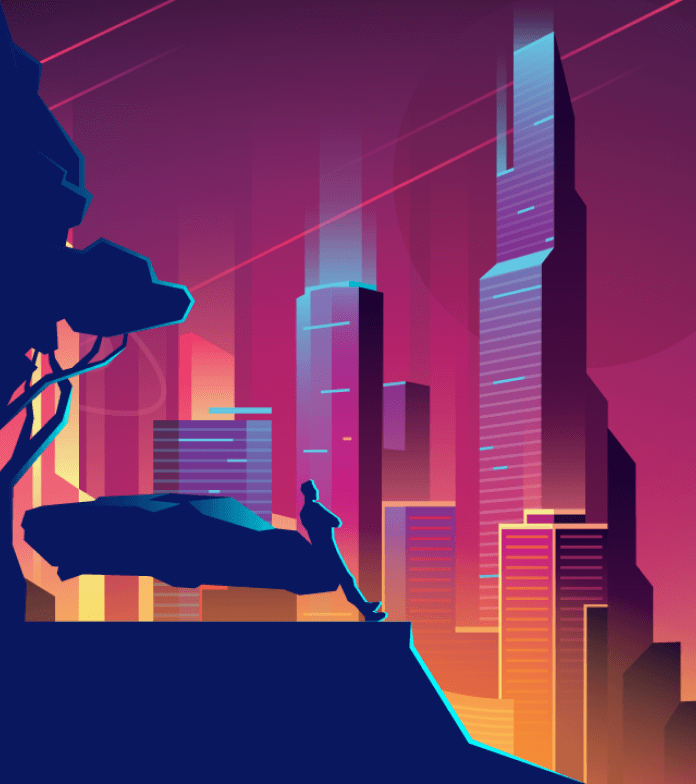 The Bottom Line
In a constantly changing world, where customer demands grow and markets shift, adapting is vital for a business success. That's why B2B eCommerce for distributors is more than just going online. It's about creating a positive experience, simplifying operations, and finding new ways to grow.
Imagine a platform that's not just a catalog but a complete, interactive space where all customers can easily find and buy your products. Now, think of a back-end where your teams, from sales to service, use a single system that makes processes easy and efficient. This is the solution Atwix can provide. Let your business meet market demands and anticipate and lead in the digital retail world.
Whether you're a small startup or an established enterprise, Atwix is here to turn your eCommerce aspirations into a reality. Reach out for a consultation and let our experts help you power through your B2B business.
FAQ
Why Do Distributors Need eCommerce?
Distributors require eCommerce to meet the evolving demands of both their customers and the market. They use digital transformation for fast, smooth, and easy buying experiences.
An eCommerce platform improves sales processes, customer experiences, and inventory management. In a time where digital interactions are common, a robust eCommerce platform offers a competitive edge. It ensures distributors stay relevant and adapt to market changes.
How Do I Create a B2B eCommerce Platform?
Creating a B2B eCommerce platform involves six steps:
Establish clear objectives and understand the needs of your target audience.
Choose a reliable B2B eCommerce partner to assist you through the process.
Select a platform that aligns with your business requirements and customer expectations.
After migrating your data to the new system, customize your storefront to mirror your brand and enhance user experience.
Train your staff to navigate and manage the platform.
Craft a marketing strategy to promote your new digital storefront.
What are the Benefits of Atwix Among Other B2B eCommerce Partners?
Atwix stands out for its custom B2B eCommerce solutions and strategies that match specific business needs. It offers technology with a deep understanding of B2B commerce details.
We create solutions that improve UX and simplify back-end operations, making them a top choice for many businesses. Atwix also focuses on scalability and flexibility to meet present and future business needs.
How Much Do B2B eCommerce Solutions for Distributors Cost?
B2B eCommerce solution costs depend on several factors. These include the platform maintenance, customization complexity, data migration, and integration needs. Prices can also vary with the eCommerce partner you choose.
The investment can also include upfront development costs, ongoing maintenance, and possible future upgrades. Detailed talks with your eCommerce partner, like Atwix, will give you a precise, tailored estimate based on your needs.