As Magento 1 reached its end of life in June 2020, more and more merchants have been exploring options to migrate from Magento 1 to Magento 2. The reasons are quite clear: security concerns, non-existent support of Magento 1 modules, and poor user experience that can no longer meet the rising customer expectations.
Atwix is a reliable Magento 2 migration partner that will move your data, design, and functionality while improving performance and conversion rates. Over the years, we have completed multiple replatforming projects, including Double U Hunting Supply, Coyuchi, LaModula, Final Draft, and PrepperGunShop, among other.
In this article, you'll learn why it is important to migrate to Magento 2 now more than ever, how this process goes, and what improvements you can expect.
Why Migrate to Magento 2?
Switching to Magento 2 can offer several compelling benefits:
The admin panel in Magento 2 is more user-friendly and efficient, making it easier to manage products, orders, and customers.
Magento 2 can easily handle over 1 million products, customers, and orders while maintaining faster page load times thanks to the Varnish cache. Magento 1 capabilities would already be stretched at 10,000 – 25,000 products.
Magento 2 provides a more optimized and convenient checkout process. This way, you can expect lower cart abandonment rates and higher conversions.
The Magento 2 online store is more mobile-friendly and accessible to a wider audience.
Magento 2 allows you to plan and preview content changes, promotions, and product updates before they go live.
Magento 2 includes a better URL structure, improved meta tags, and built-in rich snippets for product pages. This improves the website's position in search engine results.
The new Magento solution has a modular architecture that simplifies connecting to payment gateways, shipping providers, and other core tools.
Besides, moving to Magento 2 ensures that your platform will receive ongoing support and updates from Adobe.
Assessing the Risks: Why No Reason in the World Should Stop You From Magento 2 Migration
Magento 1 is no longer supported by Adobe, so remaining on it after its official end of life is a surely a risky business.
Here are the risks you'll face if you decide to stay on Magento 1:
Lack of software support. M1 is built on PHP5, whereas most platforms today are running on PHP7 which is faster, more flexible, especially when it comes to mobile devices, and much more compatible with third-party software integrations.
No support for patches. You can no longer count on quality fixes or patches from Magento.
Weak security. Security threats from outside sources continue become more sophisticated. Protecting your customer and business data should be your top priority. In remaining on Magento 1, you must carry this key responsibility without the benefit of Magento proactive support.
Obsolete tech. The quality of your business depends on constant evaluation and reassessment of product quality and solutions available. By staying with Magento 1, you limit yourself to what already exists, whereas migrating from Magento 1 to Magento 2 will open up the potential to explore and implement leading solutions.
Poor customer experience. It becomes more likely over time that your customers may experience a decrease in experience and a growing gap in their expectations, especially relative to a competitor's website which is on Magento 2.
Migration phases
It goes without saying that every sustainable change needs thorough planning. Magento migration, by no means, is a challenge, but also a great opportunity. This is your chance to reconsider your commerce infrastructure, digital business strategy, and user experience.
Firstly, an evaluation of the extensions & custom code needs to be done. Many stores have many extensions. Analyze if they are all necessary and relevant.
The next and the most important step is the actual preparation of the Magento 2 store for migration. This will require the installation of Magento 2.x (with the revisited modules) and Data Migration Tool on the infrastructure that complies with the Magento 2 technology stack requirements. Data Migration Tool is a command-line interface (CLI) used for transferring data from Magento 1 to Magento 2. It verifies consistency between Magento 1 and 2 database structures (tables and fields), tracks the data transfer progress, creates logs, and runs data verification tests.
Testing! Testing! …and more testing!
Once the Magento 1 store is copied to the staging server and data is migrated, just give it a good round of solid testing of all the business scenarios. The more testing – the better.
Now when everything is ready, initiate the migration.
The process includes allowing access to both Magento 1 and Magento 2 databases; stopping all activities in Magento 1.x Admin Panel, except for the transactions until Magento 2 is live; stopping all the cron jobs on Magento 1.x; migration of the settings and the website; copying the media files, data and finalize this with the reindexing of Magento 2.x indexers.
Adjustments unless needed. Running a Magento 2 store creates options and opportunities as an Admin. You find yourself with many new settings, CMS editor/Page Builder, catalog structure, Multi-Source Inventory, and many more new features. One bit of caution, is that while fixing or adding new data, make sure to test and verify you did not introduce any new errors.
Updates to the incremental data need to be transferred to the Magento 2 store, after data.
Magento 2 SEO and Magento 2 performance audits. It is essential that you launch the new store with no major SEO and/or performance issues problems. You can carry out performance analysis on your own using some free tools or partner up with an expert agency like Atwix who will do it for you.
Go live. Enabling maintenance mode on the Magento 1 system with the start of downtime will initiate the beginning of making Magento 2 store live. Once all the migration is done, it needs to verify the newly migrated Magento 2 store and it could be ready to use.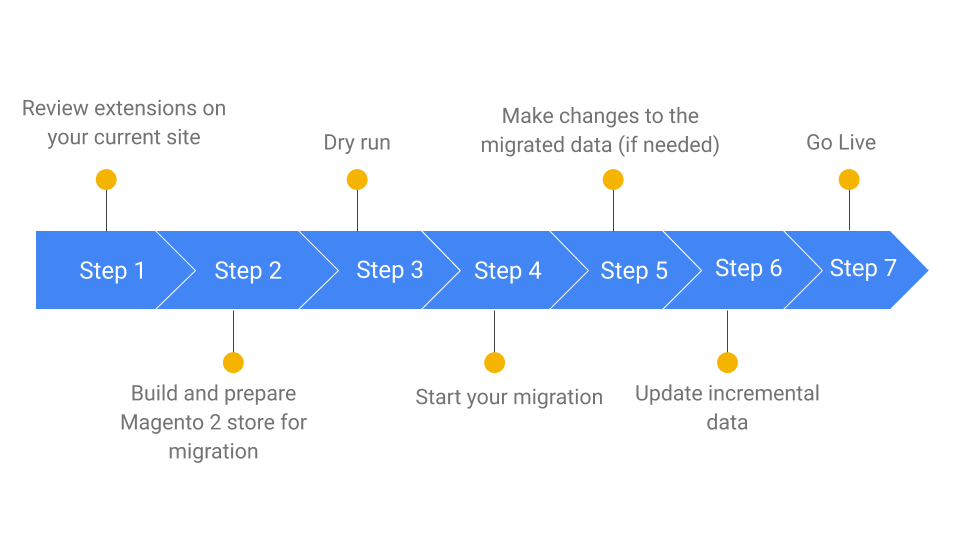 Atwix as Your Magento 1 to Magento 2 Migration Partner
Atwix is one of the longest-serving Magento Solution Partners and one of the world's first official Magento Commerce 2 Trained Partners.
Over the years, we've gained hands-on experience and took a firm grasp of technology updates to easily migrate your website from Magento 1 to Magento 2. We know how to efficiently move all your data, design, and functionality while maintaining the authenticity of your solution.
An average Magento project takes only 3-5 months, and the cost of implementation and maintenance is relatively low due to the open-source code. You can stay competitive with new expansions and quickly open new stores in different countries.
Take a look at some successful Magento 2 migration stories of Atwix clients:
In addition, we have a successful case for HYPERVSN with upgrading to a robust Magento Commerce 2 template. The future plans include migration to Magento 2 for Everyday Minerals and CarPartsKings.
Takeaway
Migrating from Magento 1 to 2 is a significant upgrade. Businesses can yield significant results in terms security to functionality after replatforming as long as it is implemented fast and thoroughly.
At Atwix, we have been working with businesses across industries and geos, making sure their transition to Magento 2 is as smooth as possible. And there's one thing we can say for sure: Magento 1 end-of-life isn't so much as sunsetting your current platform but a pathway to a truly new beginning to solve your customers' problems.
Open up new opportunities to expand your capabilities and grow your online business like you could not before. Reach out to Atwix for an expert Magento 2 migration consultation.
FAQs
What are the major differences between Magento 1 and Magento 2?
Magento 1 and Magento 2 differ in architecture, performance, features, and support.
Magento 1 has a monolithic architecture, while Magento 2 offers a more modular and flexible one. In addition, Magento 2 allows better performance and scalability and is more suitable for mobile commerce. Magento 2 offers better security, improved SEO features, and a more convenient checkout process. With Magento 2, you will find it easier to manage your inventory, including supporting multiple warehouses.
Magento 2 is being actively developed and officially supported by Magento, with a more active community.
Can I migrate my custom themes and extensions to Magento 2?
Yes, of course. However, this can be a complex and time-consuming process due to significant architectural differences between the two versions.
You must create a new theme from scratch or customize an existing Magento 2 theme from the Magento 2 Marketplace or extension providers. Otherwise, you may need to develop custom extensions to recreate the functionality you are used to.
Magento 2 employs a different coding framework, so you may need to change your custom code to ensure compatibility. Magento provides tools and scripts to help you migrate your product, customer, and order data.
Make sure your custom themes, extensions, and custom code work correctly in the Magento 2 environment. This includes testing for compatibility, functionality, and performance.
The best solution would be to turn to Magento 1 to Magento 2 migration specialists, such as Atwix.
How can I ensure a smooth transition of SEO rankings and URLs?
Before starting the migration, perform a comprehensive SEO audit of your Magento 1 site to understand your existing strengths and weaknesses. Maintain your site's URL structure by using 301 redirects for any URLs that need to be changed.
Migrate your content carefully, including product and category descriptions, blog posts, and other SEO-optimized content. Ensure structured data and schema markup are correctly implemented on your Magento 2 site.
Create a new XML sitemap for your Magento 2 site and submit it to search engines like Google and Bing. Use canonical tags on your Magento 2 site to specify the desired version of the page. Ensure your Magento 2 site's robots.txt file and robot meta tags are configured correctly to tell search engines which pages to crawl and index.
Contact the websites that link to your Magento 1 site and ask them to update their links to point to new Magento 2 URLs.
Can I perform the migration myself, or do I need professional assistance?
When deciding to migrate from Magento 1 to Magento 2 yourself, make sure you have a good understanding of Magento 1 and Magento 2, as well as web development and server management skills. Assess whether you can commit time and effort to carefully plan, execute, and test the migration.
Also, you must access the necessary resources for self-migration, including development environments, tools, and extensions. It is also essential to perform comprehensive testing to ensure your Magento 2 site works properly, including all customizations, extensions, and themes.
If your Magento 1 store is complex or if you need more experience with Magento and web development, don't hesitate to seek professional help from Magento 2 developers.