Change is constant but why? Why fix what is not broken? Why do we need to change something that is already working, and oftentimes well?
If you live in the world of eCommerce, these are obvious questions with obvious answers. As former CEO of General Electric Jack Welch said, "change before you have to". This rings especially true for merchants. But then it also comes to mind that in this fast changing world you as a merchant need to actively listen to your customers to stay on top of trends.
You must continually invest, test and use progressive up to date software solutions for your stores. This is necessary to not just meet customer demand but as importantly to continually up your customer's experience.

For merchants using Magento 1, now more than ever, you must explore change. If you run your store on Magento 1 and have only been exploring options (typically a move to Magento 2) previously, now it is the time to actually take action. Why? If you do not already know, end of life for Magento 1 is inching closer each day, so it is highly important to be fully aware of your options and prepared to move forward
The following introduces a few key reasons why change must be explored now.
Risks & Reasons
Remaining on Magento 1 after the Magento official end of life is a risky proposition, to be sure.
It is highly recommended to consider and prioritize migration to perform it in the most efficient way.

What you can expect to face is a lack of software support and this is because M1 is built on PHP5, whereas most platforms today are running on PHP7 which is faster, more flexible, especially when it comes to mobile devices and last but not least, much more compatible with software integrations.
You can no longer count on quality fixes or patches from Magento.
Security threats from outside sources continue to grow and become more sophisticated. Protecting your customer and business data will be of the top priority. In remaining on Magento 1, you must carry this key responsibility without the benefit of Magento proactive support.
The quality of your business is dependent on constantly evaluating and introducing the quality of the best products and solutions available. You know the competition is. By staying with Magento 1, you limit yourself to what already exists, whereas by migration to Magento 2 you open up the potential to explore and implement leading solutions.
It becomes more likely over time that your customers may experience a decrease in experience and a growing gap in their expectations especially relative to a competitor's website if it's on Magento 2.
Migration phases
It goes without saying that every sustainable change needs thorough planning. Magento migration, by no means, is a challenge, but also a great possibility. This gives lots of options to reconsider the infrastructure, think of the digital strategy and user experience.
Firstly, an evaluation of the extensions & custom code needs to be done. Many stores have many extensions. Analyze if they are all necessary and relevant.
The next and the most important step is the actual preparation of the Magento 2 store for migration. This will require the installation of Magento 2.x (with the revisited modules) and Data Migration Tool on the infrastructure that complies with the Magento 2 technology stack requirements. Data Migration Tool is a command-line interface (CLI) used for transferring data from Magento 1 to Magento 2. It verifies consistency between Magento 1 and 2 database structures (tables and fields), tracks the data transfer progress, creates logs, and runs data verification tests.
Testing! Testing! …and Testing!
Once the Magento 1 store is copied to the staging server and data is migrated, just give it a good round of solid testing of all the business scenarios. The more testing – the better.
Now when everything is ready, initiate the migration.
The process includes allowing access to both Magento 1 and Magento 2 databases; stopping all activities in Magento 1.x Admin Panel, except for the transactions until Magento 2 is live; stopping all the cron jobs on Magento 1.x; migration of the settings and the website; copying the media files, data and finalize this with the reindexing of Magento 2.x indexers.
Adjustments unless needed.
Running a Magento 2 store creates options and opportunities as an Admin. You find yourself with many new settings, CMS editor/Page Builder, catalog structure, Multi-Source Inventory, and many more new features. One bit of caution, is that while fixing or adding new data, make sure to test and verify you did not introduce any new errors.
Updates to the incremental data need to be transferred to the Magento 2 store, after data.
Magento 2 SEO and Magento 2 performance audits. It is very important to launch the new store with no major problems with SEO and performance. Atwix team can help you the audits. You can also learn more about performance analysis in this article.
Good to Go Live.
Enabling maintenance mode on the Magento 1 system with the start of downtime will initiate the beginning of making Magento 2 store live. Once all the migration is done, it needs to verify the newly migrated Magento 2 store and it could be ready to use.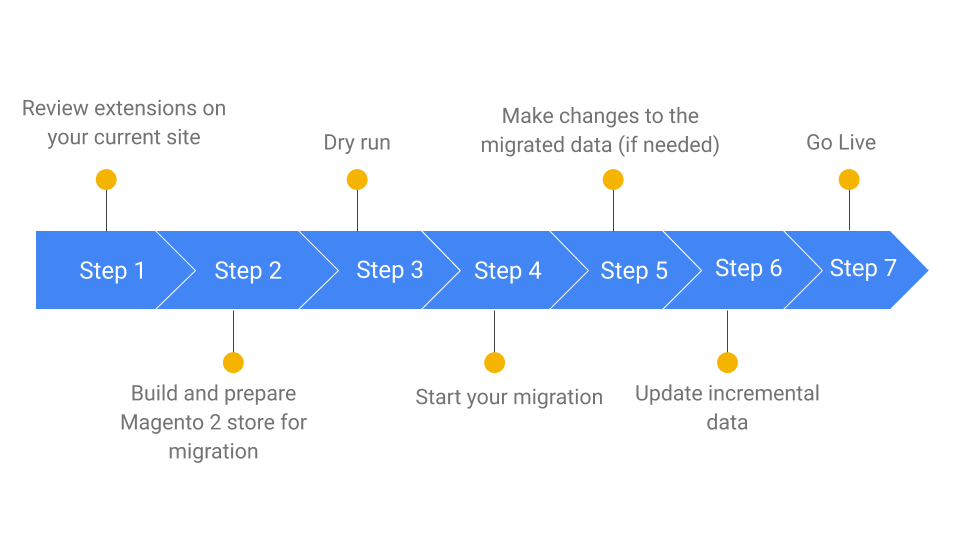 Takeaway
Change truly is a constant for us operating in eCommerce. The good news is that there are many around us with know-how and experience. Do your research. Certainly engage your trusted community to compare notes with someone who has been there and done that.
Migrating to Magento 2 is a significant upgrade. It affords significant upside spanning security to functionality. It is encouraged to be implemented asap but also not rushed in such a way that it will require rework.
We at Atwix might be biased as an agency but having worked with merchants across industries and geos, we encourage you to look to a trusted, experienced Solution Integrator to help you launch your process and develop your plan, if not lead your migration and deployment efforts.
It is important to understand the roadmap in front of you. This project might well entail a more prolonged time frame than expected, as this solely depends on your current Magento 1 state of the store and your future business vision and requirements.
Another way of saying it, end of Magento 1 life can be viewed not so much as sunsetting your current platform but a pathway to a truly new beginning solving problems you could not before at the same time opening up opportunities to expand your capabilities and grow your online business like you simply could not before.