This article is aimed to share our vision and predictions on what is in store for Magento this year along with some of my thoughts and speculations. Your feedback is greatly appreciated. Enjoy!
1. Magento 1 End of Life (EOL)
This is real — Magento's 1 long – very long – life cycle is coming to an end. Per Magento, M1 will be sunset this coming June.
Merchants using Magento Commerce 1 (formerly known as Enterprise Edition) and Magento Open Source 1 (formerly known as Community Edition) should migrate to Magento 2 as soon as possible. Even though Magento Open Source customers receive security patches and Magento Commerce merchants receive quality fixes and security patches, this level of enterprise maintenance comes to an end along with M1's EOL.
M1 EOL presents many going forward challenges. Namely, PCI compliance will be, technically speaking, lost, as code will be considered outdated. The reality for those still operating on M1, it is time to assess options and going forward strategies. To that end, let's review and contrast Magento 2 to other potential replacement eCommerce platforms.
Ecosystem
If you want the broadest selection of platform bolt-ons with the most options to tailor your user experiences, invest time on the Magento marketplace to review all the solutions and providers now available to merchants. Magento has been on the market since 2008. With some 300,000 developers in its open-source ecosystem, the code has grown exponentially along the way. This is evidenced by how Magento 2 is out-of-the-box integrated with most if not all popular commerce solutions. Whatever the business or technology requirement, given Magento has actively listened to its merchants, and partnered with its system integrators and solutions providers, the need is likely built into Magento 2 or developed as part of integration or extension.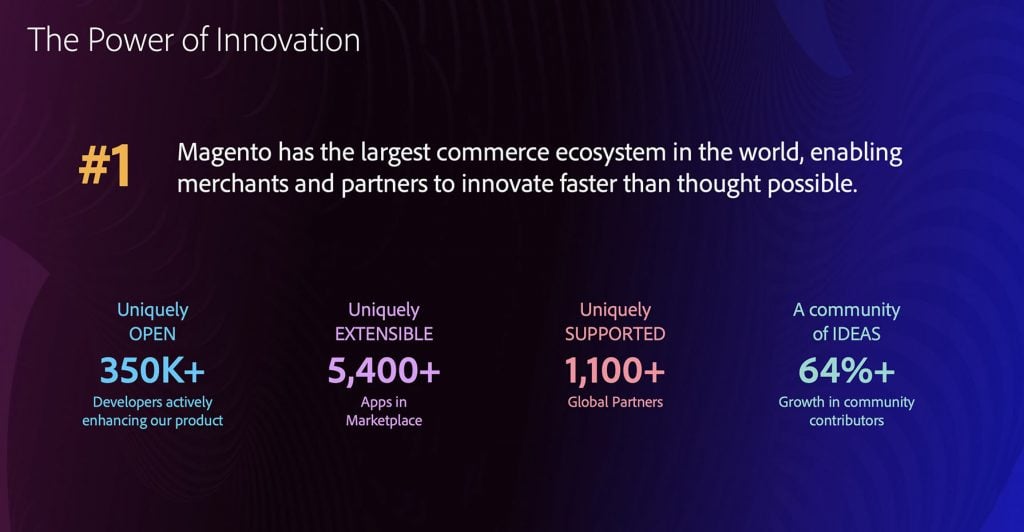 True multi-store and multi-currency
If your business needs are to have an international presence, and you want to set different prices (not just currencies) for different countries including multi-stores, Magento 2 offers the most scale and customizations.
Unlimited customizations
Relatively (and technically) speaking a merchant has unlimited customizations options with Magento 2. This flexibility includes pre-built integrations with most mainstream ERP, PIM, CRM, or other common external systems. All customizations on Magento 2 took into account site speed, security, and scalability.
Multi-Source Inventory (MSI)
Magento 2 offers merchants the ability to integrate multiple sources of inventory. Want to know more about Magento MSI? Check out our article on the Multi-Source Inventory in Magento 2.3.
Magento PWA Studio
PWA is a set of technologies that makes it possible to give a user an app-like experience in a browser. Magento 2.3.0 and further versions have GraphQL coverage, which enables developers to create PWA applications. Also, we will see the most active development of Magento PWA Studio this year and moving forward. (Do you want to learn more about PWA — read Atwix's MageNews and follow the Atwix blog).
Magento Page Builder (Magento Commerce 2 only)
Drag-and-drop functionality is the must-have today, as it enables merchants to create beautiful storefront experiences in-house as well as makes time-to-market significantly more efficient.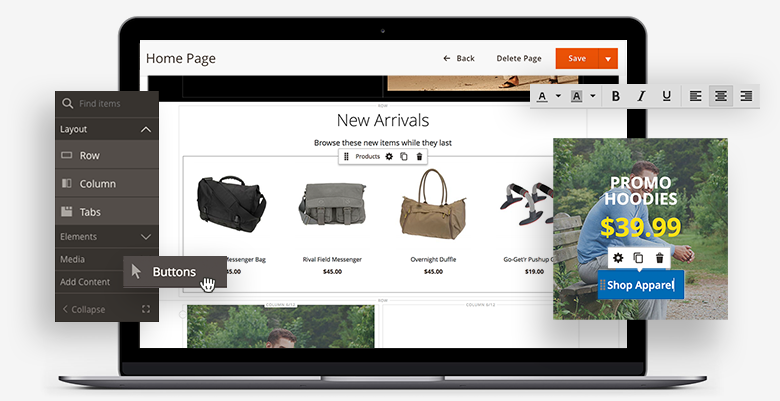 Magento Page Builder is already compatible with Magento PWA studio and new features are yet to come in 2020.
These are only some of the main features of Magento 2. Want to learn more about how Magento 2 can help your business? Contact us, we will be happy to help!
2. Magento Cloud development
Microsoft Azure compatibility with Magento Cloud is rumored to be announced shortly by Adobe. For now, Magento Cloud is only available on Amazon Web Services (AWS). Azure offers Magento Cloud merchants a much-needed requirement to integrate with Microsoft products. Also, as merchant businesses grow and diversify, it is important to introduce additional Magento Cloud hosting options. Lastly, it is noteworthy that Adobe Commerce Cloud is already hosted by Adobe on its cloud servers. In essence, Microsoft Azure will be a 3rd cloud hosting option.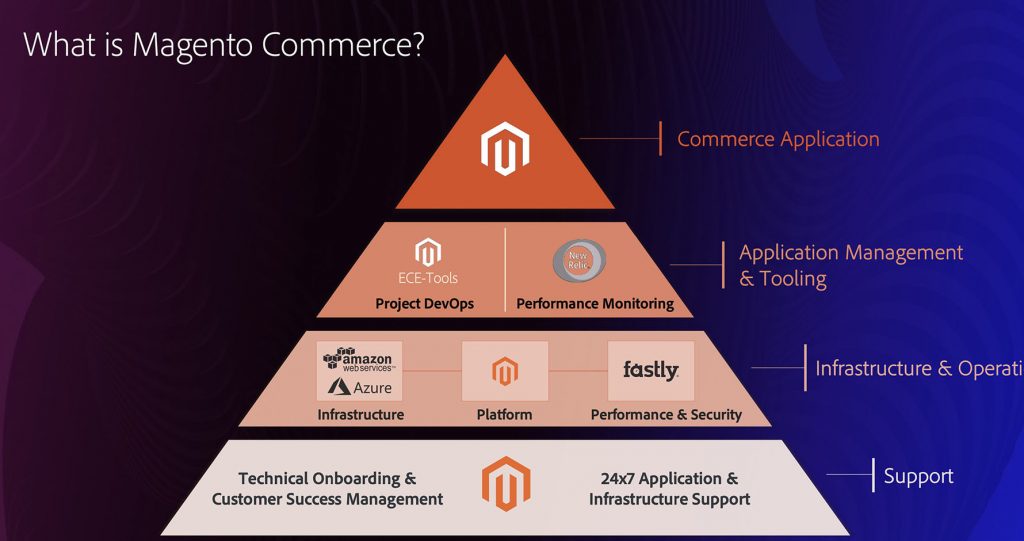 3. Magento B2B modules
The Magento B2B module was first introduced in 2017, as part of Magento 2.2. Since then, like the slower developing commercial eCommerce marketplace, change has been slow to materialize. In 2020, along with global marketplace expansions and service level mandates including security, compliance, and scalability, expect new features and enhancements as Magento intends to continue its push to position itself as the market leader.
4. More Sales Channels
The Amazon Channel and Google Shopping Ads Channel are already available in Magento 2.3.4. Magento is likely to continually push in that direction, furthering and increasing channels in 2020 (IE. Facebook, Messenger, and Instagram). This will allow Magento to cover newer entrants and quickly in-demand business requirements.
5. More Adobe integrations
In Magento 2.3.4 we already have Adobe Stock integration for managing visual assets, and Adobe Sensei powering product recommendations. Of note, Atwix developers significantly contributed to the Adobe Stock Integration project – be on the lookout for more Abode + Magento open source projects in 2020.
2020 promises to offer so much more. Be on the lookout in upcoming MageNews articles for Magento PWA use cases, new innovations, emerging partner solutions.
Follow Atwix's blog by subscribing now.