What is the best Commerce platform to use? To answer this question, you need to know how to differentiate them. Brief example, did you know that there're SaaS and Open-source eCommerce platforms?
Table of Contents:
In a snap, SaaS, or software as a service, is a subscription-based solution built and maintained by a third-party provider. This way, users can "rent" the software without building and developing the platform themselves, which can be difficult and time-consuming.
Open Source, on the other hand, is a platform that provides users with complete access to the source code, allowing them to change and adapt the platform to match their individual needs.
In this post, we'll be focusing on the most popular Open-source platforms.
Our Top Picks For Open-Source Platforms:
Magento Adobe Commerce
Magento is considered the best open-source eCommerce platform by many online retailers.
Magento is the ideal eCommerce platform for medium to large businesses that handle a high volume of traffic and require exceptional technical, installation, and customization assistance. This platform offers a variety of plans. For example, Magento Enterprise Edition, which is usually used by large corporations, costs $22,000/ year.
However, Magento also offers a solution for small to medium-sized businesses. It provides amazing features with a Community Edition.
Magento Adobe Commerce is the best multi-store eCommerce platform as well.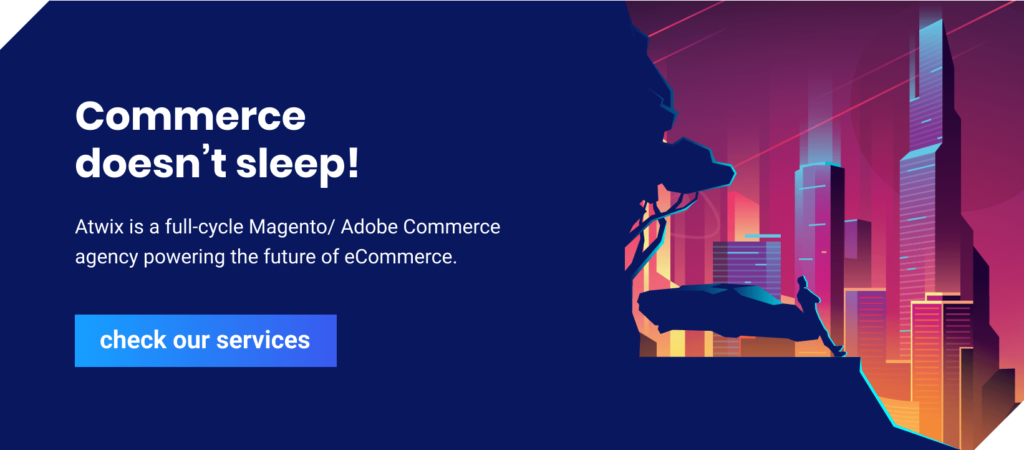 Another advantage of adopting Magento is the variety of compatible plugins and extensions that you can use. As a result, this platform offers consumers freedom and indefinite scalability.
If you'd like to know more about building an exceptional eCommerce experience with Magento or Adobe Commerce, book a free consultation with Atwix or learm more about our Magento 2 Development services.
WooCommerce
If you're working a lot on WordPress and want to add an eCommerce functionality on top of that, then WooCommerce is for you.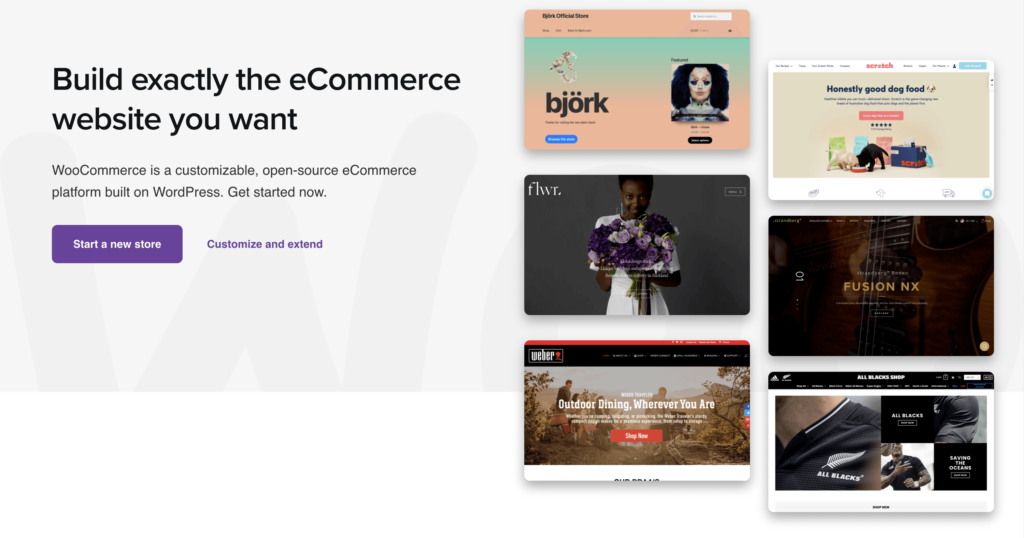 WooCommerce is regarded as one of the best open-source platforms for eCommerce stores for startups. It allows you to set up and maintain your online shop without technical skills. Its user-friendly admin interface has made it incredibly popular among many shops.
If you are comfortable with the WordPress admin interface, WooCommerce will be an excellent choice for your company. As with every open-source solution, businesses would need to pay for extensions and templates to acquire customized features with this open-source eCommerce solution.
You can learn more about the differences between Shopware and Magento in our Magento / Adobe Commerce VS WooCommerce guide.
PrestaShop
PrestaShop provides merchants with an easy-to-use admin interface, offering both self-hosted and fully hosted eCommerce solutions; you may choose the amount of technical control you want.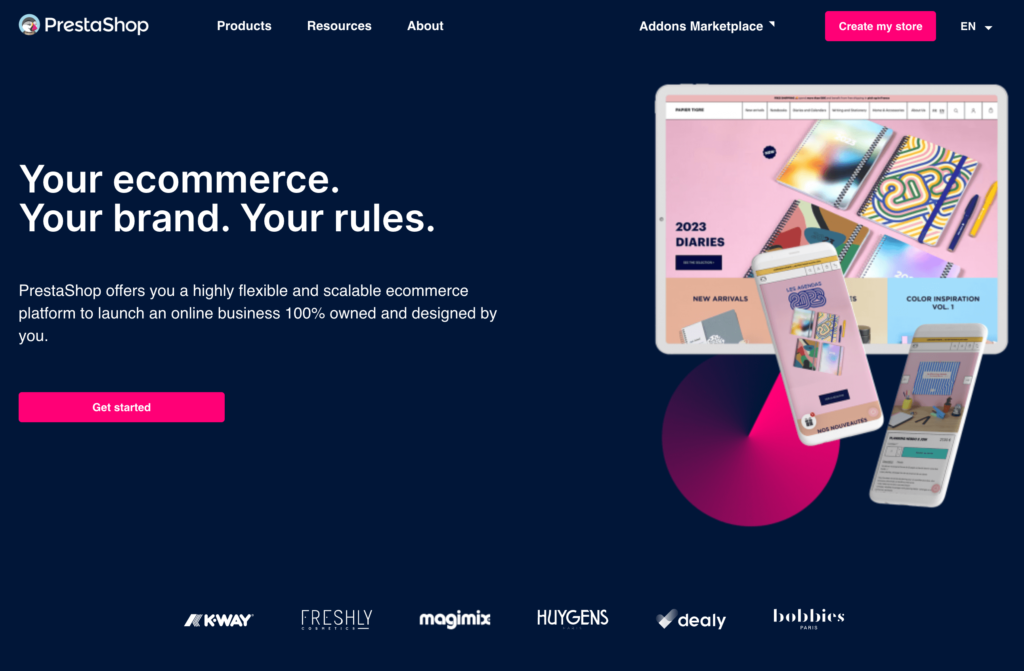 PrestaShop is a popular eCommerce platform with over 250,000 installations. It is without a doubt one of the most user-friendly eCommerce platforms.
However, PrestaShop has limitations with website customization. Try looking at other platforms if need the agility and scalability for the eCommerce platform of your choice.
Learn more about the differences between Shopware and Magento in our Magento / Adobe Commerce VS PrestaShop guide.
Shopware
Shopware is currently one of the most popular eCommerce platforms. It was founded in 2000 and quickly became the ideal Open-source shopping cart solution for stores of all sizes. The platform supports numerous stores, various languages, and multiple currencies right out of the box.
The architecture of Shopware is contemporary and robust. Using a well-defined development process, templates, plugins, and extensions may be added and quickly integrated into the admin environment.
On the downside, Shopware is quite expensive, has a limited selection of plugins. You can learn more about the differences between Shopware and Magento in our Magento / Adobe Commerce VS Shopware guide.
OsCommerce
If your company needs an open-source online store that is easy to maintain, OsCommerce is a good option. You may leverage 7,000 extensions made by osCommerce developers to add custom designs and functionality to your online shop visitors.
The osCommerce platform has a community of over 26,000 online shops. You can use the help network if you have any issues with your website.
While osCommerce might look and feel better than other platforms, we suggest that you consult with your developers before choosing to make it run your store. Many eCommerce owners reported that it is time-consuming to maintain the store run on OsCommerce.
OpenCart
OpenCart is one of the most popular PHP eCommerce Open-source platforms today. It is ideal for online sellers with modest businesses who are not technologically savvy. This solution is simple to implement. OpenCart has basic yet the best PHP shopping cart features that may be useful when launching your first online store.
However, if you intend to grow your business and begin marketing initiatives, this could present some problems.
Meanwhile, you'll need to have some coding skills in the early phases of creating a website. You may need more plugins to add new functionalities and make your online store more versatile.
One weakness of OpenCart is that various plugins do not always function well together. Another disadvantage is that updates and fixes sometimes come late.
Can't Decide Yet?
We know how hard it is to choose among the best open source marketplace platform listed here. If you'd like to move with Magento Adobe Commerce, feel free to reach out!