There are versions of Magento to satisfy all types of eCommerce merchants — from SMB to larger enterprise retailers. In this article we explore differences between Magento Open Source and Magento Commerce.
Hosting and support
First off, it's worth mentioning that Magento Commerce allows you to license Magento Commerce Cloud option or the Magento Commerce On-Premise option. The Magento Commerce hosted in the Cloud provides you several advantages compared to on-premise version. Namely, you receive a Magento-optimized cloud environment, so that your application (Magento) and server (AWS infrastructure) can be managed by a single vendor — Magento (part of the Adobe company).
By selecting a platform built on top of AWS (Amazon Web Services), best-in-class scalability and performance exists for you as you scale. Native with this configuration, you receive CDN and FPC provided by Fastly, as well as New Relic, to analyze and monitor your store's performance. Lastly, with Magento Commerce you have technical support (improved since Adobe acquired Magento). SLAs provided by Magento technical support include pre-release access to patches and roadmaps of upcoming releases.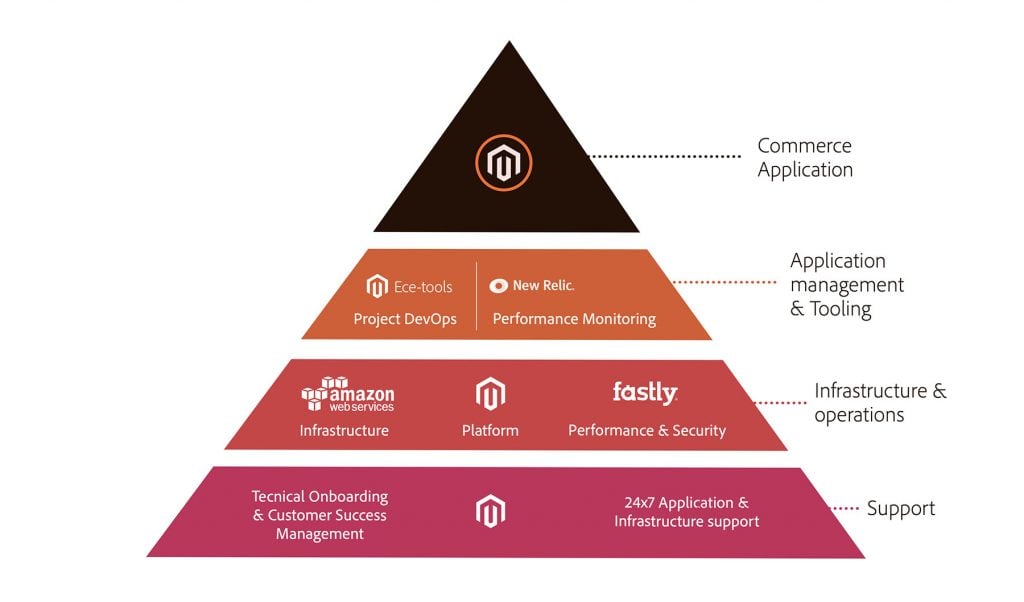 Beyond hosting and support, let's review features that are available in Magento Commerce, so you can analyze against your business needs.
Marketing and merchandising tools
Magento Commerce includes native merchandising features that dramatically improve storefront capabilities and time to market.
Noteworthy features include reward points, rule-based product relations (related products, upsells & cross-sells). Also of note, visual merchandiser, which is a great option for business users who likely require an ability to curate content and products on their site without having time-consuming (and expensive) development time to build and implement. Lastly, email reminders are a handy built-in feature, allowing you to send, for example, abandoned cart emails.
These features can be realized with Magento Open Source using third party modules from Magento Marketplace. However, third party modules often risk performance of the store. 3rd party integrations can also conflict with frontend themes, as well as with other Magento and partner modules. If going with Magento Open Source, a leading practice is for you to leverage a trusted agency who you should have reviewed the module's code before installing.
Content creation
Content creation is at the core of marketing today. Content marketing being especially critical for online retailers, who must distinguish themselves at the same time creating a compelling reason to buy. To that end merchants, in particular, must work hard to improve time to market and produce relevant, fresh content as efficiently as possible.
Adobe truly understands a merchant's content production, frequency and uniqueness requirements, and makes content creation within Magento Commerce plug-and-play easy. With tools like Page Hierarchy and Page Builder, you can create content without preexisting knowledge of HTML or CSS, you are also able to take advantage of Dynamic Blocks & Banners. These tools allow you to personalize your content (based on your price rules and your customer segment), as well as manage the release of the content when needed using Content Staging.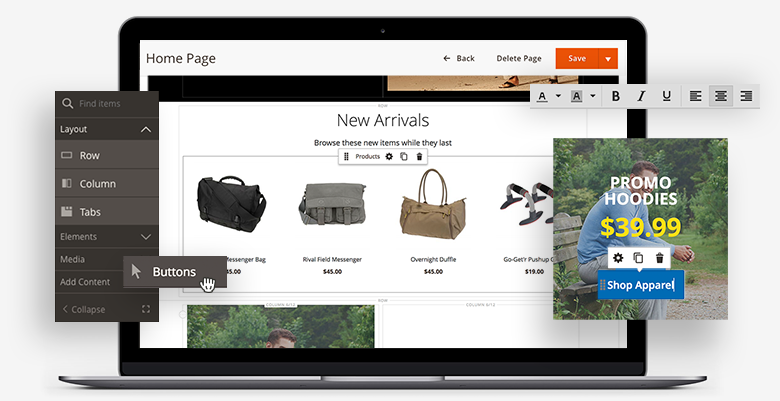 We at Atwix have many projects across industries, and clients stemming from small to very large SMB. Most all leverage Page Builder and Content Staging as core business operations and processes.
By contrast, while email reminders and rule-based product relations can be developed using third party modules, tools like Page Builder and Content Staging are nearly impossible to replace, especially when factoring in upgrade and migrations efforts. Therefore, if your business requires those tools now or it can be assumed they will be required, you should seriously consider Magento Commerce.
B2B and hybrid commerce
When it comes to B2B commerce, Magneto is leading the charge. Magento dominates the enterprise eCommerce platform market not only in total license sales, but is a noteworthy leader per well established market reports from Gartner and Forrester.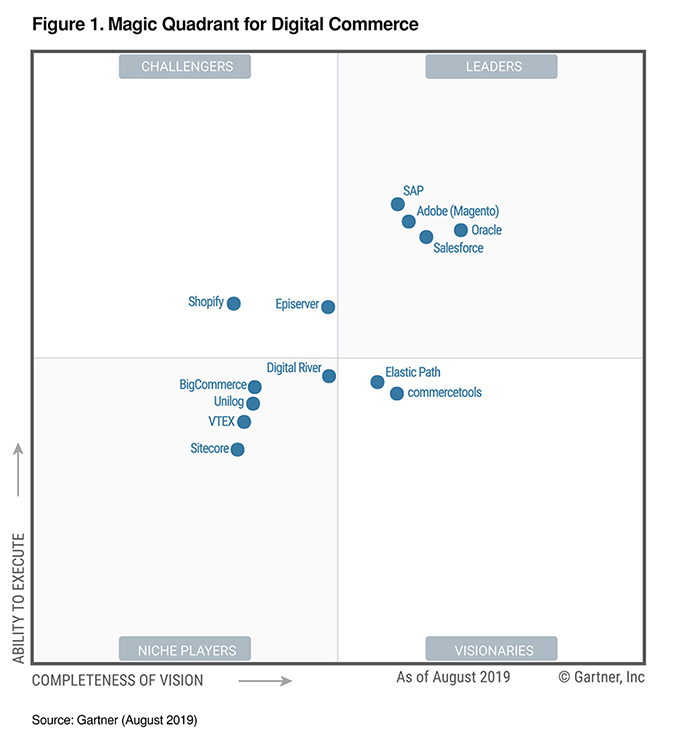 It is important to note that Magento B2B modules are only available for Magento Commerce customers, allowing platforms to leverage the following features:
Company Accounts
User Hierarchy
Company Roles & Permissions
Account Based Price Lists And Catalogues
Company Credit & Buying On Account
PO as Payment Method
Order by SKU & Quick Order
Request & Negotiate A Quote
Requisition Lists
To learn more about these features, please feel free to contact us. We are happy to schedule a demo, walking you through how your business can benefit from each of those named features.
Customers, loyalty, & customer service
Utilizing tools like managing customer's cart, RMAs & returns, and store credits, merchants can create richer and more engaging experiences for their customers. Additionally, the ability to create custom customer attributes allows the collection and import of CRM-style data, enhancing the native segmentation tools, with no involvement of your development team. Selling gift cards is also a nice option to have. To be certain, though, these tools could be added to Magento Open Source via third party modules and custom development.
Atwix has spent quite a bit of time contributing code and working with best in breed technology partners. When it comes to Magento extensions and how best to vet and select your options, please be sure to connect with us.
Reporting and Business Intelligence
Magento Business Intelligence (MBI) is a powerful data warehouse, analysis, and visualization tool. MBI integrates directly with Magento Commerce. MBI can also work with some other sources like Google Analytics, advertising channels, etc. Importantly, MBI can consolidate data that you have access to across those channels.
There are modules for Magento Open Source that provide reporting functionality. However, those business intelligence modules only analyze data in your Magento instance and might cause performance degradation. All the while, the MBI calculations are performed on their own disparate servers.
Backend operations
Backend operations modules are often overlooked. They can lack direct customer experience sizzle. However, this is a mistake to overlook. Backend operation modules are critical components of any eCommerce infrastructure and underlying architecture. They help you operate an end-to-end efficient eCommerce platform.
Magento Commerce offers such tools that you can leverage and streamline your processes:
Order Archiving
Admin Action Log (useful if you have multiple admin users)
Scheduled Imports & Exports
All in all, choosing the right Magento edition is a strategic decision. If on your own, it can be a difficult process to complete. You have many options to weigh against your unique current and anticipated business requirements. This exercise must be viewed as an absolute must, though, given the advance in the Magento ecosystem – well worth the investment of time when factoring in your long term TTM, TCO and ultimately ROI.
We might be a bit biased about which agency you select, but regardless we strongly recommend you partner with a seasoned Magento agency to at a minimum help you assess your options. Consider Atwix available to help you with Magento web development services and much more.