Every year Gartner releases an updated version of the Magic Quadrant for Digital Commerce. Atwix traditionally takes time to review not just the static ranking, but also the dynamic performance, helping to unpack and understand the trends behind this respected analysts report. Let's take a dive into the August 2023 edition.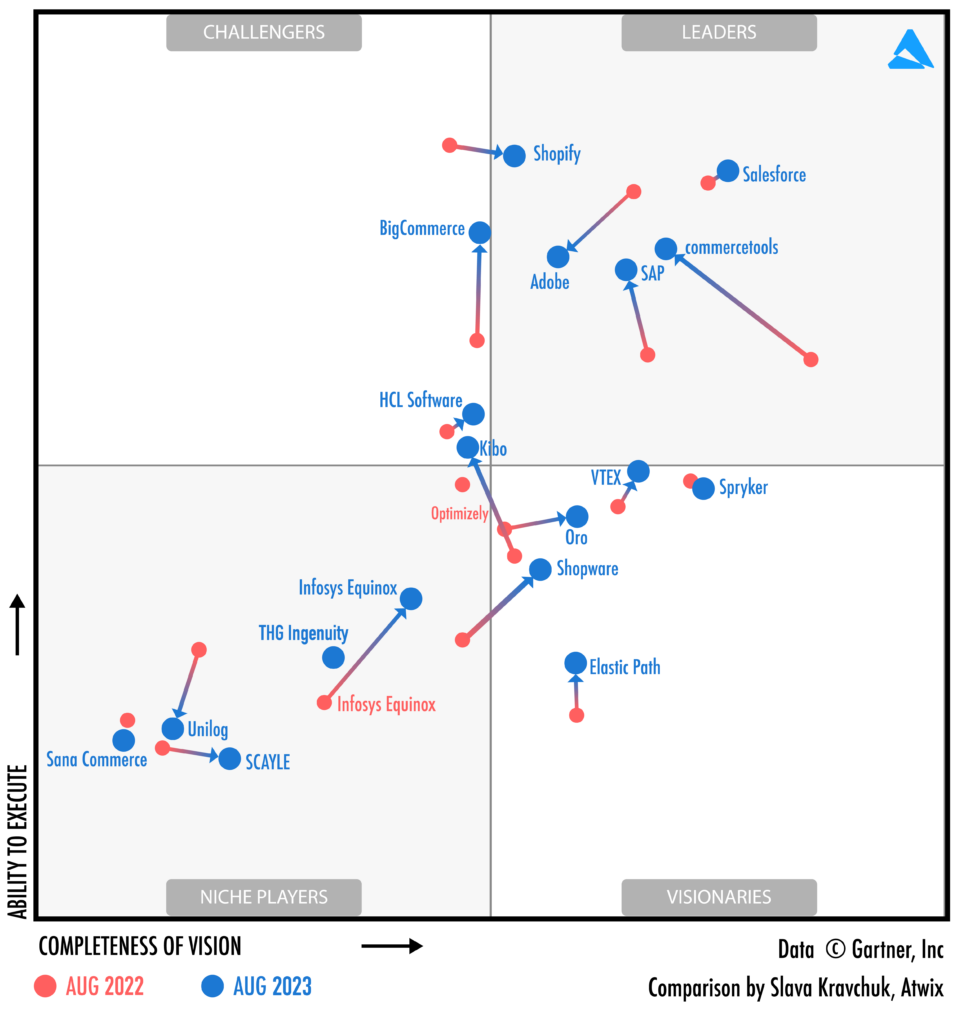 New Players in 2023 Gartner's Ecommerce Quadrant
In contrast to three new players (Infosys Equinox, Sana Commerce, SCAYLE) that entered the Quadrant last year, 2023 welcomes only one new platform – THG Ingenuity. THG Ingenuity is a niche player that is primarily active on the UK and Europe's markets, striving to provide a full-service solution.
Of the last year's debutants, Infosys Equinox got the most significant YoY traction, while Sana Commerce remained at practically the same position and SCAYLE displayed some progress on a Completeness of Vision. It remains to be seen how THG Ingenuity will fare through the rest of 2023 and the first half of 2024.
Farewell
Optimizely is no longer in Gartner Magic Quadrant for Ecommerce. Quoting the analysts: "Optimizely was dropped because it failed to achieve the required combination of year-over-year (YoY) customer growth and total license revenue for its digital commerce platform. However, Optimizely is included below as an Honorable Mention.".
Last year's dropout, Intershop, is also included in the Honorable Mention section, along with NuORDER and Sitecore.
Switching Quadrants
The top right section of Gartner's 2023 Quadrant for Digital Commerce sees a new entrant – Shopify. This is somewhat to be expected with Shopify investing much effort into expanding their footprint on the Enterprise market segment with the introduction of Shopify Components. The offering is quite new and 2024's Shopify Gartner performance will likely depend on how the Components show themselves in real the world implementations.
BigCommerce comes close to the Leaders quadrant, but didn't quite make it there this year. With the 2021-2023 momentum though, I wouldn't be surprised if that barrier gets crossed with the next Gartner update.
In addition to Shopify, two other platforms switched quadrants – Kibo and Shopware.
Shopware's progress in product development, B2B and increased investment into the US market are likely what contributed to their progress, and it's great to see an Open Source platform moving forward. Kibo, on contrast, remains less seen in the ecommerce community, but must be gaining some market traction.
Commerce
doesn't sleep
Atwix is a full-cycle Magento/Adobe Commerce agency powering the future of eCommerce.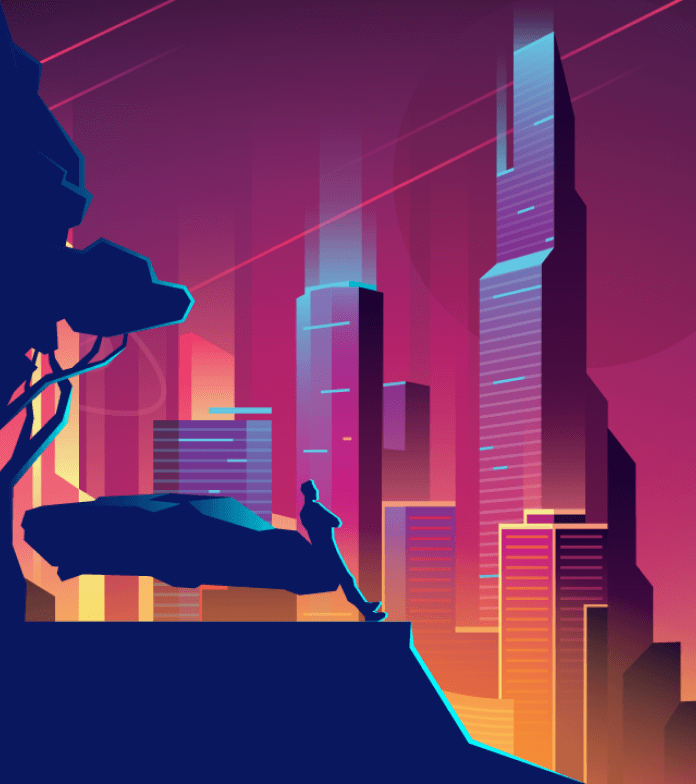 B2B eCommerce in the eCommerce Magic Quadrant
Just as in 2022, the Gartner's Magic Quadrant 2023 full report emphasises B2B as a major criteria for their platform evaluations. For the most part, platform vendors understand that possessing B2B capabilities is crucial nowadays, however, not many manage to package enough to satisfy B2B merchants and manufacturers. Very few providers are able to serve B2B and B2C from the same solution, and that truly sets Adobe Commerce apart.
Bonus: 2021-2023 Gartner Magic Quadrant for Digital Commerce Comparison
In 2023 we've decided to go beyond a year over year comparison and also drawn up a multi-year mapping of platform's movements, so you could examine 2021-2023 trends.
Translating Gartner's Magic Quadrant to real life
Gartner's reports are quite influential in Platform selection process and many merchants will come across it while doing their research. If I was to give an advice to merchants shortlisting their next ecommerce platform based on Gartner's research, it would be to read the full report and apply their specific business situation.
Analysts also often lack enough context of each ecommerce platform's ecosystems and challenges. For example, one of the Cautions mentioned for Adobe Commerce is "Upgrade Challenges". Having worked with hundreds of Magento and Adobe Commerce based stores, I can surely see where this is coming from. We often see rescue projects coming to us with a very poor codebase, where the coding standards were not followed by their solution integrator, and that results into upgrades becoming a more complicated endeavour than it should be. Once the custom code is refactored and brought to common coding standards, the issue is no longer there.
Another example, is a caution about "Missing some B2B functionality". While an extended B2B feature set for every use case doesn't come out of the box with Adobe Commerce's core, it is easily extended with pre-packaged solutions, going as far as even real-time pricing integration with ERPs, that Atwix provides.
Those are just examples demonstrating that platform selection is a process that requires a thorough evaluation and it can't be based on any single information source.
Should you need a trusted companion on the platform evaluation journey, Atwix is always here for you.