Ho-ho-ho! Too soon? Actually, it is not! For those of us in eCommerce, now is the time to plan holiday season readiness. Get ready! The peak holiday shopping season is just around the corner. And from all indications, it's shaping up to be a robust year for eCommerce. This is continuing the current trend, with a McKinsey study showing 10 years of eCommerce growth happening in just three months. According to ROI Revolution's analysis, in June 2021, ecommerce was up 95% over June 2019. Nearly 63% of consumers do all of their shopping online (BigCommerce). This data (and not only) does show the importance of eCommerce for your business.
But what is even more impressive – the success of BFCM (Black Friday Cyber Monday) 2020 – consumers spent $9 billion on the web the day after Thanksgiving, up 21.6% year over year, according to Adobe's report, which analyzes website transactions from 80 of the top 100 U.S. online retailers.
On Black Friday, Adobe found consumers spent $6.3 million per minute online, or $27.50 per person, on average. Spending on smartphones surged 25.3% year over year to reach $3.6 billion, representing 40% of total e-commerce spending.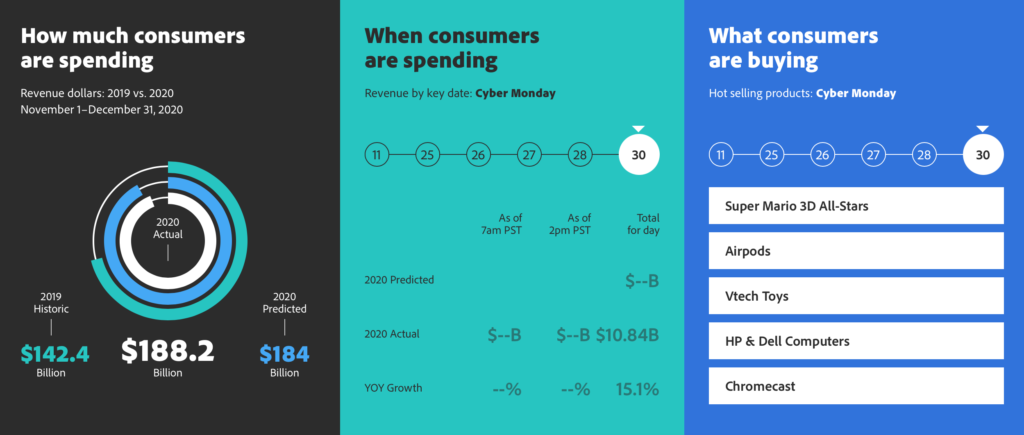 All of that data leads to an important conclusion – you need to make sure you are ready for holiday season 2021.
With this in mind, we joined our client Wyze in an Adobe webinar for tips on how to prepare for the coming holiday season. Wyze is a growing Seattle-based smart home technology startup built on the core principle of democratizing technology. The company launched its $20 webcam in 2017 and has since expanded from cameras to smart home IOT with low price and extremely high quality. Growth soared with more than 4 million Wyze users.
Always Operating (Successfully) in Holiday Season Mode
Wyze not only succeeds in commercializing existing models of its revolutionary products but also manages new product launches on a monthly basis. Their online sales activity encounters traffic of more than 850 transactions a minute. Learn more from their portfolio.
Wyze.com doesn't just survive peak launch periods, it thrives. The company attributes that in part to efficient, reliable orders management with no breakdowns – and the joint work done by the Wyze.com and Atwix teams.
Advice for Preparing for the Holiday Season
Anthony Potgieter, senior eCommerce manager at Wyze, led the digital transformation of Wyze.com, where the emphasis was placed on scalability, performance, and reliability. He recommends making – and following – a checklist for your webstore activities before the peak season begins.
1. Site performance audit
Make sure your website is ready for the increased flow of traffic. Have a rigorous code audit and understand the gaps with the current situation, then move on to proper load testing.
2. Load testing
When launching a new product or having a sale, you expect a traffic increase. With each product launch, Wyze experienced traffic spikes of 8-to-15x the normal daily traffic within the first hour alone. This is an amazing result, but only when your website is ready for it. With Magento/Adobe Commerce and Atwix, Wyze ​decreased the page load time from eight second down to two seconds. Wyze tested its new site by emulating up to 50,000 visitors per minute.
3. UX & checkout flow
In most eCommerce flows, if one service goes down, all other services are useless. Always examine each and every part of your system with the exact same lens. And test them all: tax solution​, payment providers​, warehouse connections​, review platform​, CRM System​, fraud prevention service​, and A/B testing tools​. Yes, this does require additional time and resources, but it's worth the effort to keep customers satisfied. The reality is, most of the clients that don't finish a purchase because of site errors most probably will never get back to you. So that's why it's worth the investment into UX.
4. Agility in adaptation
Make sure you have a contingency plan. Discuss with your partnering agency the scenarios of what might go wrong and have a ready strategy on how to react to these disruptions. Working with a reliable partner and being ready to adapt quickly as are the two crucial pillars of success here. Wyze launched the Wyze Plug hours after deploying Magento​ on the new website. Even though more than 70K users visited the site​, page speed stayed consistent​. That's because all scenarios were rigorously checked prior to peaky activity. As a result, the launch was a huge success – with no downtime. One tip: Create a crisis playbook and schedule changes. This will help you be in control of the situation, not vice versa.
5. Security
With expanding digitalization, data protection becomes even more important. You want to make sure that both your and your clients' data is equally safe. Make sure you complete a security audit and take needed actions. This is a key to keeping your reputation and business.
Considering the new trends in 2021 (see below) we'd like to add some additional recommendations: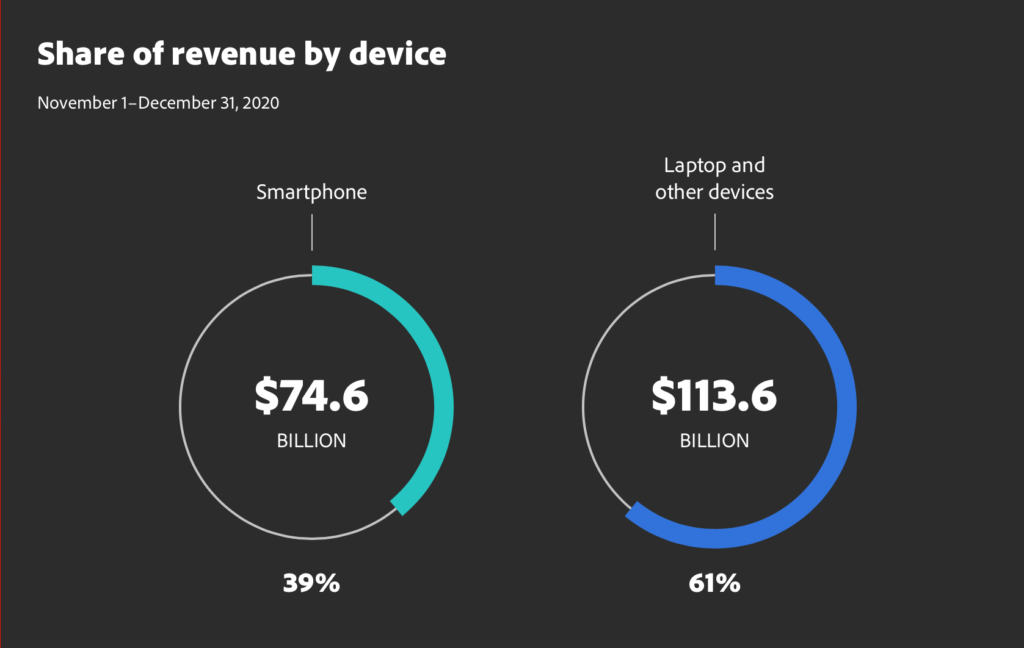 6. Mobile version
In 2020 spending on smartphones surged 25.3% year over year and kept growing, make sure to prepare the mobile version of your web store or consider app-alike UX that can be arranged by PWA (progressive web app) solutions, such as PWA Studio.
7. Extensions
eCommerce ecosystem keeps growing, and it is important to choose only trusted extensions providers with a quality support and high product standards. Working close with your eCommerce agency, you may get useful insights about the products quality and the way it performs in various scenarios.
Keeping Your eCommerce Site Safe and Secure Is Always a Top Priority
eCommerce is a huge responsibility. In case something goes wrong on the digital front, people will blame the brand for it – and will broadcast customer dissatisfaction issues loudly across social channels. Anthony's final word of advice: "Make sure you protect your brand by preparing for a holiday season properly. And what is even more important, this should be fun!"
Get Started Now
For the holiday season or any season, it's never too late to prepare and protect your business. Make sure you make a vital health check and test your web store with Magento Performance Audit from Atwix. This may save on stress as well as protect your brand image.
Ready to learn more? Watch the Adobe, Wyze, and Atwix webinar on demand: Is your website ready for the holiday season? And don't miss the opportunity to follow Wyze with their innovative product launches coming one after another at wyze.com.