Establishing a wholesale eCommerce business comes with its challenges and concerns. Wholesalers struggle with limited reach and visibility, supply and demand imbalances, order fulfillment delays, product profitability management, and strained buyer relationships. Choosing a proper B2B wholesale eCommerce platform can help address these challenges and drive business growth.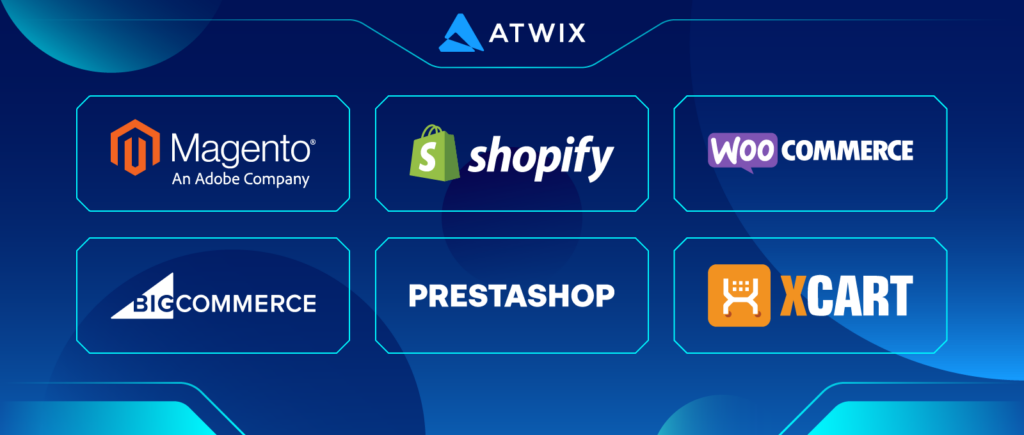 Atwix is a full-service eCommerce agency with deep Adobe Commerce/Magento expertise. With distinctive solutions, Atwix helps our clients deliver outstanding online experiences. We offer full eCommerce services, including auditing, consulting, developing consumer-oriented websites for B2B marketplaces, and ongoing website support.
This article provides valuable insights into the key factors to consider when choosing a wholesale B2B eCommerce platform. We review the features and benefits of this sales channel. You will learn about the types of wholesalers and the differences between B2B eCommerce and retail. Finally, we list the top wholesale eCommerce platforms and explain case studies from the Atwix portfolio to help you accomplish your business goals.
CTA: Accelerate your wholesale business growth with a full-service eCommerce agency.
Features of Wholesale eCommerce Platforms
Wholesale eCommerce is a B2B model where items are sold in bulk and at a discount, effectively acting as an intermediary between the manufacturer and the distributor or retailer. Let's look at what features such a platform should have.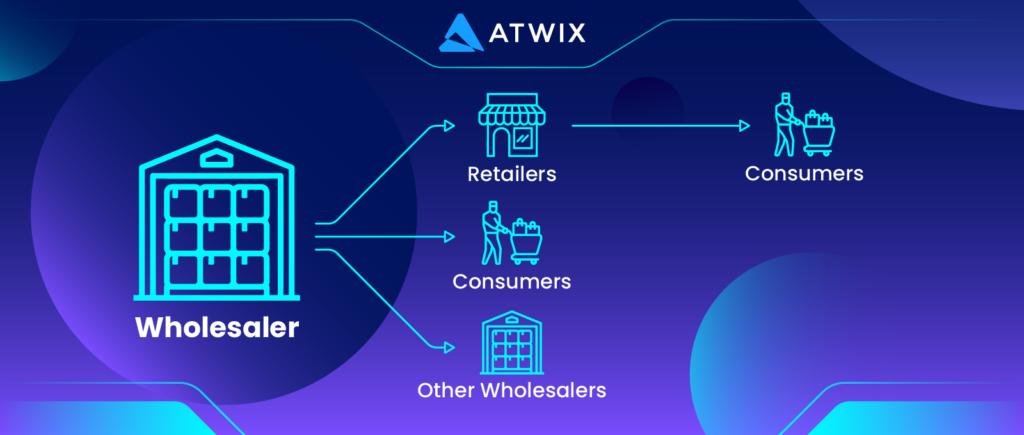 Product Catalogs
A product catalog showcases everything you sell in an online, digital format. It should make your products appealing to a B2B buyer. Include information about the details of your product and the purchasing procedure. An extensive, up-to-date, engaging product catalog is your most valuable asset for running a thriving wholesale business.
Customized product catalogs will enable you to showcase products with your customer's logo rather than the generic version of the product.
Customer Accounts and Management
Robust and user-friendly customer account pages are essential to any wholesale eCommerce website. They help to record order details and client information, track delivery, control fulfillment, and communicate with your clients. Customer pages help to build trust and long-term relationships with B2B clients. Customer account pages on a B2B eCommerce website should be personalized and have multiple users linked to a single central institution.
Order Management
The order management feature helps you improve your B2B inventory and sales process. It assists with order confirmation, tracking, and price management.
Order confirmation. Sending automatic confirmations with order numbers, estimated delivery time, and other details to customers after a purchase.
Order tracking. Fetching shipping data from delivery services to display shipping updates to track the orders.
Price management. Ensuring that your wholesale eCommerce website shows consistent pricing across all pages and search results.
Order management should be easy to use, so everyone on your team understands how it works. This allows sales representatives to gather information on recurring customers and warehouse managers to monitor inventory levels.
Payment Processing
Payment processing entails the secure exchange of transaction details between clients, merchants, and payment service providers, facilitating the authorization, capture, and settlement of payments. Ranging payment versatility from typical credit cards to Buy Now, Pay Later platforms will add the flexibility B2B clients require from the purchase process.
Shipping and Fulfilment
Wholesalers' primary focus is on shipping and fulfillment. Wholesale businesses that can integrate and streamline their fulfillment processes achieve more.
Usually, you send companies large, bulk orders. Complex shipments prioritize speed of delivery. If you work with retailers, efficiency takes precedence over client service. You must help them stock up beforehand. To clarify and streamline the fulfillment process, send shipping confirmations to the purchaser and you as a wholesaler.
Reporting and Analytics
Automated reporting and analytics can save time and provide relevant insights with dashboards, reports, scheduled email reports, alarms, and more. Forecasting algorithms automatically tune the demand based on individual customer data, and automated insights uncover the core causes of changes in KPIs.
Efficient reporting and analytics help to improve inventory rotations, delivery accuracy, cross-sell, up-sell, and category performance. Creating a customized dashboard for every salesperson's account will help you assess their individual performance.
Benefits of Wholesale eCommerce
Buyers can get real-time personalized pricing and make custom quotes thanks to wholesale eCommerce. It also allows businesses to entice clients to buy more significant amounts to benefit both sides.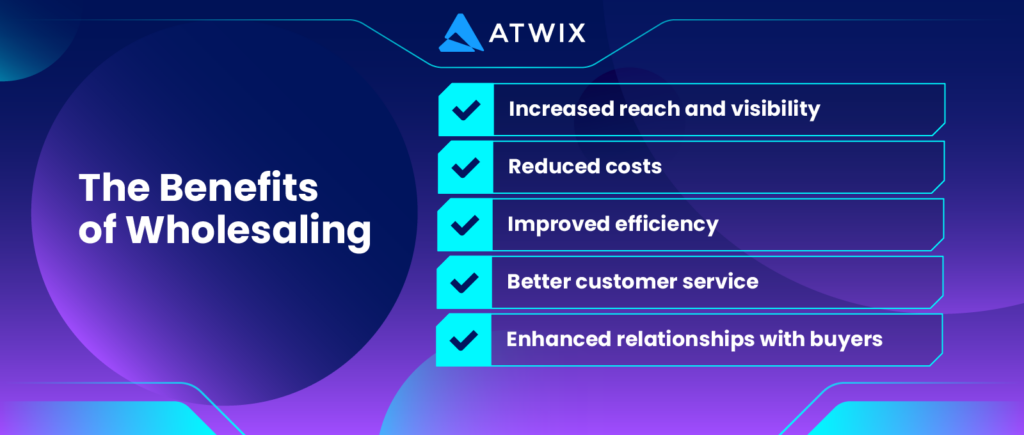 Increased reach and visibility. Wholesale eCommerce enables businesses to access customers worldwide without needing physical storefronts or sales representatives. It broadens a company's reach and visibility, allowing it to enter new markets. Customers have more opportunities to find your products as they navigate the Internet.
Reduced costs. Shipping in bulk reduces fulfillment expenses. Moreover, wholesale platforms allow businesses to reduce costs associated with traditional sales models, such as rent, sales representatives, and marketing materials. It enables wholesale companies to run more efficiently and profitably.
Improved efficiency. Wholesale eCommerce platforms help firms level up their ordering processes, decreasing the time and effort required to manage mass orders manually. eCommerce technologies automate checkout, billing, and inventory management, allowing employees to concentrate on more strategic parts of business.
Better customer service. eCommerce Wholesale solutions provide robust features that can improve customer support, such as easy product browsing, order placement, and real-time shipping updates. This ease of use improves the client experience, increasing customer satisfaction and loyalty.
Enhanced relationships with buyers. Wholesale eCommerce enables B2B buyers to research and purchase while on the go. Online marketplaces give businesses the tools to manage their wholesale client relationships, helping them better understand their customers' wants and needs and how to serve them effectively.
Types of Wholesale eCommerce Businesses
When starting a B2B eCommerce business, you need to understand the types of wholesalers. Let's review the most common categories.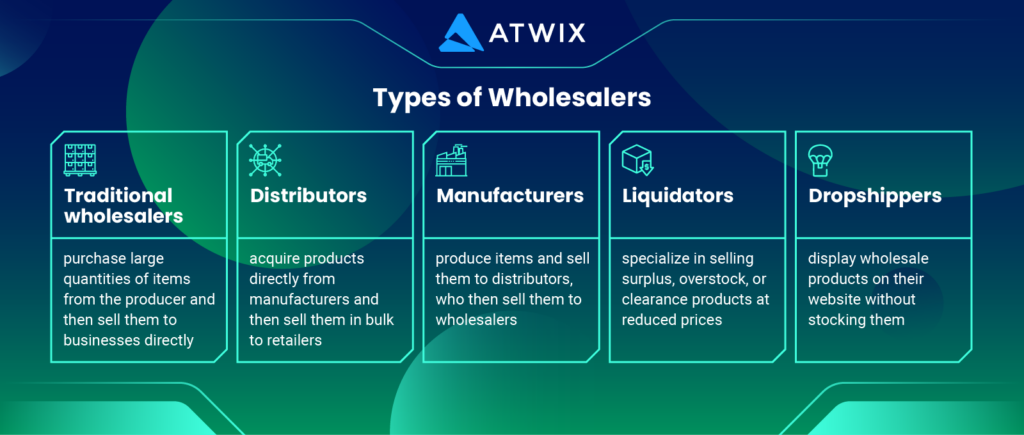 Traditional Wholesalers
Traditional or merchant wholesalers follow the conventional business model. They purchase large quantities of items from the producer and then sell them to businesses directly. These wholesalers often have extensive market history, expertise, and knowledge. Building relationships with merchant wholesalers can benefit eCommerce firms wanting to establish themselves in the wholesale industry. They are often among the most trusted professionals.
Distributors
Distributors are not original manufacturers. They acquire products directly from manufacturers and then sell them in bulk to retailers. eCommerce platforms for distributors cover logistics and customer service, allowing producers to concentrate on manufacturing. They are the ones who put together wholesale arrangements, from estimating product values to selling them. Because of their close relationship with manufacturers, distributors are frequently less trusted than other wholesalers when developing equitable sale plans.
Manufacturers
Manufacturers, distributors, and wholesalers often collaborate in the supply chain to get goods into the hands of retailers. Manufacturers produce items and sell them to distributors, who then sell them to wholesalers. Then, wholesalers sell to retailers, who work with end users. Selling and shipping in bulk helps manufacturers increase product volume and save money on fulfillment while decreasing cost-per-unit and increasing their profit margin.
Liquidators
Liquidators and clearance wholesalers specialize in selling surplus, overstock, or clearance products at reduced prices. eCommerce allows them to access a bigger audience and swiftly dispose of excess goods. Liquidators and clearing wholesalers can solve surplus stock issues, build an effective inventory turnover cycle, and connect more directly with clients worldwide by embracing wholesale eCommerce.
Dropshippers
This type of wholesaler is distinct in that they sell things without stocking them. Instead, dropshippers simply display wholesale products on their website. When clients order on their website, the manufacturer ships the product straight to the buyer. Dropshippers develop an online storefront, quickly fulfill orders, and help manufacturers manage the wholesale business.
Wholesale B2B eCommerce vs. Retail
| | | |
| --- | --- | --- |
| Criteria | B2B eCommerce | Retail |
| Target Audience | Other businesses (retailers, resellers, etc.) | End consumers (individual users) |
| Order Volume | Large quantities per order | One item or small amounts per order |
| Pricing | Negotiable bulk discounts | Standard retail pricing and occasional promotions |
| Product Assortment | Specialized variety | More diverse range, catering to customers preferences |
| Order Process | More formal. Focused on payment versatility and streamlined delivery | Personalized recommendations and easy checkout |
| Customer Relationship | Focused on long-term B2B relationships | More varied and short-term relationships, including one-time orders |
| Distribution and Logistics | Directly to B2B clients' stocks or distribution centers | Directly to individual consumers or stores |
| Inventory Management | Frequent collaboration in the supply chain between manufacturers, distributors, and wholesalers | Direct control over inventory levels |
| Technology and Platforms | B2B platforms with multiple integrations | Omni-channel presence, including eCommerce platforms and social media |
Target Audience
Wholesalers sell to other businesses (B2B), which includes manufacturers, distributors, retailers, or other wholesalers. These clients typically acquire things in large quantities to resell them to end users. Retail stores sell directly to customers (B2C). This entails selling things in smaller amounts, and a wide range of products is frequently supplied to meet the various demands of individual consumers.
Order Volume
A wholesale eCommerce company typically accepts only bulk orders. They are frequently willing to sell vast quantities of items at a reduced price, assuming that the more you buy, the lower the cost per unit. Retailers sell things in single units or small numbers, depending on the individual customer's needs.
Pricing
Because wholesalers buy in large quantities, getting the best price possible is critical to their long-term business. The less they have to pay for each product, the more money they will make in the long run. While pricing is crucial for retail, they have greater freedom because they do not have to buy in quantity. Retailers who sell directly to consumers have higher unit pricing because they must cover the costs of storing, marketing, and selling things.
Product Assortment
Because they sell in bulk, wholesale eCommerce businesses are limited in their product assortment. Manufacturers typically choose a deep assortment strategy, specializing in one or several product categories and catering to the needs of their B2B clients. Retailers have more flexibility in choosing their product assortment strategies. They can have a wide assortment with various product types and categories or a deep assortment tailored to a specific audience.
Order Process
The wholesale order and purchasing process is more formal. Contracts and continuing negotiations are mandatory parts of wholesale transactions. Given the enormous volume and value of items traded, there is a greater emphasis on establishing explicit terms, prices, delivery timetables, and payment terms. Retail purchases are less complicated. Customers choose and pay for what they want online or in a physical store. The emphasis is on speed and convenience.
Customer Relationship
Wholesale eCommerce businesses strive to form long-term ties with their B2B clients. Customer retention is critical because clients often want continual supply. While retailers value reorders, they also deal with one-time or infrequent customer transactions. Retail eCommerce platforms frequently emphasize features such as tailored product suggestions, customer feedback, and simple return processes.
Distribution and Logistics
eCommerce Wholesale distributors connect with retailers to sell those goods at a higher price to make a profit. When retailers place product orders, the wholesale distributor processes the order, verifies stock availability, and prepares the order for dispatch. Retail logistics encompasses all inbound and outbound operations that move ordered items to the end consumer. Warehouse receiving, inventory management, fulfillment, and shipping are stages of retail logistics.
Inventory Management
Wholesale inventory management allows the tracking of historical and current inventory data. This information helps to make accurate projections about future demand and plan procurement accordingly. Retail inventory management ensures that a retailer has the merchandise customers want and has enough products in stock. By controlling inventory, retailers can meet client demand without running out of goods or carrying an excess quantity.
Technology and Platforms
Using wholesale eCommerce technology and platforms, B2B buyers and procurement teams can locate and acquire products in bulk. The features of these solutions suit wholesalers' needs. They include bulk ordering, tiered pricing, inventory management, and order tracking. Retail eCommerce platforms leverage software technologies to handle merchant buying demands and seller needs. These requirements include product pages, reviews, transactions, order fulfillment, and refunds.
Top Wholesale eCommerce Platforms for B2B Businesses
Here's a review of some of the best eCommerce platforms for wholesalers to help you decide which is best for your company.
Magento/Adobe Commerce
Adobe Commerce, previously Magento, is a well-known eCommerce platform that provides extensive capabilities and flexibility to B2B companies. It features a variety of extensions and connectors, making it an excellent choice for wholesale eCommerce firms. Wholesalers may need to customize Magento to meet their performance and other functional needs.
Shopify
Shopify is a well-known eCommerce platform that provides various features and connectors to assist businesses in managing their online sales. Its B2B capabilities are growing, making it an attractive option for small and medium-sized wholesale enterprises. However, the degree of performance of this eCommerce platform for distributors can be insufficient for large wholesalers.
Woocommerce
WooCommerce is a highly adaptable open-source eCommerce platform that integrates with
WordPress. You can customize the features and functionality of your eCommerce store with WooCommerce by adding the extensions you require. However, there is far less out-of-the-box functionality, so developing a wholesale eCommerce site takes time.
PrestaShop
PrestaShop is a free and open-source eCommerce platform with various features for B2B companies. It provides many integrations and tools to assist organizations in managing their operations and customizing design. However, the long list of functions does not guarantee that the platform has the specific capabilities you require. You will most likely need to investigate third-party systems to conduct some bulk operations.
XCart
It is a scalable platform with built-in B2B capabilities and features such as product variants and customizable order workflows. Like any free platform, XCart can be too ubiquitous for constructing a wholesale website. Though it has some localization, any improvement requires you to ensure everything functions properly. You will need to hire an additional wholesale website builder to achieve your business goals.
Are you looking to make the most of B2B eCommerce solutions?
Reach out to Atwix today and get a consultation from the top market specialists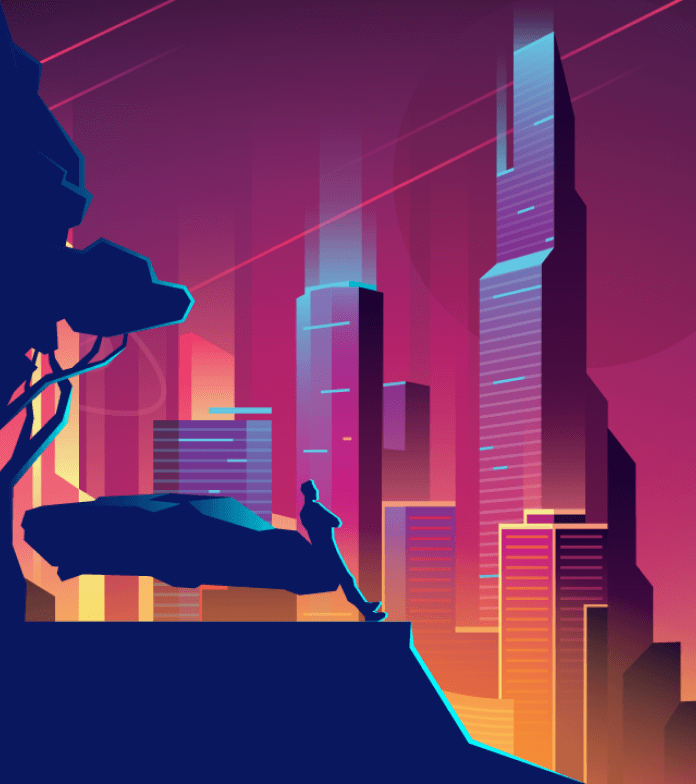 Case Studies
In the Atwix portfolio, we have many successful eCommerce platform development, integration, migration, and customization cases. Our solutions helped our clients overcome the biggest wholesale eCommerce challenges. Let's review some of them. 
A Complete Magento Website Rebuild for Coastal Business Supplies
Our client, Coastal Business Supplies, sells printers, vinyl, and paper for companies. They tasked Atwix with rebuilding their website to emphasize accessibility and friendliness. Atwix completely revamped the site, optimizing code, removing barriers, and fine-tuning the engine, powering the client's eCommerce operation. As a result, Coastal Business Supplies experienced improved engagement, time on site, user experience, and conversion metrics.
Customizing Magento Webstore for Car Part Kings
Car Part Kings supplies parts for thousands of car models at up to 80% off retail prices. The company recognized the need to increase Magento's performance by redesigning the search engine and developing seamless interactions with third-party sites. Atwix implemented the Yotpo extension to improve the user experience and build customer trust. We revamped the SEO and improved the checkout process to increase the client's conversion rate. An upgraded website slashed the average page load time in half while using less memory.
The Bottom Line
Modern wholesale eCommerce platforms allow companies to solve significant challenges. Leveraging robust features, you can increase reach and visibility, balance supply and demand, control order fulfillment, and build long-term relationships with B2B buyers. Configuring and customizing ready-made solutions will help you address your specific business goals in the best possible way.
Atwix is a full-service eCommerce agency specializing in Adobe Commerce/Magento. We can audit your wholesale website and turn it into a top-performing, customer-oriented B2B solution. Once we customize your website and improve customer experience, you will be able to pursue strong, long-term relationships with your B2B clients and thrive in wholesale eCommerce.
Contact us for more information about developing the best eCommerce platform for wholesale.