Usually you don't jump on a plane with your friends and go to Asia to have some great weeks of living, working and traveling in the region. It was my first time of working from this far: a 6-hour time difference with our Ukrainian office, tropical climate and a whole bunch of other differences like food, traffic, religion etc.
What really surprised me was the fact that we did manage to have some really productive weeks out there. Surely, I knew that we would be able to work from there since Atwix is a distributed company and you can work from anywhere, otherwise, I would not go. Still this was my first experience and I was amazed by the opportunities, which remote work gives you.
I put together some advices, which helped me work productively. They might help you do some great work while traveling, which I believe is only for better.
How to start your trip right?
The first country we visited was Vietnam. Important to know, this was our first week of the journey and we decided to take some days off. It turned out to be a good idea to have the first week as a vacation. It allowed me to overcome the jet lag, gave me some time to get used to the local climate, and gave time to check out the place to get a home-like feeling. We also traveled a lot during this first week. We hit the road from Ho Hue to Da Nang on bikes and enjoyed the beauty of the mountains and the ocean along the road. If you have a chance to make this ride — go for it!
This time investment will pay you back when you actually start working — you will feel better, you will know where to go for a lunch, you will know how to spend an evening if you get a free one (we rarely got thanks to the time difference). At the end, you came so far not just to enter another office. In addition you will feel much better if you get some rest and new emotions before you hit your daily routine.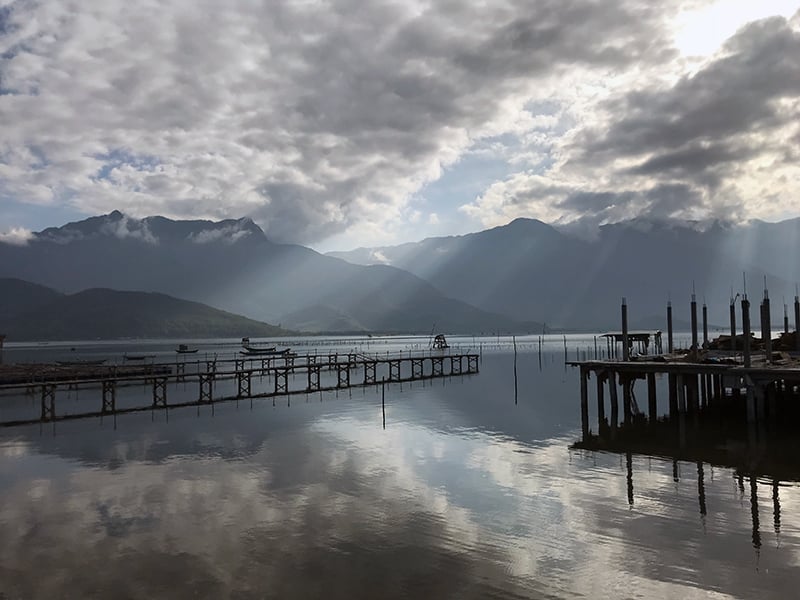 First workplace in Asia.
Malaysia, Georgetown, was chosen from many places for its great infrastructure, good co-working spaces and food (yes, that is important :)). The city is also quite affordable when it comes to accommodations and commuting (you can take a 10-15 min Uber drive for about $1.5). It definitely was a right choice. Living and working in Georgetown turned out to be one of the greatest experiences of the whole trip.
We were working at the @CAT co-working space, which is in the center of the city and easy to get to. There are also a lot of options for lunch and dinner nearby, so I would recommend these guys when you are up for getting some work done on Penang.
Takeaways from working in Georgetown:
A well air-conditioned co-working space with good enough wifi makes a big difference.
If people work around you, it motivates you to hit some additional tasks, in comparison to when you work from home. That is why co-workings are so great when you travel. And even if you work remotely living at home, I would recommend finding a co-working space.
A time difference with your team is actually great (we had -6 hours). I started working when everybody else was sleeping, which allowed me to concentrate on some specific tasks, and then I would spend more quality time with the team during the day when everybody else is up. This takeaway traveled with me back to Ukraine — to start your working day earlier than your team, which is a huge game changer.
The bad part was burning the midnight oil, till about 1 or 2 am. This was exhausting even though we got up later around 11 am. This happened as my team still needed some information or help from me at my late hours, which are normal business hours for them. So my advice here, if possible, that you better make some arrangements with your colleagues and clients that will allow you to finish work no later than 11 pm.
If you are up for some activities in the morning — start earlier. Whether you walk or bike, you'd better leave some time for yourself to have lunch and take a shower and a nap. That nap will help you recover and get some tasks done in the afternoon, when you start working.
My overall impression of the first week working remotely was and is still great. It was a lot of fun combined with some challenges, which are always great to get.
Digging deeper into digital-nomad community
What picture comes up on your mind when you think of Bali? Sunny beaches, blue ocean, seafood restaurants… And yes, you are right, Bali is about all these things, but not only. There are some great places to work and see local life there as well.
Probably one of the best locations to work from Bali is ROAM co-living space. The best part is that you can literally live there and be a part of a global community of digital nomads, who work, live and explore places they come to. Being a part of that community is a unique experience and leads you to meeting new people from all around the globe.
What we learned while working from Bali:
We worked in a no-walls co-working space. How beautiful it is to breath fresh air when you work, see sunsets and hear birds singing. I already miss that. But I have to admit, when you are there, you miss the walls, just a bit.
You can get what you need — information about places of interest, bikes, crypto consulting, virtually everything from the people around you. That is the power of any community.
Being a part of a great community is as much important as being a capable individual on your own. We, who work with Magento, know that for sure.
Speaking of Magento community, we met some folks who were setting up price rules on a Magento 2 store. This was a good chance to answer some of their questions.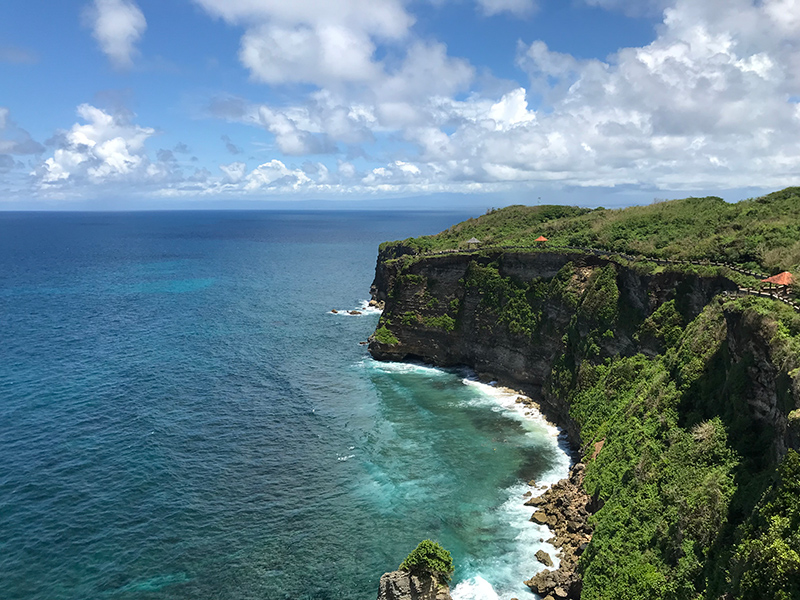 What was the trip all about?
When you travel you put yourself into all kinds of different situations that you would never experience if you stayed at home. And those situations lead you to some new insights that you would never experience otherwise. But what is really amazing about traveling is that not only you learn something, you actually live it and so it sticks to you, if not forever, then for a while.
So go get some remote work if you can. If not, try to dedicate some time during your vacation to get some of the personal tasks done in a different place from the one you are used to — write a blog post, research something — you will see how things change. And share with us your experience. Let's be a community that makes a change.