The (not-so) secret of agency success
It's no secret in consulting that agency success is directly proportional to client success.
Meaning, a high-touch boutique agency, like Atwix, realizes value for ourselves only as a function of realizing value, first, for our client.
While this equation – "client success drives agency success" – is not really a secret, Atwix does utilize an approach which is certainly rare among eCommerce agencies.
The client orbit
Our approach could be called (for a nice visual) the client orbit. And, just like it sounds, it places our client at the center of our universe, allowing us to best support and reinforce them along their path to digital transformation.
The implementation of this idea may best be demonstrated by the framework we utilize to keep our clients at the center of our orbit.
We call our framework the Atwix 3×3 Client Success Matrix, and we use it to ensure we fulfill our brand promise of high-touch, boutique client experience.​​
Atwix's 3×3 client success matrix
Our 3×3 approach means that on each live client call – and in asynchronous channels, too, such as email, Slack, or Jira – our clients interface, usually, with at least three Atwix team members from across key functional areas of our enterprise. Most typically, these are the Project Manager, Technical Lead, and Client Success Manager, who help ensure effective project communications, and the delivery of successful client outcomes.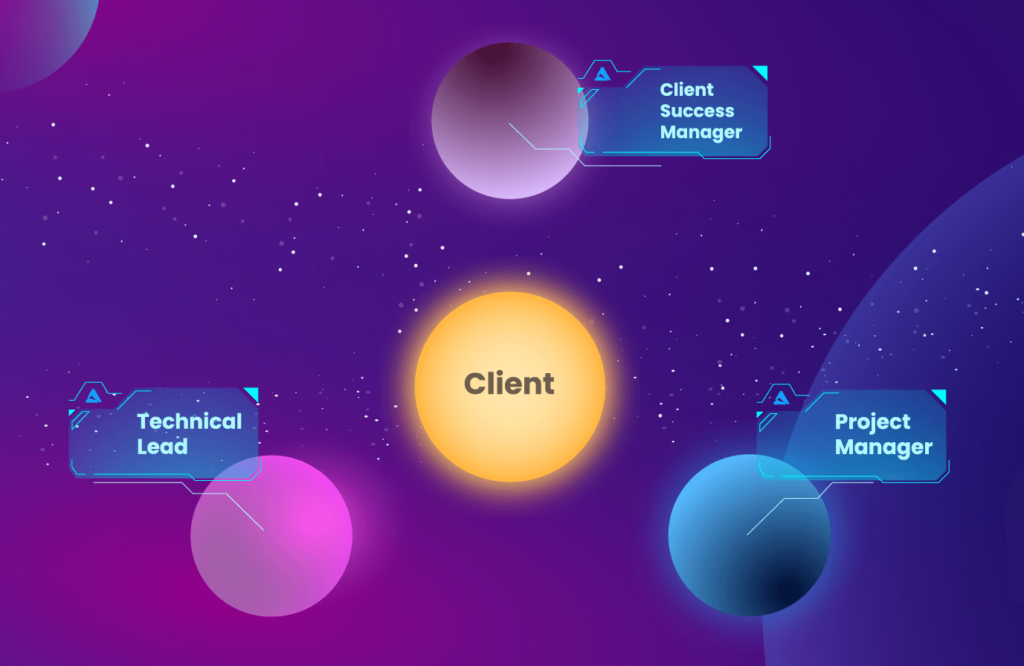 Key behaviors enable the client orbit
3×3 coverage enables high-quality deliverables and successful client outcomes by allowing space for key behaviors, including,
Active listening
Proactive agility
Sustained enthusiasm
Active listening
We've learned through our experience, over a decade and a half in eCommerce, that both opportunity and success flow directly from the client, if only we listen. Rare, indeed, is the issue which won't directly benefit from active, engaged listening.
In fact, deep listening has become a lost art in today's ever-quickening, digitally-enabled world. Yet, humans need to be heard. And no amount of technology will change this age-old fact, any time soon.
While technology is built to make communications easier, sometimes more nuanced understanding — such as business directives, project values, and of course, good old-fashioned human emotion — may become lost in translation.
Ultimately, client success is driven by project success – and project success is driven by (wait for it…) people! In the highly dynamic world of eCommerce and digital transformation, listening deeply to our clients – internal and external – is more important than ever.
Proactive agility
A key benefit of the 3×3 Matrix is that the three (or more) Atwix-side resources – who are available in most every call and communication – work in diverse functional areas. Most commonly, these are the Project Manager, Technical Lead, and Client Success Manager, to ensure optimal coverage.
Yet, in addition to these roles, Atwix also avails our clients to additional layers and levels of support, based on their specific requirements. Because we're a flat organization, clients can interface – when needed – with our CEO, CTO, COO, VP, and more.
Such a cross-enterprise approach ensures maximum flexibility when fielding and resolving issues, and also enables diversified viewpoints to best identify key opportunities for optimizing project ROI.
Sustained enthusiasm
In spite of all the sprints, long-term client success is more often a marathon.
World-class client success depends, not only upon fierce client focus, but also upon consistent and enthusiastic forward motion. Via our 3×3 Matrix, Atwix delivers a higher-touch service to fewer clients, which enables the highest quality client outcomes and project deliverables.
We aim, through our client orbit, to become an extension of our client's team. And, in fact, we receive this very feedback from some of our longest-tenured clients, who say that working with Atwix feels more like working with an internal team member, than an external partner.
And that's just how we like it. When it comes to sustaining project momentum and team enthusiasm over the long-term, three (or more) hearts 💙 are, indeed, better than one!
Experience the difference
To ensure our own long term success, Atwix places our client squarely at the center of our universe. We orbit our client as they traverse their journey to digital transformation and eCommerce success.
Along the way, the only value we realize for ourselves will always (and only) be in direct-proportion to the value we realize for our client, first.
In this way, our vision and goals are aligned, and our efforts are united. Some call this having "skin in the game." We call it, simply, "how we do business." Or, business far beyond the usual.
To learn more about Atwix's approach to high-touch, boutique eCommerce solutions and services — to experience the client orbit, firsthand — let's connect today!