It's been almost a week since the Developers Paradise was held in Opatija, Croatia. But I bet all of the participants are still full of emotions and pleasant memories. We at Atwix are still digesting all the knowledge and takeaways from the event. And let me tell you, we took away a lot! And in this blog post I want to share with you some key points about the Developers Paradise 2016 that made it a unique and useful experience.
First of all, for all those, who are not familiar with, let me tell you what a Developer Paradise is. This is the annual conference of Magento community whose primary target is to enable "lots of code and fun in the sun". This year it was organized by Inchoo with support of Meet Magento Association. The organizing team almost totally completed these objectives. The only party couldn't control was the sun. But the rest was aced by the organizing team.
Now, what did Atwix love about this event?
Speakers
"Ben Marks. Do you need a topic? It's Ben!" – says the event website. But let's be honest. If you look at all 24(!) speakers, you could really put the same under each name. The speaker team consisted of the well known people in Magento community. Thus you could be sure, whatever they were to talk about, their speeches would be full of useful info. If proof is needed – see all the speech quotes on Twitter under #DevParadise.
Among the speakers was our CTO Yaroslav Rogoza, who was presenting the results of Magento 2 performance in different enveronments. Here are the slides from his talk.
Whole our team of five found something useful in every speech. While listening to talks, we were coming up with new ideas right away. Having an opportunity for both developers and non-developers to listen to technical speeches with the most recent data, results in seeding ideas into your brain and developing them into an action plan during the next coffee break.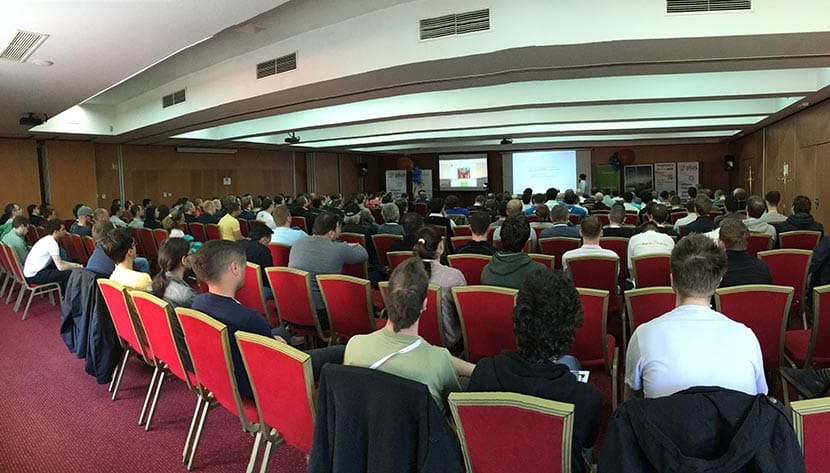 Takeaway: It is really important to bring your developers to learn the latest trends and solutions in the tech at first hand. It is also important to take part in the conversation, either by asking a question, starting a live or an online discussion, or just simply tweeting what you liked. Maybe your next tweet with a quote can push a button for creating a new solution or developing a unique idea into something big. You never know :)
Which leads me to a second point.
Community
As for me, the purpose of any conference is in networking and exchanging ideas. Sometimes you stick with one new person who is really appealing to you, sometimes with your company, or just wonder around giving your business cards to everyone.
This time was all at once for me. First of all, being a newbie in the community, I met many new people. But even being a Magento freshman, I didn't feel as such. Being a part of Atwix gives you some kind of an instant karma boost. Still, if you are all alone, completely new person, people in Magento world are very friendly and welcoming. So next time when you want to visit your first Magento event, don't hesitate whether to come or not. You are a part of the family that you just haven't met yet :) and all it takes is just one hand shake. Tomislav Bilic in his opening speech quoted Gabriel Somoza: "It's a community that makes it a paradise." And who doesn't agree?
"It's a community that makes it a paradise."#DevParadise quote from @tomislavbilic from @inchoo.

— Ben Marks (@benmarks) April 25, 2016
Communicating with new people is fun and engaging. But a big insight for me was to spend more time with your coworkers, even if it is against all networking principles. Here is why. Coding takes a lot of your working time. Especially if you are surrounded by deadlines and urgent projects. And sometimes we miss some good work-related communication with the team in a relaxed mode. For example, having heard many inspiring talks one of our teammates raised a good question during lunch, which led to a very deep conversation about work process inside the company. Needless to say, 6 hours drive back home (below is a real snapshot of it) gave us another time slot to go over some creative ideas.
Takeaway: Meet new people, communicate, share ideas. But don't forget to spend some quality time with your colleagues.
Socials
Partying is another binding experience on Magento events. The fun atmosphere and rhythmic music makes you vibe with the whole community. Somebody takes the dancefloor, somebody stays outside, sipping his drink and talking all night to the same person. Somebody meets new people while bumping in groups of familiar faces. Or bumps into @slkra and his secret poison:)
Party Grim Reaper @slkra from @atwixcom #DevParadise #partypic #the_poisoner pic.twitter.com/MvaIHP03Ic

— cacan (@cacan) April 26, 2016
Is there too much party at Magento events? Hm, probably after Imagine, there is never too much partying. Inchoo has managed to top each day with a special program, that will be remembered for a long time.
Takeaway: Relax and have fun. In the long run, intensive day full of speeches and the whole year of hard work should be rewarded. And nothing is more binding that dancing Macarena for the 4th time:)
Work Hard. Party harder. #DevParadise #wearemagento pic.twitter.com/1JiT9f0HBl

— Interactiv4 (@interactiv4) April 26, 2016
…
Now it is time for us to dive back into hard work.
And what about you? What was your biggest takeaway from the Developers Paradise 2016?