It is no secret to anyone that work takes a lot of time in our lives. Most of us work more hours than we sleep and it is a tragedy when you're not enjoying it. Maybe I'm being optimistic, but it seems to me that we are all a little bit lucky in the Magento world. Getting to know people in our community over the past decade I came to a conclusion that our little bubble seems to enjoy work a bit more than my average non-Magento acquaintances.
Why is that, I was asking myself… Is building e-commerce on Magento is fundamentally different from working on anything else? Probably it is not. Then what's the difference? My guess is that working with and around Magento we fulfil not only our professional goals but also get our deeper-seated needs satisfied – a need to belong and be connected.

This is not an exaggeration. Surely more than half of the people I got to know over the past 10 years belong to the Magento community, and I'm sure it is the same for hundreds, if not thousands of others. We all get connected through not only work, but also joint experience and stories – driving a car for 30 000 kilometres to pick up some surprise that your Magento friend hid for you in the Namibian desert? It happened. But arguably, the main glue of our community were always events.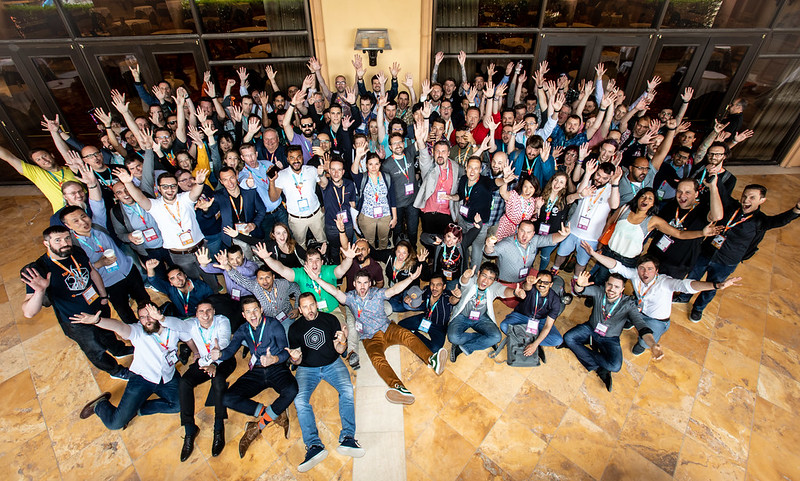 The last couple of months were very transformative for the whole world. Magento Imagine, traditionally the main event of the year, where thousands gather to learn, do business and reunite got cancelled and transformed into the digital experience. The Adobe team got only about a month to put a digital Adobe Summit event together amidst all the chaos and they delivered fantastically produced videos. However, the "live" feeling and networking aspects we all got used to so much were missing. In addition to that, Atwix, as many other businesses in the ecosystem depend on events. It is not only fun and networking, but a way to educate and motivate employees, find new clients and get a fresh and updated perspective on what's going on in the Magento world.

"We have to do more" was nagging in the back of my head. And who "we", if not the Magento Association? So I took this thought to our MA Board. I'm incredibly lucky to be surrounded by a diverse and experienced group who was "on the same wave", quickly supporting the idea and starting to outline a plan for the Magento Association Connect event to happen.

We only had 6 weeks from idea to the event date, and practically only 4 weeks from the overall concept approval to making it happen… And a lot of unknowns. Which platform to use? How do we enable people to network? How do we give our MA Partners a chance to participate with a booth? How do we put together a compelling lineup on such a short notice? Would we manage to gather enough attendees? All of that and a million questions were still to figure out.

Fast forward to 28th of May and here we are, over 1300 people not just registered, but actually showed up for the event, making MA Connect the largest community-driven Magento conference in history. How's that possible? The answer is the same – community. 30+ brilliant speakers, a dozen of volunteers, MA Staff and board members all rallied together and impossible possible. I'm incredibly thankful to all the team for huddling together and working on this practically every day over the last month.
To me personally, this was just like a mini-Imagine. A lot of familiar and friendly names in the chat, having fun even during the occasional technical hiccups… And those talks and panels? What was the Karen Baker's panel worth alone. I have asked our MA staff if they saw anything like that with their other associations-clients and they didn't… Neither have I seen a better dressed panel in my life.
As we think of the future of events, when will we return to "normal" still remains an open question. However, my colleague Yaroslav shared his hope with me today that at least 50% of the events will remain digital even after we do. And I can relate to his sentiment once online conferences in my mind went past just a series of webinars or zoom meetings.

Online events are much more accessible in terms of costs, travel and time required to attend. The 1:1 random "speed dating" style networking feature is a bliss for introverts. You can enjoy sessions from the coziness of your home or office, making food and drink pauses when you please, jump between the sessions at any time and enjoy staying connected with others through a chat.

Of course, no matter how sophisticated, online format is still far from replacing offline events, but after the Magento Association Connect Event yesterday I'm quite sure that online events are here to stay and compliment offline ones, even after we all get back to traveling like we used to. So I'm looking forward to seeing you at the next event supported by the Magento Association – Meet Magento UK on June 17th and if you'd like to get recordings from the MA Connect, make sure you become a Magento Association member.

And what are your thoughts? How was your experience at the #MAConnect?