Introduction
2021 was the second year in a row that businesses worldwide faced challenges born of Covid, and heightened by subsequent lockdowns. Many merchants realized they needed digital transformation, and fast. Some would choose to go fully online, while others pursued a hybrid model.
New challenges led to market adaptation through new tools – like live video shopping – and brought new players to the eCommerce ecosystem.
In this year-end edition of MageNews, we'll revisit some of the best moments of 2021 from the world of Magento Open Source, Adobe Commerce, and eCommerce at large.
Table of Contents:
Magento Association Connect Recap #MAconnect
The mission of the Magento Association is clear:
To advance and empower the global Magento community and commerce ecosystem through open collaboration, education and thought leadership.
Through continued commitment reflective of that very statement, the Magento Association Connect event last April featured expert speakers covering the latest news and developments in the Magento world.
The online networking event brought participants together to share their experiences and plans for the Magento future. The event also provided an excellent opportunity to share business-specific information, to build new connections between like-minded people, and to open new possibilities.
Discussion leaders included:
And a big thank you, as well, to the many other inspiring people from all over the world who participated.
Live Search for an AI-enhanced experience
It's no secret that search is one of the most critical ingredients of an engaging customer experience. Optimal search factors include speed, relevance, and customization. 
This, in turn, requires a stable, well-architected solution that delivers the right search benefits, but without needing extra business resources for maintenance and delivery.
Also in April, a new extension appeared in the Magento Marketplace, published by Magento / Adobe – Live Search. The extension featured an AI-enhanced search experience based on Adobe Sensei.
With the help of AI, customers can now get relevant, product-based information on catalog data and its behavior, simplifying the entire search management and maintenance process.
Live Search supports Magento platform compatibility: Commerce on prem (EE): 2.4 (current) and Commerce on Cloud (ECE): 2.4 (current). Get more details here.
Certification Changes: Renewals Required
In 2020, a hot debate centered around the possibility that Magento certification would no longer be permanent – that renewals would be required.
This past June, Adobe announced their finalized vision for the changes to all Commerce credentials. Going forward, all Magento-related certifications will require renewal.
This is actually quite logical since the platform evolves from year to year, and renewals help keep knowledge current. Find a detailed explanation of the renewal process here.
Magento and Small Businesses: Community Makes the Difference
A recent CIO Review article confirmed the top reasons small businesses choose Magento: the Magento Community!
Of course, open-source technology and consistently good reviews and ratings for Magento (Adobe Commerce) are important to small businesses. But it's the Community that is the heart of the Magento engine, bringing together developers, architects, business partners, and other platform experts.
You can search endlessly across the internet for answers to your most pressing questions — or you can simply, and quickly, find the answers right in the Community forum.
Two CEOs talk: Headless + PWA
In July, two CEOs – Sonal Puri (CEO Webscale) and Slava Kravchuk (CEO Atwix) – discussed one of the most trending topics of the year: combining a headless approach with PWA.
The conversation shed light on several important points, including:
Defining modern commerce and it's inherent opportunities
Google's Core Web Vitals and PWA with headless
Performance advantages of PWA & headless solutions for merchants
Check out the full podcast version here:
Smart eCommerce Strategy: DOs & DON'Ts
Also in July, Adobe and Atwix published a joint webinar, dedicated to smart eCommerce strategy.
In a friendly discussion, Yaroslav Rogoza (Atwix CTO), Eric Erway (Group Product Manager at Adobe) and Rebecca Doherty (Partner Marketing EMEA at Adobe) discussed important aspects of e-commerce, like:
Minimum Viable Product (MVP) – why it is important, and what benefits it provides to the business
Discerning real business needs
The impact of site performance on the entire business
The full recording of the event is available via the link: The written recap is also available – How to build a smart eCommerce strategy: 6 things to consider.
New Delivery Process for Community Contributions
First elaborated on the DevBlog, the new process for delivering platform improvements opens new opportunities for business optimization.
Instead of waiting for new platform releases, changes will now be available as patches through the Magento Quality Patches(MQP).
Such an approach involves contributors and maintainers in the work process even more than before, and allows the Magento Community to eliminate the long wait for the delivery of approved solutions. For more information, check out the official article by Stanislav Idolov. The "Frequently Asked Questions" section is extremely useful!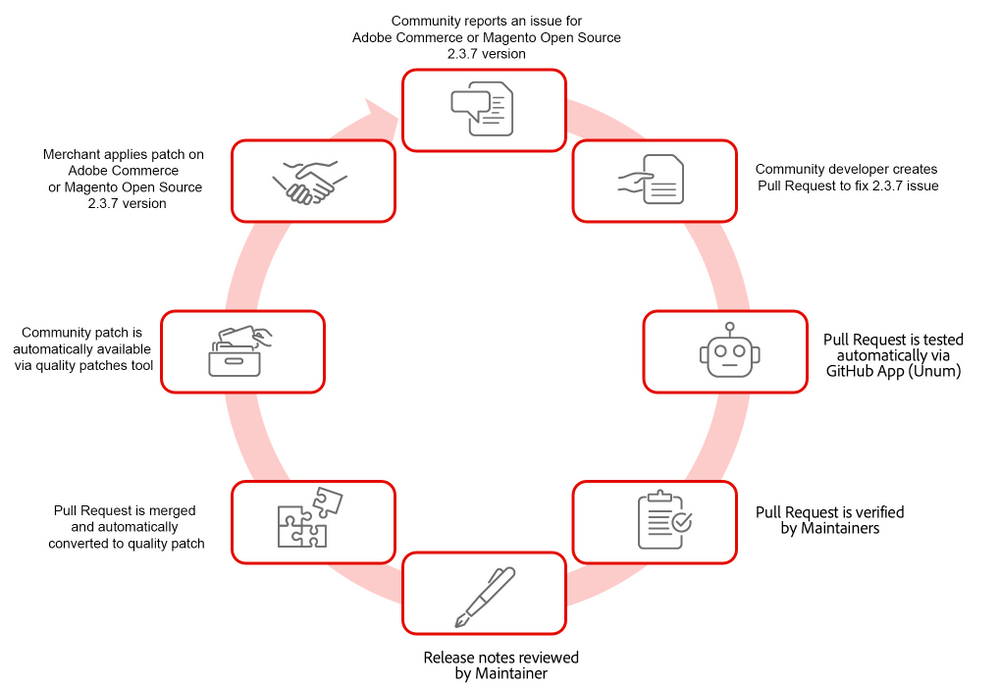 Magento 2.4.3 Released
In August, a new version of Magento was released. The 2.4.3 release contains a lot of important improvements and fixes. From the security perspective, two really important upgrades have been introduced:
A new Composer plugin was added to prevent dependency confusion and to identify malicious packages.
ReCAPTCHA coverage was extended to protect WebAPI endpoints (and corresponding HTML pages) from spam, as well as to protect the Place Order storefront page and payment-related web APIs.
The 2.4.3 release made a huge step towards PHP 8 compatibility. While the platform isn't fully compatible with the latest PHP major version, the number of areas and modules adapted to PHP 8 is significant.
While we anxiously await final confirmation of compatibility in the near future, check out these release notes for more details:
Page Builder now Open For Community
Another historical event of summer 2021 was Page Builder becoming available as an open-source project. Happening in August alongside the Magento 2.4.3 release, the open-source initiative brought lots of improvements, as well as faster delivery via the new delivery process for Community Contributions.
Speaking of feature sets, there are certain features excluded from Magento Open Source that are available only in Adobe Commerce.
Some of these features include:
Such a balance ensures new opportunities for 3rd-party developers and companies looking, for example, to create new extensions for Page Builder and integrate their themes. One such theme, Hyva, will be compatible with Page Builder in upcoming releases.
Magento Open Source Roadmap
Some of the most exciting news coming out of the Magento Association Connect event was that Magento Open Source had a Roadmap, and the announced plan looked terrific.
The announced plan included:
Framework updates (e.g. KnockoutJS, RequireJS, etc.) already in progress
Fascinating planned features such as "PWA – Bundle product type", "PHP 8.1 support", "Walmart Marketplace (extension)", and many more
Perhaps, Eric Erway's commentary is a reflection of the entire Magento Association Connect 2021 show:
"#MAConnect this year is about re-connecting, asking/answering the questions, and working together."
Forward looking
Certainly, the global dynamics of the last two years have changed eCommerce forever. Developers, companies, and platforms are integrating and collaborating in ever-deeper ways. Most central to this evolution is the customer's shopping experience.
In 2021, it's not enough to simply feel safe and secure when shopping online. Buyers want to be engaged by their online experience. They seek out and embark upon new customer journeys.
In 2022, eCommerce stores that best harness this understanding will be positioned to adapt best and fastest, as well as to facilitate their customer's future pathways.
If you need help with Magento support and maintenance, feel free to reach out to Atwix.