DISCLAIMER: This blog is my personal reflection on Meet Magento New York 2022 and the Magento Open Source. It doesn't represent an official point of view of any organization.
Those who tracked happenings of the Magento OS world, saw the MA's Open Source task force creation a year ago. This was a foundational step bringing together key parties in an open and honest setting. Regular meetings have ensued. Shortly after the task force launched, Mage OS fork/association was founded, due to a slice of the Magento community feeling a better way forward existed to best ensure innovation.
The Task Force continually met, producing much work in the background – there were hundreds of hours spent prototyping and discussing with Adobe. Even though most of the work was not highly visible, the group's mission was of critical importance and great value for the community. I want to recognize and thank everyone who was involved.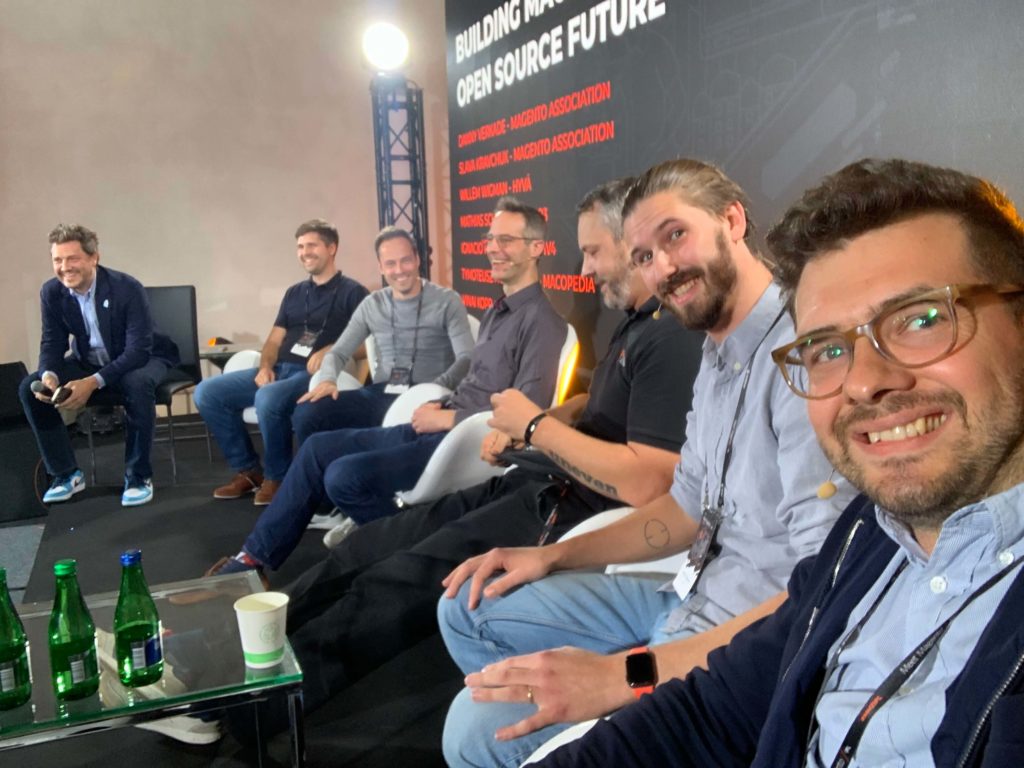 At some point through collaborative discussions, the STS/LTS model of governance emerged as an idea and it looked like it could become our new, common reality…however, it was not meant to be. Besides potential execution and coordination complexity, there's also a branding question left difficult to resolve. If both STS and LTS were to be called Magento, the community-driven version would still reflect on the brand, even though Adobe would lack authority, influence, and control. The whole project was a little big to pull off right away, so we had to step back and rethink the approach, seeing whether an incremental way forward was possible.
It is obvious that Adobe relies on Magento Open Source for their commercial platform, Adobe Commerce. For a while there was a fear in the Magento community that Adobe might want to kill off, or otherwise sunset, Magento Open Source. But, many of us found ourselves asking, is that really a possibility? One unnamed source shared a sentiment with me about the community giving too much credit to Adobe's abilities on this one. They, "can't kill Open Source even if they wanted to." I have a similar point of view. Magento Open Source and Adobe Commerce are so intertwined that no attempts to untangle them have been successful so far.
Separation to microservices is not a new idea, but it's also not an easy one with the current Magento architecture. We will definitely see more SaaS services for Adobe Commerce, but it won't be at least a few years until the coverage is sufficient and the monolith is ready for a separation. And even when it becomes an option to separate the monolith core, it doesn't mean that every merchant will want to abandon it. That's the entire idea of "composable commerce", where a merchant decides what building blocks to use to build their store, much like independent lego pieces. So, let's consider Magento Open Source monolith as a commerce core, even in the micro-service oriented ecosystem. Performance and scalability for such core remain relevant and desirable, perhaps even more critical than ever.
Adobe knew they needed Open Source, Adobe knew they would keep supporting it… But they didn't talk loud about it for the past few years, until Meet Magento New York 2022. Ritesh gave proper credit to Magento Open Source, and acknowledged its importance and positioning in the market.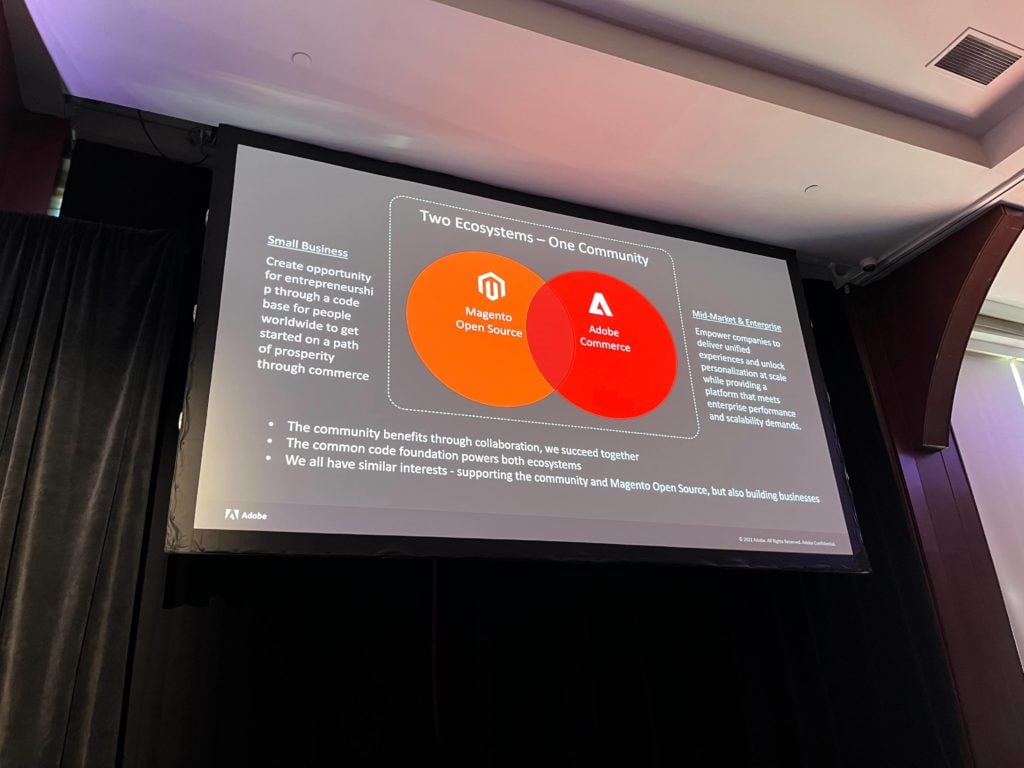 Magento Open Source is a great fit for smaller businesses, while Adobe Commerce is a powerful package for larger enterprises. Ritesh committed to Adobe's support of Open Source and also recognized top code contributors (it was fun to see 14 familiar Atwix faces on that slide!).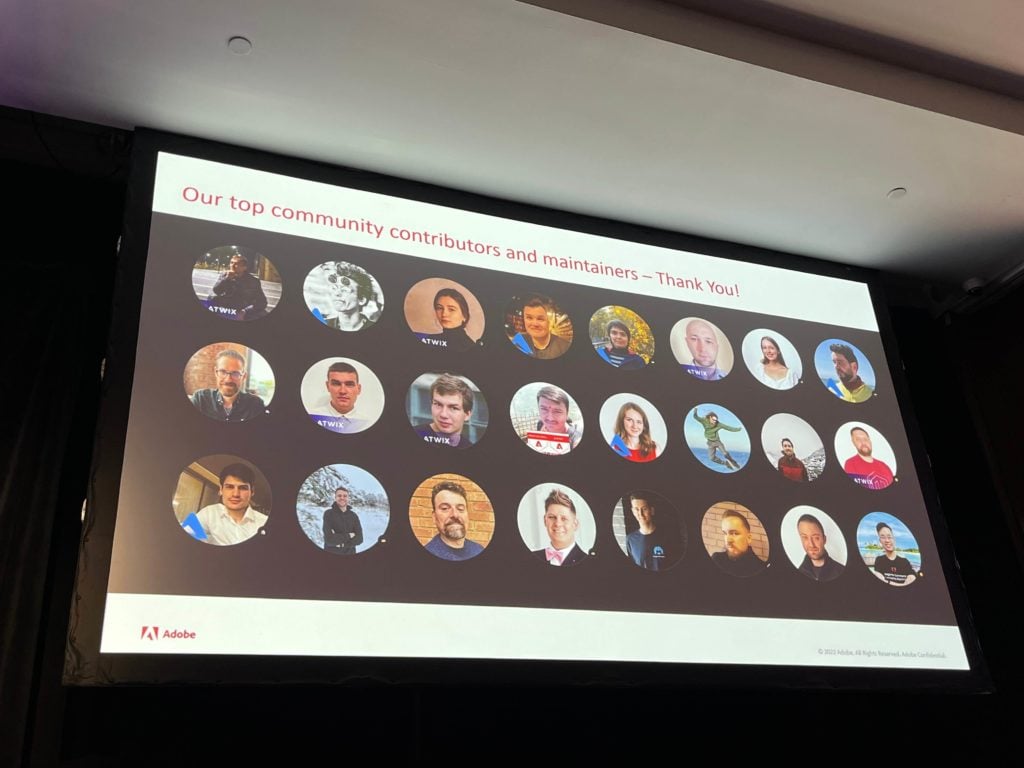 What made perfect sense for the Magento community all along, now seems to be finally gaining understanding within the larger Adobe organization – Magento Open Source is "good business" for Adobe. OS merchants have a clear migration path to Adobe Commerce once they're ready to do so. OS fuels innovation in the ecosystem and keeps the extensions market alive, making vendors produce Adobe Commerce compatible extensions. There are a lot of agencies that do Magento OS builds, and they all contribute to the Adobe Commerce ecosystem, as well. Take the OS ecosystem out of the mix, and Adobe Commerce will be something entirely different.
Now, the question is, how do we make sure that Magento OS is an evolving product? Basically, that was the cornerstone question of the MA's Open Source Task Force. The community doesn't just need the product to be kept around, as it is, Magento has to innovate. Obviously, Adobe wants to exercise a degree of control, as they need it for Adobe Commerce. It would be naive to expect Adobe to just release Magento to the Magento Association or into the wild. At the same time, their own resources are limited to do as much development as the community wants Adobe to –at least without backing the investment with a clear business case. Ultimately, the question boils down to how do we make it all work?
Largely, the proposal that the Magento Association and its Open Source Task Force currently have on the table is a step by step process. As a first step Adobe's willing to relinquish the control over the pull request merging/roadmap prioritization. Adobe's engineers will still be responsible for maintaining and supporting the source code (and at this point, it's a positive thing, in my opinion), but the community will decide what is merged into it, and in what order.
So, in theory, this approach would let the community build new features/fixes (IE. a new frontend), and a vote for Adobe to merge that into the mainline as part of the next release. Down the road, questions of breaking changes and maintainability may arise, yet this is something that can be resolved between a "community architects council" and "Adobe Magento architects".
Sure, this is not the final solution. This is also not the ideal scenario for all those bleeding orange. There are many more steps that are needed to make Magento Open Source flourish. Keeping the Magento brand visible, and resurrecting some centralized online home for it, such as Magento.org, is another top priority item for Magento Association in our conversation with Adobe (just like contribution leaderboards, Magento Masters, and a few other key priorities). No agreement has yet been reached on the above ideas, but Adobe knows we want it and it is something MA continues to press to achieve.
Nevertheless, this new proposed OS governance model, in my opinion, is the largest step Adobe/Magento ever took in providing us, the community, some decision-making power and autonomy. Even when the Magento Community Engineering group was around, it wasn't up to the community to decide on the priorities… But now, Adobe is prepared to give us that. What comes next is operationalizing and delivering on the plan.
Seeing and feeling the Magento vibes in New York was inspiring and reassuring. We have a thriving and strong community. Yes, we all have different backgrounds, life/work situations, and opinions. However, there is clearly a deep love, appreciation, and respect for Magento that unites us. It is this kinship and common purpose that drive the future of Magento Open Source. That said, it will take more than a few people to make it happen. This is where the greater Magento ecosystem must come into play. The community must step up, participate, and ultimately collaborate to achieve amazing common goals… I hope you're as excited to be a part of this journey as I am.
I'm curious to hear your thoughts on Magento Open Source in the comments.