A fabulous yacht pulled out of NYC's Chelsea pier, gracefully slicing through the Hudson River's choppy waters. A crowd was drinking their morning coffee while taking in the inviting view of the Statue of Liberty in the distance. No, this was not a fancy regatta – this was Meet Magento New York 2022 – the first in-person community-driven Magento conference in the US since Covid-19. Naturally, I couldn't miss the opportunity to reconnect live and in-person with our community.
Meet Magento New York has a long history. I remember speaking about checkout conversion rate experiments at the inaugural 2014 edition, organized by Kimberely Thomas and Ignacio Riesco with their team at interactiv4. The original event was in Lower Manhattan near the Bitcoin Center and yeah, Bitcoin was like $350 back then.
. @atwixcom featured in the challenging presentation of @WebShopApps http://t.co/Z0F69f3wNP #mm14ny pic.twitter.com/7LZJtO9bha

— Slava Kravchuk (@slkra) September 22, 2014
Our team at Atwix had the honor of co-organizing the 2016's edition. Thinking of how much time went by really makes me feel old (let's agree to call it "experienced!").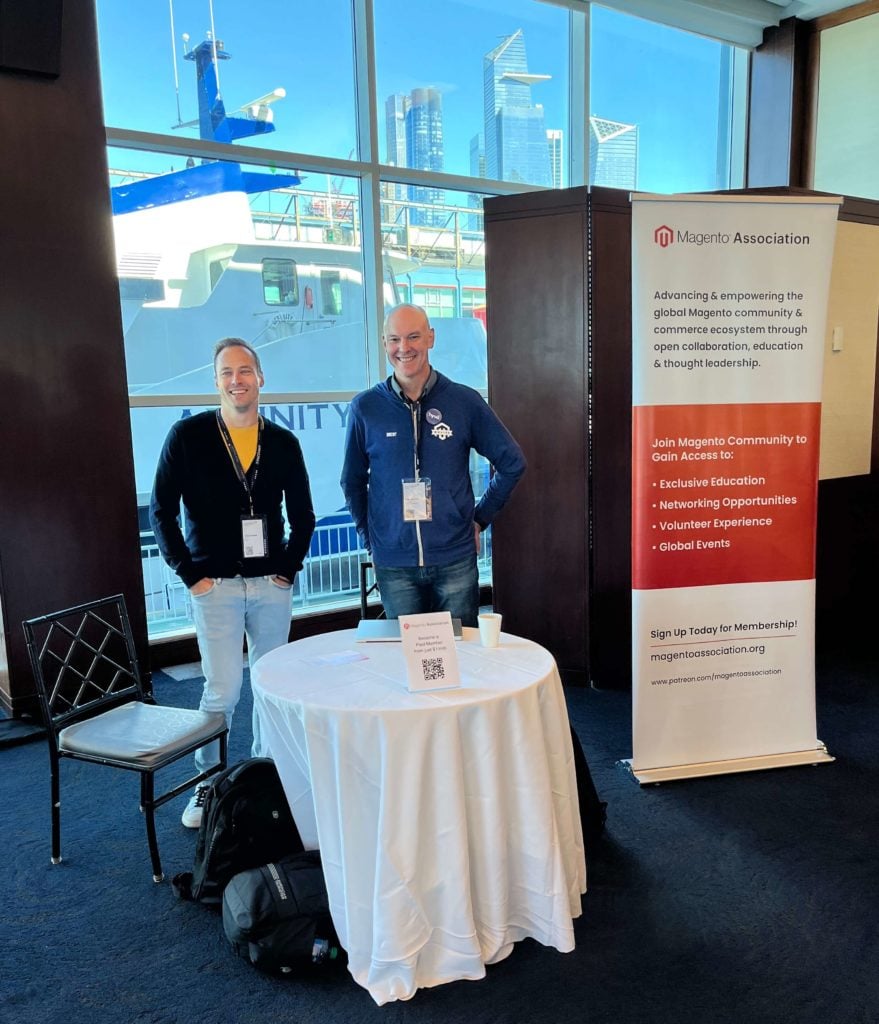 Krish, together with Marsha, took the MMNYC organizer's baton this year, and hosted an impactful and memorable event. The event was well attended, with a lively exhibitors area and many new and familiar faces around. The Magento Association also had a booth, and thanks to Brent's and Danny's help we gained quite a few new MA members. If for some reason you've missed the chance to sign up – please do so on the Magento Association's Patreon page.
At this year's event, I helped get things going by co-hosting the opening on behalf of the Magento Association.
An amazing greeting by @SlavaKravchuk, Vice Chair of @MagentoAssoc , preceding the opening keynote at #MM22NYC.
It was great to know about the latest updates in the Magento Open Source. What are your thoughts on it? Let's engage! pic.twitter.com/dAG0vCp7vK

— Meet Magento NYC (@meetmagentonyc) September 23, 2022
Of course, I also played my usual Atwix role. Hosting the opening was not easy for me. I had much I wanted to communicate. There were so many community members I wanted to call out. Packing it all in seven minutes was quite the challenge.
As the quote often attributed to Woodrow Wilson goes, "​​If I am to speak ten minutes, I need a week for preparation; if fifteen minutes, three days; if half an hour, two days; if an hour, I am ready now."
What really set the opening keynote apart this time was the through-line messaging between the Magento Association and Adobe. Perhaps for the first time in Meet Magento history, the messaging was aligned. The highlight of both presentations, mine and Adobe's Ritesh Somani, was that Magento's Open Source community governance model is on the table.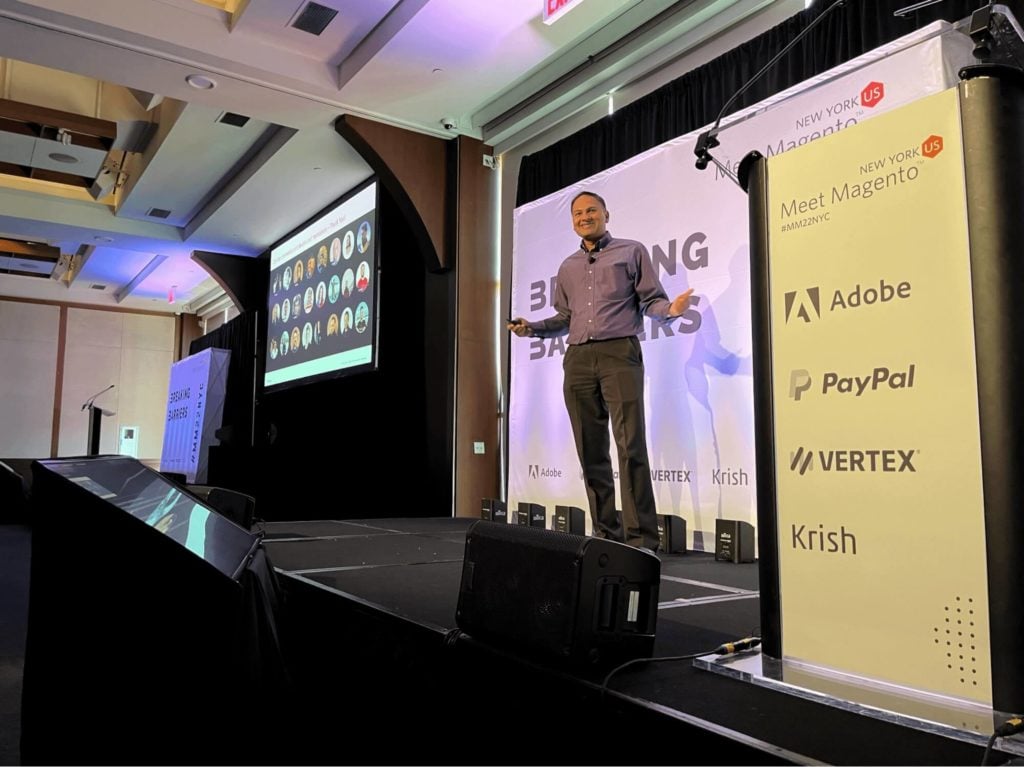 It was not just the event's opening that felt different this year, to me. I could not help but notice the community's energy coming back at me as I looked out from the stage, as well as soaked up while walking the hallways. Energy, of course, is no stranger to Meet Magento events. This time, though, it felt like we were both lively and more purposeful, at the same time. Magento has come a long way as a platform. We have transformed as an ecosystem. But, that orange spark is clearly still lit within us all, even if we might be gaining experiences beyond Magento or Adobe Commerce, as we evolve ourselves as individuals and businesses.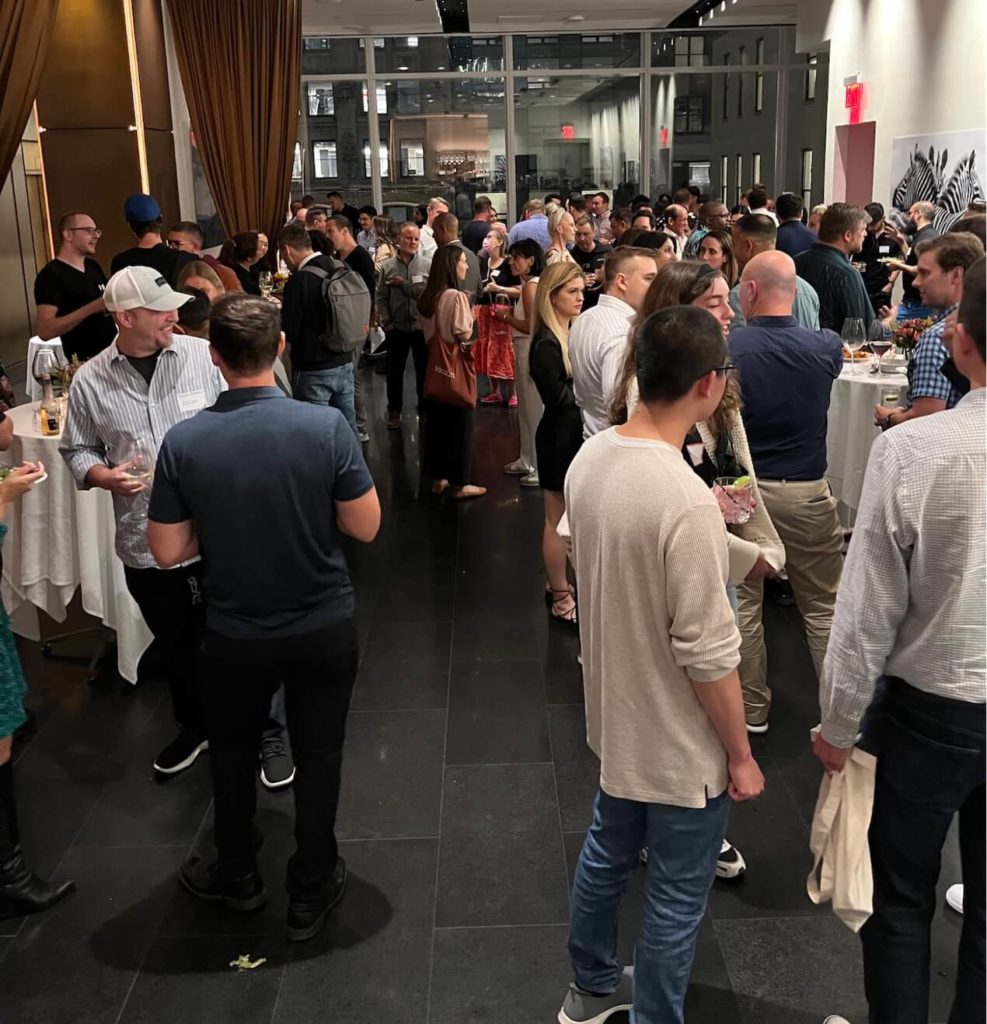 The sense of community spanned beyond developers, who are often considered core of the Magento community. I've had the privilege to chat with some merchants at the event, even one transacting hundreds of millions of dollars a year through the platform. They love Magento just as much, and they are actively looking for help and guidance from the ecosystem to enable their further growth. Corporate marketing, they shared with me, was not really where they went for product information. They look for peers & partners to speak with.Their hope at Meet Magento was to look everyone in the eye, compare journeys, and make up their own mind based on that precious up-close context. Those merchants who found their way to the conference inspired me the most.
MMNYC was also a forum for active community members to talk and exchange visions. Collectively, we represent a diverse community from different backgrounds with varying experiences. When we talk face to face, we realize that our differences are not that large and we very often find common understandings and consensus. This, to me, is why in-person events are invaluable and irreplaceable.
Meet Magento Poland, hosted one year ago, was a catalyst for changes at Magento Association. A year later at Meet Magento New York – with paid membership now rolled out and inplace, transparently hosted elections including three new board members – we have a plan for Magento Open Source governance. Perhaps, as we collectively look forward, this is the most important task for the Magento Association and the Magento community right now. I feel like we're at the brink of no less than a historical shift. Why? Let me explain that in a subsequent blog post next week.
For now, let me again express my personal gratitude to the Magento Association and the Meet Magento New York organizers. You brought us together. It was high energy. It was purposeful. It was throwback fun. I say, let's do it again and again… Check for an upcoming Magento Association event near you.