Due to changes in the world economy, an increasing number of businesses are going online. Even businesses that were already online are doubling down on their use of eCommerce. In effect, nearly every B2C company requires their own product, service, and professional counseling, which in turn generates B2B demand. In 2019, Forrester has forecasted that US B2B eCommerce will reach $1.8 trillion and account for 17% of all online sales in the US by 2023. onsidering the 2020 pandemic-related lockdown rules and the corresponding changes becoming a new routine, we now expect to reach these numbers much earlier. The world will never be the same, and we have to adapt to the new reality.
In contrast with B2C, B2B companies have an entirely different target audience: they offer the raw materials, fabricated parts, services, or consultations that other businesses require to operate, grow and turn a profit. This leads to a number of different challenges:
Cooperation with several buyers through one purchase.
B2B companies must embrace another company's business processes, which in turn helps to form a trusted, working relationship between organizations. More broadly, establishing a holistic relationship across another company's different departments becomes a critical path for a B2B relationship to thrive – allowing more access to more products and services, faster throughput, and better ROI for all parties from the customer to the supplier.

Individual pricing strategies.
B2B companies must strategically consider their suppliers, partnerships, and customer base, carefully applying pricing to all transactions. This is in stark contrast to B2C companies, who are at a more arm's length relationship with their customers. In this way, a B2B has more upside (and downside) with each transaction.

Recurring sales.
There is an old adage in business – it is easier to sell to a pre-existing client than to a new client. This is especially true with B2B organizations. It is also important, as any business grows, to be able to count on a certain volume of sales. To this end, as the focus shifts from forming new relationships to maintaining ongoing sales, the emphasis moves towards long term ROI.
If you haven't already moved online and are currently considering when best to jump in, start by calculating the needed effort versus the cost of continually losing market share by staying offline. Assess what is already available to you in terms of eCommerce platforms. Compare those options against your current business and your future business goals. Be sure to include an assessment of business migration and long-term maintenance.
Taking into account specific B2B needs, we recommend including Magento 2 into your B2B assessment. Magento offers highly capable (and needed) functionality to build, automate, and maintain the purchasing process between businesses, natively out of the box. Let's review what Magento 2 provides to a B2B business, based on the categorization we've set up above:
1. Manage several buyers' workflow.
Magento suggests a configurable Company Account Management, which allows adding any number of departments with different role permissions.
With this feature, it's easy to:
Sell to companies with multiple buyers and tiered organizational structures using company accounts.
Under one company, several personal accounts can be created to coordinate the work of different departments.
Empower companies to define specific buyer roles, permissions, and approval workflows.
Through a web interface, each company can build its own approval workflow based on its structure and the level of permissions for each employee.
After the approval flow for customer's divisions is finished, the buyer can efficiently manage quote requests and negotiate pricing terms with a streamlined online workflow.


2. Build individual pricing strategies.
Magento Commerce helps empowering shopping experiences with personalized prices, product lists, payments and delivery methods.
With this feature it's easy to:
There's an option to specify a line of credit globally or per company. This option allows accepting cash payments and managing advance deposits.
Generate purchase orders.
Many purchase orders are no longer paper-based and Magento provides an easy-to-use function for company users with the required permissions to create, edit, delete or approve POs.

3. Saving time with recurring sales.
Friction-Free Purchase journey is provided by a clever pricing strategy and recurring actions automation.
Use Requisition Lists or copy previous orders to save time.
This functionality allows including frequently-ordered products to a requisition list. All items will be automatically added to the shopping cart directly from the list.

Drive recurring revenue with fast ordering.
A customer has an option to manually enter SKUs or upload a CSV file to create a quick order.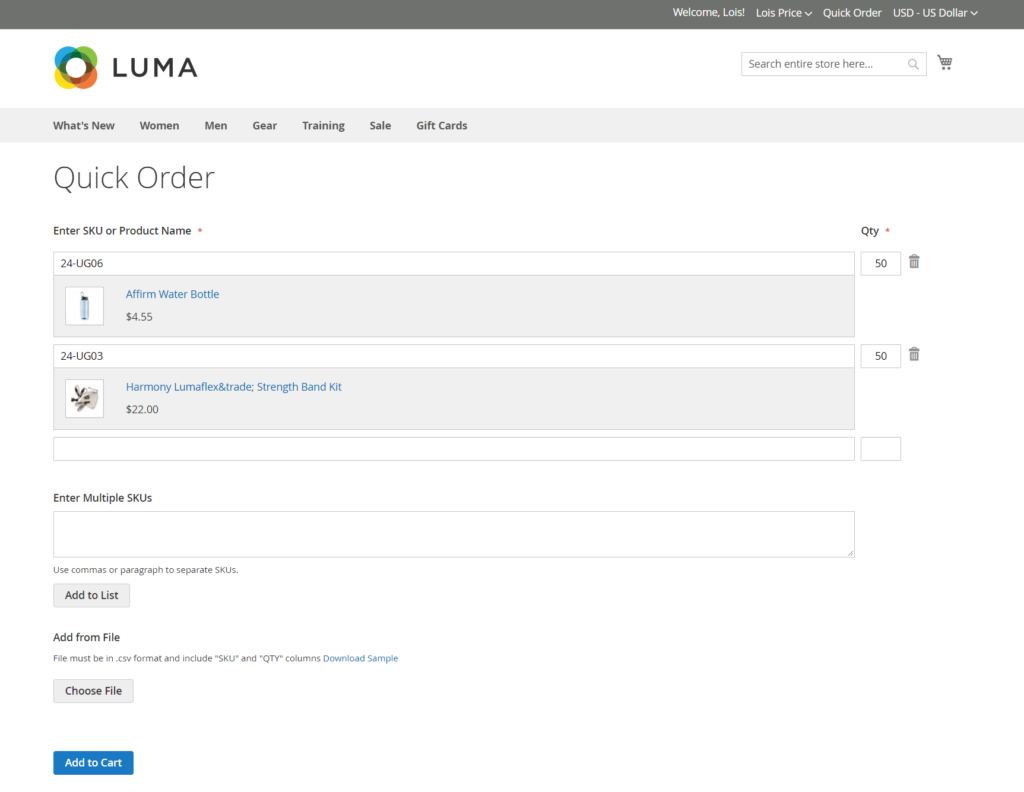 Deliver exceptional service with the ability to login as the customer to resolve issues or place orders on their behalf.
Maximize sales by accepting multiple payment and shipment methods.
Payments on account, via credit cards, PayPal, and more are available out of the box.
Final Thoughts.
New rules are forming as businesses exit 2020 and enter a new way of connecting, transacting, and selling. There is no going back. There is only going forward, and in this case, online. Your customers are. Your competitors are. It is really only a matter of time before most B2B transactions take place through eCommerce. Fortunately, there are platforms and partners to help you navigate this moment in time. Great companies like Byrne have already started the joint B2B journey with us. With clients and business partners in various industries across the globe and an unmatched commitment to Magento, a platform built to scale along with a business, we are open and very interested in talking to you about your B2B needs. Please reach out if interested in learning more.