The world of static eCommerce is changing. Two technology leaders reveal the future of selling online. Learn about 6 key takeaways from a fireside chat with Atwix CTO Yaroslav Rogoza and Adobe's Group Product Manager Eric Erway.
On July 15, 2021, Adobe's Rebecca Doherty hosted a live webinar with two eCommerce experts: a two-time Magento Master with real-world experience deploying eCommerce solutions, and a Group Product Manager at Adobe, who is working on the eCommerce solutions of tomorrow. Did Adobe's Eric Erway and Yaroslav Rogoza of Atwix find common ground? And what do they believe is the future of selling online? Here are the key takeaways.
Consistent business growth usually stands on a smart strategy. With the booming increase in online sales caused by the pandemic, you need to ensure you have a smart eCommerce strategy in place that will enable respective business growth. When developing such a strategy, you might need to keep in mind 6 important considerations.
1. Identify your true business needs
Rogoza said that smart eCommerce strategy starts with the identification of your business goals. Ask yourself: "Should your store be search-oriented like Amazon, or user journey-oriented like a furniture store where you need to configure the product before you buy it?". Only then should you decide on a platform, or if you should build an MVP, or choose PWA.
2. PWAs are here to stay
"Most of the projects that we're working on now are based on PWAs," said Rogoza. "And I believe that this trend will grow and maybe by the end of this year there will be even more." The reason, he explained, is that PWA Studio comes with all the features needed for successful eCommerce. "That's certainly where the market is heading," agreed Erway. He believes that soon we won't even be talking about PWA — it will be table stakes.
3. Embrace the MVP (Minimum Viable Product)
"I think it's really about starting small and thinking big," said Erway, adding that launching an MVP is one way to avoid "that blank canvas moment." Rogoza revealed that Atwix recently launched an MVP store for an American electrical brand in just eight weeks [learn more from Byrne's portfolio], using so-called "lower case mvp" approach. "Choose the most important, functional parts for the initial release," he advised. "Use a default platform design as a basis, and extend it with your brand colors, fonts, and buttons." Erway added that Venia—Adobe's default storefront — is designed for this purpose, delivering out-of-the-box functionality that makes it easy to create PWAs that work seamlessly with the Adobe Commerce back-end.
4. Page speed is not everything.
"Chasing a good [page speed] score often leads to sacrificing a good user experience," said Rogoza. "Like, just remove all the images, fonts, styles, everything from your website…you will have a great PageSpeed Insights score. But that doesn't mean the customers will love your website." Erway added that there are better metrics to rate user experience. "Google's Core Web Vitals are starting to take a very quantitative look, using techniques that they call Cumulative Layout Shift, but User Experience shall always come as the first priority".
More details about Google's Core Web Vitals can be learned from our blog post.
5. AI is coming.
Erway announced that there has been some "pretty exciting movement" involving AI in Adobe's overall product roadmap, including visual recommendations, support for headless commerce, PWA Studio, and Venia theme. "We're starting to really bring these capabilities more and more into the fold but maybe even more importantly, live search was introduced. And really it's been years in the making. It really starts to capitalize on an intelligent set of search results, but also faceting and other aspects of the management experience."
Learn more about the Live Search from our respective blog post.
6. Bells and whistles may do more harm than good.
Rogoza said that merchants usually choose Adobe Commerce for the vast amount of options available in the marketplace, which brings them more flexibility and out-of-the-box functionality as well a strong ecosystem of extensions from the other technical providers. "However, the variety of options might be a pitfall for you. You might end up choosing a lot of bells and whistles that will do more harm to your business than benefit."
A good eCommerce agency, he said, will help you choose only the solutions you need.
"We strongly believe that choosing the right partner can help you deliver the expected outcome," said Doherty. "And I'm talking about an agency partner here. So first and foremost, check the certifications and specializations of the agency that you're considering. Make sure that they're true experts with a solid background in the technology you're considering…and make sure that you're aware of their team structure, geographic locations, and even their customer service approach."
Read more about the ways to boost your eCommerce in our respective article.
Watch the full replay of the webinar ->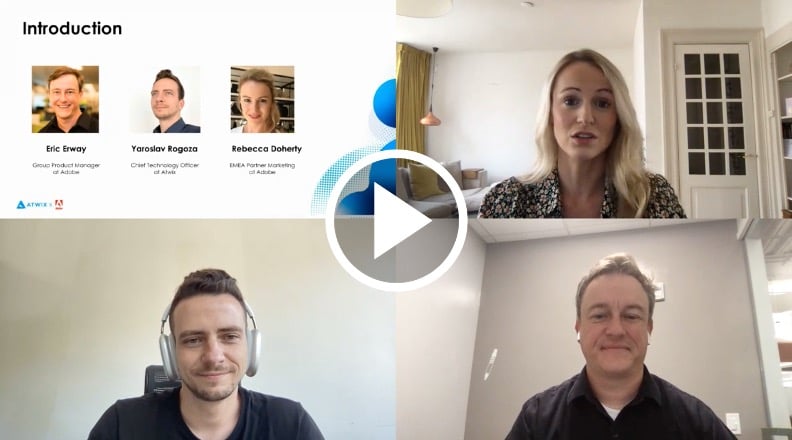 Want to discuss your eCommerce growth in more details? Contact us, we can help you both with smart strategy development, its seamless implementation and constant support.