In this article, we review the in-store pickup feature that will be generally available in Magento Open Source and Magento Commerce 2.4.0. Here at Atwix, we highly anticipate this functionality – let us explain why it is important to consider implementing now, more than ever.
Why is the in-store pickup delivery method important?
During this challenging moment in history, consumers' behaviors are quickly changing. Customers are shopping online to minimize contact but at the same time they want that familiar brick-and-mortar-like experience. Right now, it's more important than ever to focus on customer experience. The global pandemic has caused many physical storefronts' doors to close over the past few months. While many businesses will reopen soon, physical stores are being forced to reinvent the shopping experience. Most, if not all merchants who previously relied on in-person customers are now pivoting to offer in-store pickup options.
The good news is that a merchant can view this change as an opportunity to increase foot traffic by making the click-and-collect delivery option available to their customers. This allows shoppers to collect their online purchases from a physical store while minimizing contact, and also saves on shipping. Ultimately, the percentage of customers who will choose an in-store pickup option is only bound to increase.
The in-store pickup functionality improves the Average Order Value (AOV). Merchants are able to up-sell and cross-sell during the pickup process. Also, it allows for a customer to exchange the product right away if it is not what they expected. If the product size, for example, is too small or too large the merchant is able to offer other sizes (or items or colors).
The chart below shows how click-and-collect sales are evolving over time (from 2018 to 2020 as well as predicted growth for 2021 and 2022):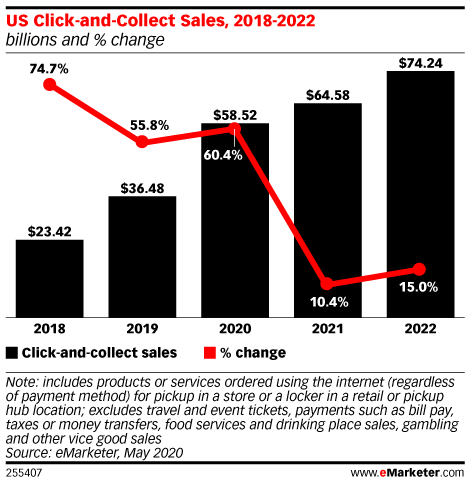 Configuring in-store pickup
To start you will need to use the MSI (Multi-Source Inventory) feature — Magento's new inventory (which is GA starting from Magento 2.3.0). Not all Magento merchants use MSI, but it's time to start, as all new features available for Magento's inventory/delivery will be based on this feature.
In terms of Magento admin configurations, you will also need to enable Magento In-Store Delivery in the admin panel under Stores > Configurations > Sales > Delivery Methods (formally Shipping Methods). You can also do other configurations like search radius and storefront appearance.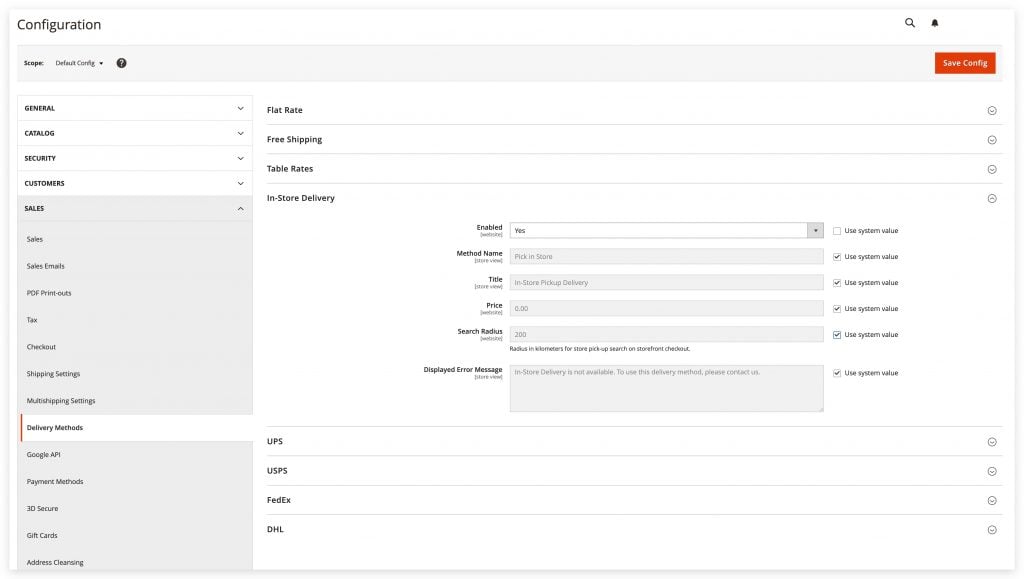 After that, you will need to make sure that one of your sources is a pickup location. The source (pickup location) is associated with the stock that is associated with the right website (Sales Channel):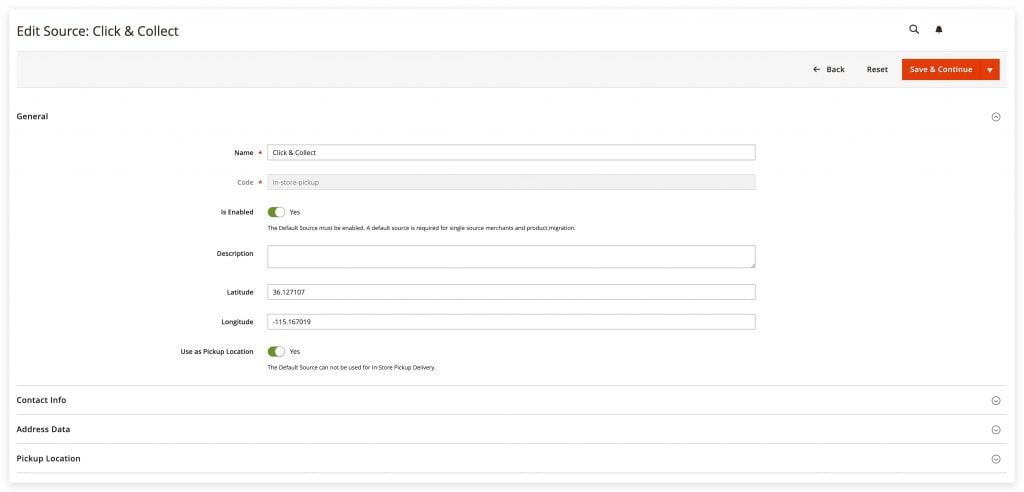 If you want to refresh your knowledge of Sources, Stocks, and Channels in the MSI — check out this article on the MSI in Magneto 2.3.
Also, you will need to make sure that Google Maps API is configured or the offline address database is uploaded into Magento.
Storefront representation
If the feature is configured, during checkout customers will be able to choose between Shipping and Pickup In-Store. After the Pickup In-Store is selected, the shopper can choose a pickup location selected based on the location of their saved addresses in their address book. The pickup location selection can also be changed by the customer using a search and selection GUI: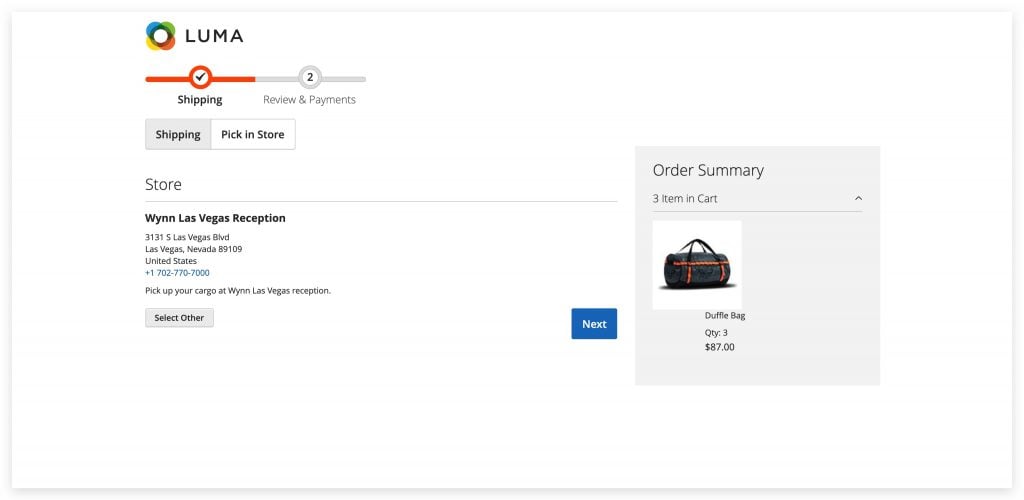 For guest users, the UX is essentially the same, the only difference is that the default pickup location cannot be preselected based from the address book information so the customer has to enter manually.
Merchants can also place an order using Magento logic in the admin panel. To achieve this, follow the usual flow of placing an order via admin but for Magento shipping method – select the In-Store Pickup option. After the order is placed, there is the ability to notify the customer:

MSI In-Store Pickup is available in Magento 2.4.0. To learn more — please reach out to us at Atwix. We are happy to help discuss your business needs and how to best utilize the Magento in-store pickup feature.